Assamese cinema has come a long way in terms of storytelling and cinematography over the years. The industry has changed a lot, and filmmakers are now trying new ideas and methods to make genuinely unique movies. Assamese filmmakers are also experimenting with different genres, such as comedy, drama, and thriller, to cater to a broader audience. The industry has seen a rise in independent films pushing the boundaries of traditional storytelling and challenging societal norms. Assamese cinema is going through a renaissance period, with filmmakers and artists coming together to create thought-provoking, visually stunning, and emotionally engaging stories. Here is the top 10 list of movies that have excelled in the field of storytelling or cinematography:
1. Halodhia Choraye Baodhan Khai
Jahnu Barua Jahnu Barua, an Assamese Filmmaker, born on 17 Oct >> Read More... directed the film - This film is regarded as a classic in Assamese cinema and has received various national and international accolades. The video looks at the life of impoverished farmers in rural Assam and their fight against feudalism. A landowner bullies a poor farmer in this social melodrama. When the landowner wants a mortgage receipt that was never provided, the farmer loses the farm that his father paid for. He loses his animals and is forced to send his child to work for the wicked landlord. His ultimate humiliation is being forced to display political posters glorifying the man who banished him and wrecked his life.
...
2. Xhoixobote Dhemalite
In Bidyut Kotoky's movie, the struggles of a family during the Assam movement of the 1980s and afterward are shown. To excellent success, the picture combines live-action and animation. It was the first Assamese film distributed commercially in the United States. Also, at the Love International Film Festival in Los Angeles, it won three awards, including best picture. Based on actual events, the film also stars veteran actors Victor Banerjee Victor Banerjee was born 15 October 1946 in Calcut >> Read More... , Nakul Vaid Nakul Vaid is a film actor from India. He started >> Read More... , Naved Aslam Naved Aslam is a popular Indian stage actor, scrip >> Read More... , Nipon Goswami Nipon Goswami is an Indian actor and also a theatr >> Read More... , and Nikumoni Barua.
3. Kothanodi
This film, which Bhaskar Hazarika Bio coming soon... >> Read More... directed, is a compilation of four macabre folk stories from the state of Assam. This film was given the National Award for Best Feature Film in Assamese, which it subsequently won. The Assamese literary luminary Lakshminath Bezbaroa produced a collection of well-known Assamese folk tales in 1911 under the title Grandmas Tales. Kothanodi is based on the events and characters mentioned in those folk tales. After getting five nominations, the film won best writing at the Treasure Coast International Film Festival in Florida.
...
4. Ajeyo
Directed by Jahnu Barua, Rupam Chetia Rupam Chetia is an Assamese actor. He is known for >> Read More... and Jupitora Bhuyan Bio coming soon... >> Read More... play the lead roles, and Shankar Lall Goenka served as the film's producer. On January 3, 2014, the film had its world debut. In the movie Ajeyo, the struggles of an honest and idealistic revolutionary teenager named Gajen Keot are shown. During the Indian freedom movement, Gajen Keot fought against social problems in rural Assam. The film won the top prize at the 61st National Film Awards The National Film Awards gets presented every year >> Read More... for "Best Feature Film in Assamese" and "Best Film" at the 2014 Prag Cine Awards.
...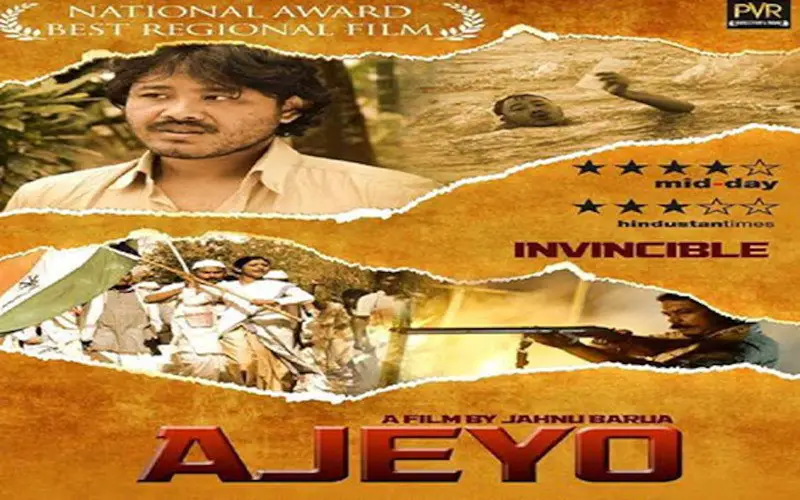 5. Village Rockstars
Rima Das's Village Rockstars is a film about adolescent aspiration and rural poverty. The movie, which has already been screened at festivals worldwide and will represent India in the category of the best film in a foreign language at the Academy Awards in 2019, has already traveled to festivals worldwide. The concepts are in direct opposition to one another. A movie like this would have a formulaic plot with a series of tests and challenges that lead to an inspiring moment of transcendence.
...
6. Ekalavya
Ekalavya is a story about two feuding brothers who are torn apart by their differences in values. Alfred is the film's director. Abhay, played by Kamal Lochan, is a young man who falls in love but dares to ask Kavya, the lady of his dreams, out because he fears rejection. Instead, he writes poems in a personal dedication to her. The genres "Action, Drama, and Romance" best describe the story of "Ekalavya." The reviews say, "It's not something you can see just once, and not a single second of the film is uninteresting."
...
7. Bridge
The movie Bridge was released in Assamese on September 30, 2022. The movie, which Kripal Kalita Bio coming soon... >> Read More... also directed and starred in, featured Kripal Kalita and his wife, Shivarani Kalita. The novel Bridge, based on actual events, tells the story of an uncommon battle endured by a young girl who lives on the bank of a tributary of the vast Brahmaputra river and the sense of empowerment that results from overcoming that fight.
...
8. Maj Reti Ketki
produced and wrote Maj Rati Keteki in 2017. Adil Hussain Adil Hussain is a prominent Indian television, fi >> Read More... leads the picture. This film earned Hussain a 64th National Film Award – Special Mention (feature picture) for his performance. The story shows how Priyendu Hazarika, the lead protagonist, returns to the place that inspired him to become a writer after more than ten years. Sometimes a work resembles the author's life. He recalls the loved ones he lost. He acknowledges he lacks the confidence to write about brutal truths. He confronts his reality alone, away from the admiring crowd.
...
9. Adaja
It is a 1996 Indian Assamese language drama film directed by Santwana Bardoloi and based on Indira Goswami's novel Dontal Haatir Uiye Khowa Haoda. Many international film festivals screened the film. The story takes place in 1940s Assam. Notwithstanding the enormous constraints of law and culture, three widows fight to live decent lives. The entrance of a young American scholar, a lethal snakebite, and the theft of ancestral jewels all conspire to bring the young and attractive widow Giribala's position to a tragic climax. Mrinalkanti Das received Best Cinematography and Best Feature Film in Assamese at the 44th National Film Awards.
10. Ishu
This film was made by the well-known film maker and media critic Utpal Borpujari Utpal Borpujari is a highly acclaimed film critic >> Read More... , who hails from the Indian state of Assam. Ishu makes it possible for the youngster to experience many more situations in which he may observe the immature and perhaps harmful behaviors of adults. Borpujari's first feature film is an examination of the customs of witch-hunting in Assam as seen through the eyes of a kid. The film was produced by the Children's Film Society India. Ishu investigates the taboo practice through the lens of Ishu's fight for his aunt, who has been falsely accused of being a witch. The story takes place in a secluded hamlet in the Goalpara area.