In the film Industry, there are links between actor and actresses working in the films; so they are put in more movies because of their great chemistry. The rumors about dating and love affairs go around in the industry, and it's all common. Some rumors turn up to become a marriage, broken relationships or live-in relationships. Here is the list of the affairs of love relationship in the Tamil Industry which is heard on media and social sites.
1. Samantha Ruth Prabhu-Siddharth Suryanarayan
...
Samantha and Siddharth fell in love while shooting a Telugu movie 'Jabardast.' They were very serious about each other and decided to get married after the actress completed her projects. Some days later they broke up and when asked by media why, Sam and Sid replied that, it was personal matter and they didn't want anyone to interfere with it.
2. Trivikram Srinivas-Parvati Melton
...
Trivikram is too close to Parvathi, and both of them are enjoying with each other. Their affair started since the movie ' Jalsa Click to look into! >> Read More... ', when he gifted her a diamond necklace. Tamannah was offered a film with Parvathi, but she rejected it as she was uncomfortable in sharing the screen with her. Tamannah had not been given importantance, so she walked off.
3. Trisha Krishnan- Rana Daggubati Rana Daggubati is a famous Indian actor. He was bo >> Read More...
...
Trisha and Rana were in a relationship, and there was a rumor that Trisha and Rana Daggubati were going to be engaged soon, but they denied it. On social media sites, they unfollowed each other,which was noticed by a boy who was their fan follower. This created a controversy on social media and the press.
4. Richa Gangopadhyay- Sunder Ramu Sunder Ramu is a film and stage actor, as well as >> Read More...
...
Ramu Beautiful Richa Gangopadhyay was always seen on the news since she met Sunder Ramu. Sunder Ramu threatened her with a suicide case if she didn't marry him. Richa commented that she would marry according to her own wish and no one could force her to marry. Richa and Ramu had been close while working for film 'Mayakkam Enna.'
...
5. Pawan Kalyan-Anna Lezhneva
...
Anna Lezhneva is a Russian. Pawan was a lead actor where Anna played a small character. They met each other in 2011 for the film 'Teen Maar.' They fell in love and had a baby but as he wasn't divorced from his first wife Renu, they couldn't marry each other. After the separation, Renu moved to Pune. During his holidays, Pawan used to go to meet their kid and spend time with them.
6. Jyothika Saravanan-Suriya Sivakumar
...
Jyothika and Surya affronted each other during the movie 'Poovellam Kettuppar'. During that time, both were not famous but had a good bond with each other. Jyothika didn't know the Tamil language but made an effort to learn the language and deliver perfect pronunciation. Surya was attracted towards her. He liked her nature as she was very humble and treated her assistant nobly. As Surya was an introvert, he couldn't go beyond sharing his feeling towards her as he was too shy to express it.
7. Ileana D Cruz-Andrew Kneebone 
Ileana is committed to the Austrilian photographer, Andrew Kneebone. Elena says that Andrew as been her pillar of strength. While attending the release of ' Happy Ending Click to look into! >> Read More... ' she walked with her boyfriend, hand in hand. On Twitter, she shared a picture with a post stating,"At the promotion of Happy Ending, with my strength, support, and everything."
8. Asin Thottumkal Asin Thottumkal more famously known as Asin, is a >> Read More... -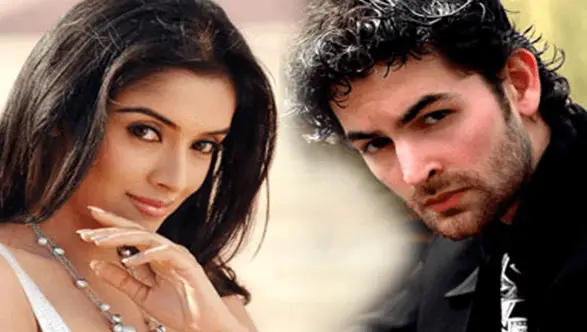 Asin and Neil started with a friendship and later began to date. A source had said that Asin warned Neil not to disclose their relationship matters to the press. It seems that Neil had a problem with Asin going to SK's party. She had attended the parties as she wanted to sign a big film. He often brought up the issues about the parties, but she used to ignore it. Neil tried to call her and messaged, but she never answered it. Asin then messaged him, "it's over" and Neil never turned back towards her to stay focused on life and career.
9. Hansika Motwani-Silambarasan
Hansika and Simbu had confirmed their relationship. There was a rumor regarding their love and their marriage, but Simbu denied and exclaimed that it should be the decision of the families.
10. Shraddha Das The model turned actor, Shraddha Das is one among >> Read More... - Varun Sandesh Varun Sandesh is an Indian actor and singer, who w >> Read More...
Shraddha Das and Varun Sandesh were spending private time together and when asked about it, both of them said that they are just close and good friends.