All work and no play makes Jack a dull boy. Although this is a very old proverb, isn't it relevant even today? Well, sports has always been embraced by Indians and even filmmakers leave no stone unturned in making films of this genre, every now and then. In fact, when the masses are tired of watching routinized movies, these movies come as a whiz of fresh air. Let's take a look at some of the best sports-based movies in Kollywood. It is heartening to know that most of these movies have been received well by audiences and critics alike.
Badri
A movie on kickboxing… that's Badri for you. This was a remake of the Telugu flick Thammudu. Vijay played his role effortlessly, and the movie was a smashing hit at the box office.
Vennila Kabadi Kuzhu

A movie based on the spirited game of Kabadi… that's Vennila Kabadi Kuzhu for you. This was the debut film of actor Vishnu Vishal and Susindran as a director. This movie was embraced by the audiences and also set the cash registers ringing. Just like any other typical sports movie of Kollywood it too had its romantic elements.
Dhoni
Well, no points for guessing what the genre of this movie was. A young boy wanted to become a cricketer much against his father's wishes. This bilingual movie in Tamil and Telugu was accepted by the critics. 
Chennai 600028
This film is centered around children playing street cricket, as is commonly observed in our country. It set a new trend, and though actors like Jai were not very prominent previously, they gained popularity through this film. Venkat Prabhu debuted as a director with this movie and later became one of the most acclaimed directors of Kollywood.
Jeeva
The Susindran and Vishnu Vishal combination again joined hands for Jeeva, which was based on the game of Cricket. And yes, this film too was lapped by the audience and the critics.
Ghilli​
Ghilli is one of the biggest hits of Ilayathalapathy Vijay, and it aired on television several times. The movie has Kabadi as its core and is shot keeping in mind all the essential elements that would make this movie a commercial success. Vijay was at his cool best in the movie and the introductory dialogue, "Antha Area Intha Area All Arealayum Aiyaa Ghilli.. Ghilli Da" went on to become a rage at that time. Trisha too had a meaty role in the film. This film is a remake of the Mahesh Babu starrer Okkadu.
Aadukalam
Sometimes though the game is a controversial one, it's the zest and passion with which people play that attracts filmmakers. Aadukalam dealt with cockfight and Dhanush was at his natural best in the movie. This movie also fetched him the National Award for Best Actor. 
M Kumaran S/O Mahalakshmi

This film revolved around boxing but it too had all the elements needed to make it a blockbuster hit. This movie starred the combination of the hit duo of Kollywood Jayam Ravi and Raja. Jayam Ravi showed a restrained performance in the second half and went on to win the Best Actor Award from Tamil Nadu State Film Award. Asin was the love interest of Jayam Ravi in this film.
Vallinam
Well, a movie on basketball…an untouched genre in Kollywood, right? This directorial venture of debutante Arivazhagan Venkatachalam starring Nakul showed that movies on sports are always accepted by the Tamil audience.
Lee
Basketball, cricket, kabadi, anything else?…yes, it's time for football now. Sibiraj tasted his much-needed success through this movie and was ably supported by Prakash Raj.
 
Potta Potti
This movie had ex-cricketer Sadagopan Ramesh playing the lead role. The film was interspersed with comedy and was a moderate hit. 
Well, what a plethora of games on this list! Ethir Neechal is based on Marathon running and was directed by R S Durai Senthilkumar. Sivakarthikeyan gave a convincing performance and Hansika was his love interest in this film. Critics wrote good words for this movie, and it was a blockbuster.
Maan Karate and Eeti are a couple of other films that were partially based on sports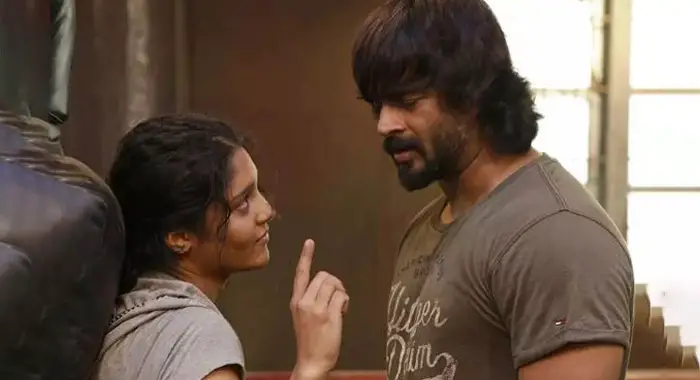 Irudhi Suttru scripted and directed by Sudha Kongara Prasad is one among the highly acclaimed sports based movies in Tamil. The film that has " R Madhavan" and the debutant Ritika Singh is based on boxing. The film has a lot of emotional scenes that impressed all class audiences.
"Kanaa" is scripted and directed by the actor, singer cum lyricist, Arunraja Kamaraj. Produced by "Sivakarthikeyan," the film has Aishwarya Rajesh, " Sathyaraj," " V R Rama," " Darshan" and " Ilavarasu" in the cast. The film that is based on Women's Cricket and agriculture impressed the audience.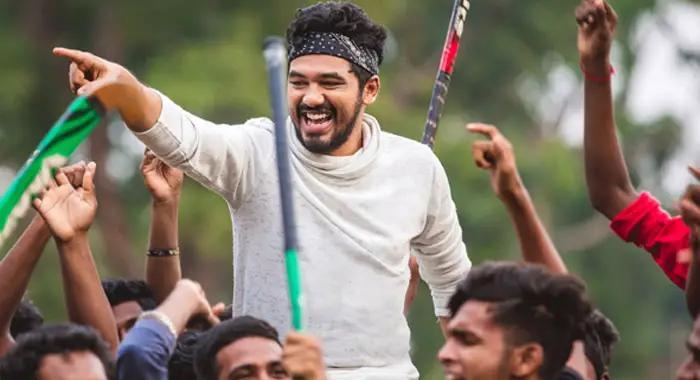 Natpe Thunai directed by Parthiban Desingu and produced by Khushbu Sundar is a musical sports film. Hiphop Tamizha Adhi, "Anagha," " Kausalya," Harish Uthaman, RJ " Vigneshkanth," Karu Pazhaniyappan and many other YouTube celebrities are in the cast. The film based on hockey is one among the notable sports-based films in recent years.
"Haridas" is basically an art film with sports as the primary genre. The film deals with a father and his autistic son. How a father cares for his autistic son and helps him to achieve something high in sports is the core plot. Directed by GNR Kumaravelan, the film has Kishore and " Sneha" in the lead roles.
"Bhooloham" is a sports film scripted and directed by Kalyanakrishnan. The film based on boxing has Jayam Ravi and Trisha Krishnan as the lead stars. Prakash Raj, Nathan Jones, " Ponvannan" and Ravi Mariya are also in the cast.