A doctor's son is not always a doctor. Similarly, an actor's son is not always an actor. Many celebrities want their kids to lead a life different from theirs. And sometimes, it's not the parents, but the kid who doesn't want to continue in the same field as their parents. Here is the list of the top 10 Tamil celebrities whose kids succeeded in other fields
Prakash Raj is one of the most renowned actors in Kollywood. He is highly respected and appreciated for his work. But his daughter, Pooja Rai, wants to set her standards in a field other than acting. She aspires to be a singer. She knows to play table and sitar and is fond of classical music and singing since childhood.
...
2. R. Madhavan
Madhavan's son, Vedaant, is setting a benchmark in swimming. R. Madhavan wanted his kids to do something else. He is one of the most hard-working and determined actors in the industry. Vedaant not only loves swimming but also excels in it. He won 5 gold and two silver medals in swimming. Not only these, but Vedaant also won many other competitions in swimming and grabbed gold and silver medals, making his father the proudest.
3. Vikram
Vikram won many hearts with his acting skills. No doubt, he is one of the finest actors in the industry. Unlike him, his daughter, Akshita, wants to be a businesswoman. She never wanted to be an actor like her father. She recently married her boyfriend, Manu Ranjith, and the couple welcomed a baby. 
...
Thalaivasal Vijay has given his life many years to act. Unlike him, his daughter, AV Jayaveena, is interested in swimming. She has bagged several medals in swimming to date. There was a time when she had to choose between the swimming tournament and her board exams. Unfortunately, she had to choose the board exams, but she has always been passionate about the sport and continues to excel.
...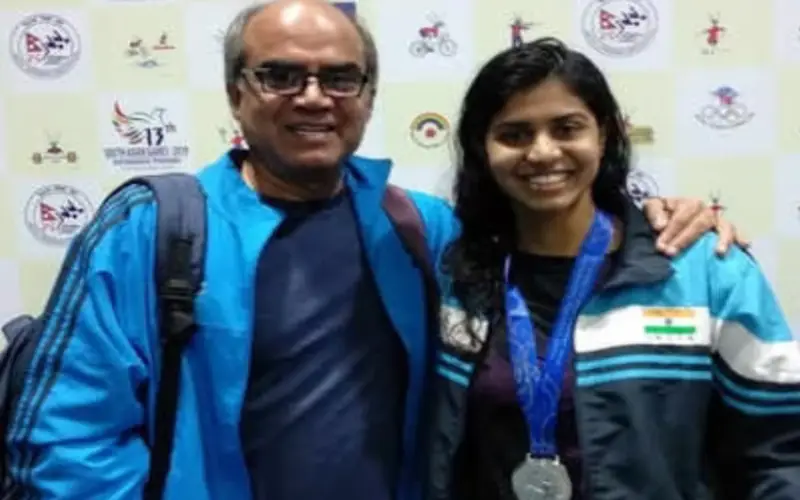 5. Suriya
Surya is one of the highest-paid actors in Kollywood. He is passionate about his work. He and his wife, Jyothika, are the industry's respected and appreciated actors. The couple has a daughter and a son. Their kids are not much into films. The daughter, Diya, is sincere in her studies. She did well in her 10th standard and got highly appreciated for it.
...
Ajith Kumar has a multi-talented daughter, Anoushka Kumar. She sings, dances, and is a pro badminton player. Her singing and dancing videos went viral and grabbed a lot of appreciation for her talent. She loves badminton and visits the court to look at matches of badminton. She is passionate about badminton and works hard for it.
...
Actor Chinni Jayanth is known for several roles in his films in the 80s and 90s. His son, Srujan Jai, made him proud by clearing the IAS exam with an all-India rank of 74. Srujan has been sincere regarding his studies since childhood. He focuses on development and growth in his services.
...
Saranya Ponvannan is known for her motherly roles in films in Kollywood. She has two daughters- Priyadarshini and Chandani. Priyadarshini is the eldest among the two. Unlike her other, Priyadarshini never showed interest in acting. She was inclined more toward studies and wanted a future different from her mother's. She is a doctor in Chennai and serves people with all her heart. She married in 2021 in a private ceremony held in Chennai.
...
Arvind Swamy is known for his good looks and acting skills in Kollywood. He is a proud father. His daughter never showed interest in acting. She wanted to study culinary. She made her father proud by bagging a gold medal in one of the world's finest colleges for culinary streams, Grande Diplome, Le Cordon Bleu.
10. Thalapathy Vijay
Vijay rules the heart of many people. His determination in his work makes him one of the most appreciated actors in Kollywood. His daughter, Divya Saasha Divya Saasha is an Indian child artist known for h >> Read More... , tends to set her future in fields other than acting. She is a badminton player. Although she was in the climax scene of his father's movie- Theri, she does not seem to be walking in her father's footprints as of now.