In the Kollywood Cinema Industry, actress Nayanthara is proudly known as Lady Super Star. Her dedication to acting was pretty unique. Maybe she was the first actress with a huge fan base equal to Heros.Here is a list of this beauty queens top 10 movies in Tamil cinemas.
1. Ayya
This film was Nayantara's debut movie in Tamil Cinema Film Industry. At young age, her acting was so marvellous. Her cute expressions in the movie made a positive start for her career by 2005. This movie was directed by Hari, and the music was composed by Bharathwaj and Vidyasagar.
...
2. Chandramukhi
It is a Horror, Comedy based film Directed by P Vasu. Starring Super Star Rajinikanth, Prabhu, Jyothika, and Nayantara in lead roles. The film was released in July 2005. It was a back-to-back hit for Nayantara in her career, and she paired up with the superstar in this movie. Her innocent character in this movie made her reach heights.
3. Billa
After some hits and flops, Nayantara gave a throw comeback in this movie in 2008. She was starring with Ajit Kumar Bio coming soon... >> Read More... in the lead role. Thou it was a charming character for the actress in the film. But after this movie, she bagged the title Lady Super Star. And also had a different fan base, just for her all-rounder performance on the big screen.
...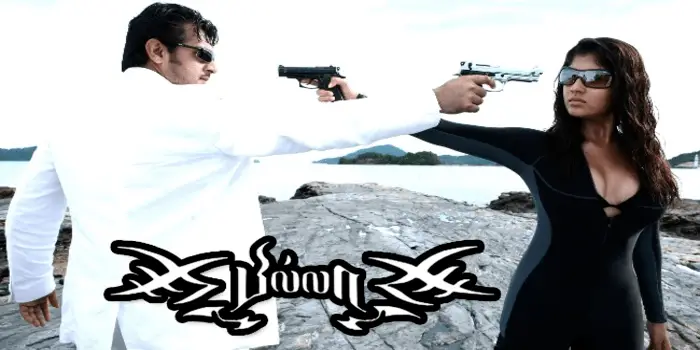 4. Yaradi Nee Mohini
A romantic movie directed in Mithran Jawhar, Starring Dhanush and Nayantara in lead roles by 2008. Another beautiful and innocent version of Nayantara's character. By this, again, she proved that she is a versatile performer in Kollywood Cinema.
...
A Tamil Romantic Drama Movie Starring Nayantara, Arya, Jai and Nazriya. It was released in 2013, and written by Director Atlee. Music was composed by G V Prakash Kumar. This story is filled with lots of love and heartbreaks too as it was all about a couple who disliked each other and were also forced to marry.
This movie cast was starring Jeyam Ravi, Nayantara, and Arvind Swami in lead roles, directed by Mohan Raja Mohan Raja is an Indian movie director. He has fun >> Read More... . It is an Action film with mixed emotions, and the movie was about a rich person who is an influential scientist and does medical malpractices for money. A straight-forward IPS officer exposes him and brought him to justice.
...
7. Kashmora
A Fantasy Thriller-filled movie Directed by Gokul, released on 2016. Starring Nayanthara, Karthi, and in lead roles. A fraudster and his family get trapped in a haunted bungalow. Also, the house was filled with many Ghosts who leave the family when they full fill their wish.
...
8. Kolamaavu Kokila
A story regarding a family who were stuck in financial issues and also got dragged into the drug war and put their life in risk. This film is a comedy-filled movie Starring Nayantara, released in 2018. The movie was directed by Nelson Dilip Kumar under the music composition of Anirudh Ravichandar.
...
A good Sci-Fi movie filled with lots of Mystery and twists. Cast starring Vikram, Nayantara, and Nithya Menon. The story of this movie was all about an attack on Indian Embassy in Malaysia. To track the culprits, an ex-agent is assigned. During the deep investigation, he finds his old love, who died when they completed a mission in an undercover operation.
...
10. Mookuthi Amman
This film was released during the pandemic 2020 on OTT platforms, Starring Nayantara and R J Balaji in lead roles. The story of this film was based on a common person's ancestral goddess; when he visits her temple then starts trouble, so he fulfils her wish and showers blessings on him and his family.
Therefore, above-mentioned movies are just a blink of Nayantara's career in the Kollywood Cinema Industry. But there are also many more films in other languages in which she rocks and shine. That's why she is proudly known as a Lady Super Star.