There are various genres in the film industry for describing a movie. Every language has its accent and gives vibes according to that, but genres provide vibes to the cinema. Corruption and political agendas are excellent stories that have been played by many famous actors for many years. It is not a new genre but has different aspects and stories related to it every time, which gives a fantastic experience to the audience. Also, not every genre works alone, many genres are working together, and politics is one of the genres that can be matched with the genres like drama, comedy, sci-fi, etc.
1. Sarkarnama
Sarkarnama is a Marathi Drama film based on the political background. Shrabani Deodhar Shrabani Deodhar is one of the top female director >> Read More... directed the movie that was released in the year 1998. The story depicts a chawl in charge named Vishwa, who gave notice to the residents to vacate the place as it has been marked unfit and unsafe. He then gave the case file to CM Uttamrao, but things changed differently when he went missing. The star cast of Sarkarnama including Yashwant Dutt Yashwant Dutt played the role of the Chief Ministe >> Read More... , Sharad Vyas Sharad Vyas is the Gujarati actor and producer who >> Read More... , Ajinkya Deo Ajinkya Dev or Ajinkya Deo is a prominent actor in >> Read More... , Kishori Ambiye Kishori Ambiye is a well known Marathi actress bor >> Read More... , and others, have given a big hand in the success of the movie.
...
2. Sinhasan
Sinhasan is a Marathi Political-drama based movie that was directed by Jabbar Patel Dr. Jabbar Patel (born June 23, 1942, in Pandharpu >> Read More... and released in the year 1979. The film has a great fan base due to its star cast, which includes Shree Ram Lagoo, Nilu Phule Nilu Phule is a renowned Marathi actor who predomi >> Read More... , Mohan Agashe Mohan Agashe is a theater based actor who predomin >> Read More... , Reema Lagoo Reema Lagoo is an Indian television and film actre >> Read More... , Rekha Kamat Rekha Kamat was an Indian actress. She was born in >> Read More... , and others. The story revolves around the mid-70s when Maharashtra was struggling to fill the vacant post of Chief Minister. The main character of the movie, a journalist named Digu Tipnis, reveals the relationship between trade unions and ministers that targets political corruption and its relation to Mumbai's trade sector.
3. Vazir
Vazir is a crime-drama-based movie directed by Sanjay D Rawal and was released in the year 2015. The movie's cast includes superstars Kamal Adeep, Kamal Adib Kamal Adib is an actor predominantly working in th >> Read More... , Pratibha Amrutey, and others. The story is about an ambitious man named Purshotam Kambel who takes off the post of personal assistant of Chief Minister Babusaheb Mohile. Kambel starts carving a place for himself with the dark motive of seeking power in his hands. He gets married to a trauma-suffering woman Kamal Juvekar who had been sexually assaulted by a gang of four men in a vision to cast his personality over and for getting public sympathy in becoming the next Chief Minister.
...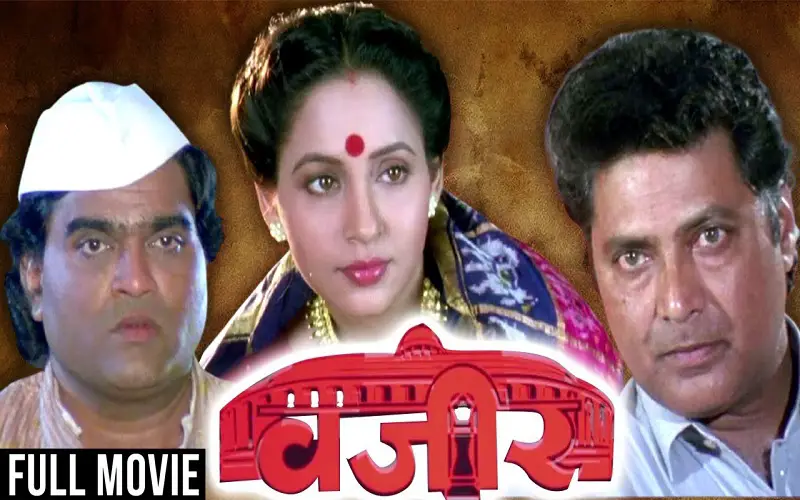 4.  Saheb
Saheb is a Political-drama-based movie released in 2023 and directed by K Vilas. The star cast of this movie has superstars Mohan Joshi Mohan Joshi was born in 4th September 1945 on Bang >> Read More... , Ramesh Bhatkar Ramesh Bhatkar was an Indian film, stage and TV ac >> Read More... , Prajakta Kelkar, , and others. The movie Saheb is about the helpless poor who are the victims of an unjust society and political corruption toward them. The word Sahed is used in Maharashtra to address the political leaders, but in this movie, Saheb depicts a person who helps the people experiencing poverty. In the film, a brave public figure comes forward to help the poor victims and gets targeted by corrupt politicians. To help the poor, he robs the money from rich, evil personalities and gives it to needy people.
...
5. Samna
Samna is a Thriller-crime genre Marathi movie that was directed by Jabbar Patel and released in the year 1974. This film was nominated at the 25th Berlin International Film Festival. The story of the movie is about a sugar baron Mr. Hindurao Dhonde-patil who is involved in the disappear of Maruti Kamble, he meets a middle-aged man who newly arrived in the village and lets him reside in his mansion to keep an eye on him as he expresses his doubt about the man that he might be a spy sent by the Central Government. The movie's cast includes Mohan Agashe as Maruti Kamble, Nilu Phule as Hindurao, Shreem Ram Lagoo as Master, Samita Patil as Kamley, and others.
...
6. Natarang
Natarang is a Marathi Political-drama based movie that was released in the year 2010 and directed by Ravi Jadhav He is a renowned Indian film personality; he was b >> Read More... . The movie's cast includes Atul Kulkarni Atul Kulkarni was born in the year 1965 in Karnata >> Read More... , Sonalee kulkarni, Kishor Kadam Kishore Kadam is an Indian Film Actor and Poet. He >> Read More... , Priya Arun Priya Arun Berde is an Indian cinema actress who h >> Read More... , and other superstars. The story revolves around a poor laborer named Guna, who loses his job and is struck into financial crisis. In this difficult situation, he sets up a theater company with his friend Pandoba, when he succeeds; the two local politicians try to use his success to accelerate their political prospectus. The film ends with a winning of lifetime achievement award by Guna.
...
7. Chandramukhi
Chandramukhi is a political cum romantic drama movie directed by Prasad Oak Prasad Oak is an Indian Film Actor, Writer, Direct >> Read More... and released in 2022. This political background movie is based on Mr. Vishwas Patil's novel, and the casting involves Amruta Khanvilkar Amruta was born on November 23, 1984 in Pune, Maha >> Read More... , Adinath Kothare Adinath Kothare or Adinath Mahesh Kothare was born >> Read More... , Prajakta Mali Prajakta Mali is an Indian film and TV actress who >> Read More... , Samir Choughule Samir Choughule was born in Mumbai, Maharashtra, o >> Read More... , and others. The story narrates about an upcoming minister of trade and commerce, Daulat Deshmane with a bright future, but it takes one photo to ruin all. The married Daulat Deshmane falls in love with a tamasha dancer Chandramukhi, but what happens when the relationship gets public knowledge?
...
8. Sangharsh Yatra
Sangharsh Yatra is a Political Marathi movie based on the life of a BJP leader Late Gopinath Munde. The film was directed by Sarkar Raut and released in 2017. The movie's cast includes Omkar Karve Bio coming soon... >> Read More... , Girish Pardesi, , , and others. The story depicts BJP leader Late Mr. Gopinath Munde's life journey, how he entered politics, became Deputy CM of Maharashtra, the death of his friend Pramod Mahajan, and other events. Sharad Kelkar has done his job excellently in glorifying the role of the late Gopinath.
...
9. Vinakaran Rajkaran (I)
Vinakaran Rajkaran is a Marathi movie based on the political background, a comedic genre directed by Tanaji Ghadge Tanaji Ghadge or Tanaji Mahadeo Ghadge is an India >> Read More... and released in 2022. The movie's star cast includes Pournima Ahire, Makarand Anaspure Makarand Anaspure is an actor who works majorly in >> Read More... , Bhargavi Chirmuley Bhargavi Chirmule is a renowned Marathi actress. S >> Read More... , Bharat Ganeshpure Bharat Ganeshpure is an Indian Comedian, Film, and >> Read More... , Sunil Godabole Bio coming soon... >> Read More... , and others. The story is set in a village where multiple persons initiate to be involved in local elections, but the race between politicians made a series of comedic events. That movie has various events that might make you laugh besides political suspense. This movie achieved a great response from its audience; also the acting of the superstars was of another level.
10. Thackeray
Thackeray is a Marathi film based on the political background of the legendary Balasaheb Thackeray. The director of this movie is Abhijeet Panse, and it was released in 2019 after the 93rd birthday of Balasaheb Thackeray. The film's story depicts the life of Babasaheb Thakeray, the founder of the political party Shiv Sena. The star cast includes Nawazuddin Siddiqui Nawazuddin Siddiqui was born in Budhana in Muzaffa >> Read More... as Balasaheb Thackeray, Amrita Rao Amrita Rao was born on June 7, 1981 in Mumbai, Mah >> Read More... as Meena Thackeray, Mukund Gosavi as Prabodhankar Thackeray Prabodhankar Keshav Sitaram Thackeray was born as >> Read More... , Sachin A. Jayavant as Uddhav Thackeray Uddhav Thackeray, born on 27th July 1960 in Mumbai >> Read More... , and others. The movie reveals the life and struggles in forming the party from the state to the national level. The events of his life became the footsteps for youth and followers to move on them.