Sports and movies are two of the most admired and loved aspects of India. In a country where people breathe sports and live for cinema, a combination of both is most loved. Here is a list of a few Marathi films that have made their mark in the entertainment world with their exceptional sports storylines.
1. Vijeta
When Maharashtra's performance at the National Games in Kerala falls short, Soumitra, a mind coach, is brought in to take charge. Directed by Anmol Shetge, the movie stars Shubodh Bhave, Devendra Chaugle, and Maadhav Deochake in the lead roles.
2. Gotya
Gotya, a young boy from a small town, is passionate about playing marbles. Despite his school initially not recognising it as a sport, he teams up with his sports teacher, Vishal, to change their mind. As word spreads about the game, Gotya sets out on a journey to prove his prowess and become a champion. Directed by Bhagwan Vasantrao Pachore, the movie stars Shashand Darne as the lead.
3. Medal
Despite being offered a dream job at a private school, a young English teacher chooses to teach at a government school. His path involves battling social prejudices, nurturing young minds, and training them to succeed at the prestigious Khel Kala Mahakumbh competition. Will they succeed? With Jayesh More, Kinjal Rajpriya Kinjal Rajpriya is an Indian actress. She was born >> Read More... , and Maulik Nayak Maulik Nayak is an Indian Film Actor, popular amon >> Read More... as the leads, the movie is directed by Dhaval Jitesh Shukal Dhaval Jitesh Shukla is a young aspiring director >> Read More... .
...
4. Re Raya
Aadesh is an athlete whose achievements have given pride to his parents and country. He is tired of his achievements being denied by the government and moves to his village, where he meets three young stars named Rahul, Aakash, and Vasu and trains them to become good athletes. The movie stars Prarthana Behere Prarthana is Maharashtrian by birth but is born an >> Read More... , Padmanabh Bind Bio coming soon... >> Read More... , and Prayag Damle in lead roles and is directed by Milind Shinde Milind Shinde is a Marathi film personality who ac >> Read More... .
...
5. Bedhadak
Ajay Sahane, a college student, is serious about boxing and wants to pursue a career in it. Faced with many obstacles, Ajay goes against all odds to make his dream come true, but will he succeed? Directed by Santosh Ramdas Manjrekar, the movie has Girish Taware as the lead.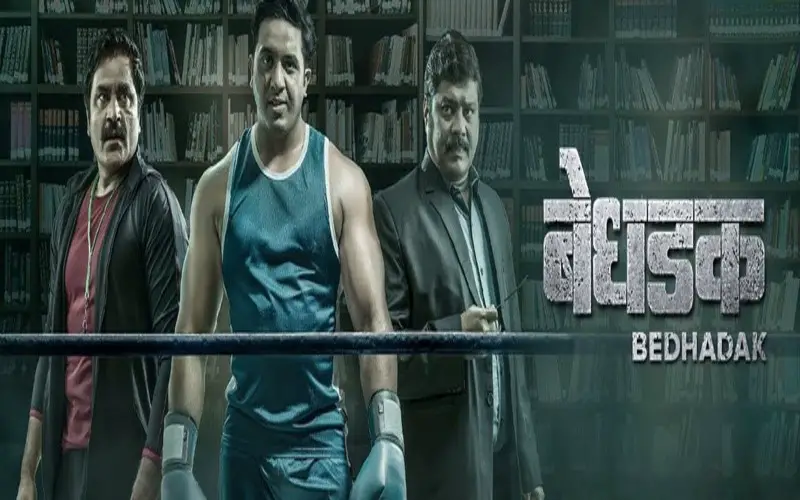 ...
6. Sur Sapata
Some young boys travel all the way from their villages to metropolises to play their beloved sport, Kabaddi. Will it all be worth it in the end?, directed by Amol Bhor and Mangesh Kanthale Mangesh Kanthale is an Indian Film and Serial Dire >> Read More... , stars Upendra Limaye, Govind Namdeo, and Pravin Tarde Pravin Vitthal Tarde is a maverick of the Marathi >> Read More... in lead roles.
...
7. Baalaa
Bala, a promising young cricketer, is being forced to join the Police by his inspector father. He runs away from his house to protest against it and somehow finds a way to practise cricket. The lead roles in the movie include Upendra Limaye, Kranti Redkar Kranti Redkar is one of the Marathi film actresses >> Read More... , Vikram Gokhale Vikram Gokhale is one of the very promising actors >> Read More... , and Suhasini Mulay Suhasini Mulay is popular for Marathi films and m >> Read More... , all directed by Sachindra Sharma Sachindra Sharma is a Bollywood screenwriter and d >> Read More... .
...
8. Kesari
A young man from a poor family puts in tremendous effort and does everything he can to win the prestigious Maharashtra Kesari wrestling competition. Will he be able to reach his final destination on this long journey? With Virat Madke, Mahesh Manjrekar Mahesh Manjrekar is a renowned actor, director and >> Read More... , and Vikram Gokhale as leads, the movie is directed by Sujay Dahake Sujay Sunil Dahake is an Indian director/editor wh >> Read More... .
...
9. Manyaa, Te Wonder Boy
A boy from a remote village in Maharashtra faces a lot of hardships on his journey to glory. Eventually, he makes his country proud by winning gold in the 100-metre race at the most esteemed international event at the London Olympics.
10. Chal Dhar Pakad
In a village, there is a school without chalk for the blackboard and a dispensary without doctors. The villagers have land, which is registered in the name of Bhujangrao Patil. The Sarpanch, Bhujangrao Patil, is deeply passionate about Kabaddi, and the entire village fears him. Komal, once slim but now despised by her husband Bhujangrao for her weight, is determined to regain her self-respect by challenging and defeating him in Kabaddi. These are some of the must-watch Marathi movies that depict love and the importance of sports in one's life.