In the world of Marathi cinema, talent has bounds, and the highest-paid Marathi actresses are proof of this fact. These talented women are the crown of Maharashtra and with their skills, they managed to earn top ranking. Below is the list of the top 10 highest-paid Marathi actresses, We'll be able to know the journey of these exceptional actresses who have risen to fame and fortune through their dedication, hard work, and exceptional acting abilities. From successful TV serials to blockbuster Marathi films, these actresses have not only captured top spots in the industry's earnings chart but also in our hearts.
1. Sai-Tamhankar
charges Rs 20-25 lakh per film. She has given hit after hits and is very popular in the film industry. Sai also works in Bollywood and also in television serials. She has served in many Marathi TV serials like Agni Shikha, Sathi Re, Kasturi, Ya Gojirvanya Gharat, and Fu Bai Fu (as an anchor). Sai has acted in several Bollywood as well as Marathi Films such as Vazandar, Picnic, Be Dune Saade Char, Mission Possible, Zhakaas, No Entry Pudhe Dhoka Aahey, Pune 52, and Love Sonia Click to look into! >> Read More... . Sai is also known as the queen of the Marathi film industry.
Sonali Kulkarni is a Marathi actress. She has performed in movies and TV shows and mainly works in the Marathi film industry. She is native to Pune, India, and was born on 3 November 1974. Sonali's fees are Rs 15-19 lakh per film. She is famous for her good and versatile acting skills. People like her for her versatile acting skills. She has worked in Hindi as well as in Marathi movies. Some of her famous movies are " Mission Kashmir Click to look into! >> Read More... ," "Dil Chahta Hai," and "Pachadlela." She has also won awards for her acting. Sonali has been a theatre artist also. She played important roles in movies like "Dr. Babasaheb Ambedkar."
Sonalee Kulkarni is an actress. She charges Rs 10-15 lakh per film. Sonalee mainly works in Marathi and also in Bollywood films. She has won several awards, including two Film Fare Awards. She is known for her Lavani-type dance song, " Apsara Aali Dancing denotes a happy soul and mind. It is a way >> Read More... ," in the Marathi movie Natarang. Sonalee made her debut in the Hindi film industry through the adult sex comedy Grand Masti Click to look into! >> Read More... also worked as the character Mamta, the wife of Ritesh Deshmukh's character. Sonalee also made a cameo appearance in the picture Singham 2
...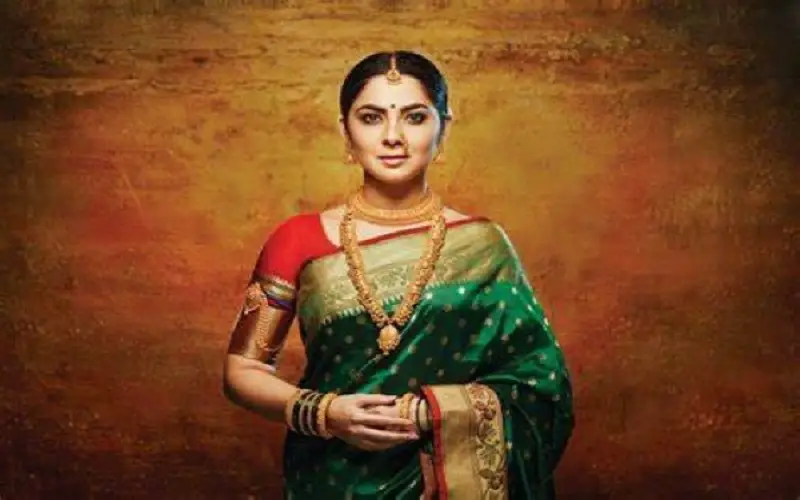 Amruta Khanvilkar charges Rs 10 lakh per film. She is an Indian Marathi actress. Amruta mainly performs in Marathi cinemas and TV shows. She was born on November 23, 1984, in Pune, India. Amruta has played roles in Marathi movies as well as Hindi films. "Natrang" and " Raazi Click to look into! >> Read More... " are some of her notable movies. Amruta has also won awards for her performances. Amruta is very famous for her beauty, versatility, and acting skills and gets praise for it. Along with acting, she has also participated in dance reality shows. Amruta is famous for her talent in acting and dancing.
...
Priya Bapat is an Indian actress. She mainly works in Marathi movies. Priya has given many commercially and economically successful movies like "Kaksparsh" and "Time Please." She is known for her versatile acting skills and gained popularity very quickly due to it. She was also part of the theatre. Priya is still known for her contribution to the Marathi entertainment industry. She has received many rewards and applauds for her incredible performances. She charges up to Rs 8-9 lakh for a film.
...
Prarthana Behere is a Marathi actress known for her work in movies and television. She gained popularity for her acting talent and has mainly performed in Marathi cinema. Behere was born on March 5, 1983, and is native to Vadodara, Gujarat, India. The fee for featuring her in a film is Rs 8 lakh. Prarthana has many won awards for her acting skills. Prarthana has also appeared in television shows and is appreciated for her versatility in acting. Her hit films include "Mitwaa" and "Coffee Ani Barach Kahi." She has received praise for her performances.
...
Shivani Surve is an Indian actress who was born on 28 August 1987, in Mumbai, India. She does roles in both Marathi and Hindi television series and is very popular. Shivani has also acted in Marathi pictures like "Dagdi Chawl." Shivani has a very charming personality and acting skills because of that she has gained a significant amount of fan following Shivani is a well-known actress who has gained popularity for her exceptional performances in TV serials such as "Devon Ke Dev...Mahadev" and "Jana Na Dil Se Door." She is a prominent figure in the Indian entertainment industry and continues to impress audiences with her remarkable acting skills. Her fee for a film is around Rs 7-8 lakh.
...
Pooja Sawant is an Indian actress native to Mumbai, India. She charges Rs 7 lakh per film. Pooja is a well-known actress who has acted in famous movies like "Dagdi Chawl" and "Poshter Boyz." She is recognized for her work in films and her dedication to her work. Her performances helped her to earn a dedicated fan following.Pooja's captivating roles continue to entertain audiences, and she is still considered a talented actress. Apart from Marathi films, she has also performed in Hindi films. And some of the Bollywood movies in which she appeared is "Junglee." Pooja has made a good name for herself in the Marathi film industry with her talent and versatility. Her versatile acting skills and immense beauty have given her attention to the world of Indian cinema.
...
9. Tejashree Pradhan
 Tejashree Pradhan is a popular Indian actress who Rs 7 lakh per film. She was born on 2 June 1988, in Mumbai, India. She is known and recognized for her work in Marathi television and films. Tejashree gained fame for her role as 'Janhavi' in the Marathi TV series "Honar Sun Me Hya Gharchi." Her work on this character had given her immense love and recognition from the audience. Tejashree is very charming on screen and is very dedicated to her work has earned her a loyal fan following. In addition to her television work, Tejashree has also featured in Marathi films such as "Ti Saddhya Kay Karte."
Sayali Sanjeev is a talented Indian actress. She charges up to Rs 5 lakh per film. Sayali is known for her work in Marathi entertainment. She was born on 31 January 1993 in Maharashtra, India. She has earned praise from both critics and viewers because she can play characters with deep emotions. Sayali played roles in Marathi TV serials like " Kahe Diya Pardes Kahe Diya Pardes is a bilingual serial airing on z >> Read More... " and " Dil Dosti Duniyadari Dil Dosti Duniyadari is a TV serial that aired on >> Read More... " by which she gained popularity. Sayali not only performs in television shows but also has appeared in Marathi films that include movies like "Gulabjaam" and "Daah." Sayali is very dedicated to her craft and her charm on the screen continues to win the hearts of her audiences. She has gathered popularity for herself in the Marathi film and television industry with her acting abilities.