Actors work all year round the clock while filming a movie, so it's difficult for them to find time for anything else. It isn't uncommon for them to fall in love with their co-stars on the sets of a movie, & start a relationship. Today, we'll be highlighting the actors who were involved romantically with each other in real as well as reel life. Here's our list of ten such celebrity couples:
1. Sunil Dutt Sunil Dutt was a great actor, director, producer, >> Read More... & Nargis Dutt Nargis Dutt was indeed the first lady of Indian sc >> Read More...
...
Both the actors were involved in the Oscar-nominated film 'Mother India.' Interestingly enough, Nargis plays the role of Dutt's mother in a movie that critics, as well as audiences, rave about even today. While filming was going on, the sets caught fire & Nargis happened to be trapped inside. Dutt heroically rescued her, which impressed her greatly. The two went on to marry each other & have children, one of whom is reputed actor Sanjay Dutt July 29, 1959, was the day when the two legends of >> Read More... .
2. Kareena Kapoor Khan Kareena Kapoor is a super hit actress working in I >> Read More... &
...
Before she met the Nawab of Bollywood, Kareena was in a relationship with Shahid Kapoor Shahid Kapoor also identifies as the name Shahid K >> Read More... . Their film ' Jab We Met Click to look into! >> Read More... ' did wonder for both, but unfortunately did not bode well for their relationship. Soon after their break-up, Kareena acted with Saif in 2008 movie 'Tashan.' The two began dating from there & later married each other. Kareena is the mother of their recently born baby boy,Taimur.
3. Aishwarya Rai Bachchan Aishwarya Rai Bachchan is a popular Indian actress >> Read More... & Abhishek Bachchan Abhishek Bachchan, or Abhishek Srivastava, is a ve >> Read More...
...
One of India's most beautiful women Aishwarya Rai & funny man, Abhishek tied the knot with one another in 2007. The two starred together in several ventures such as ' Kuch Na Kaho Story Coming Soon... >> Read More... ,' 'Dhai Akshar Prem Ke,' ' Guru Click to look into! >> Read More... ,' ' Umrao Jaan Click to look into! >> Read More... ' & 'Raavan.' The two are proud parents of their child,Aradhya, born a short while ago.
4. Riteish Deshmukh Riteish Deshmukh is the son of a politician, late >> Read More... & Genelia DSouza Genelia Dsouza is a popular Indian actress who has >> Read More...
...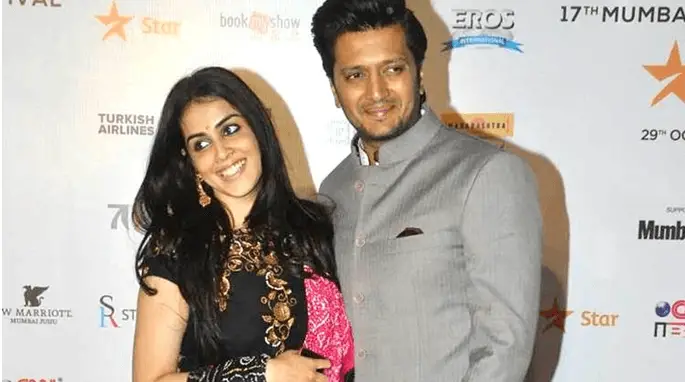 The two lovers met each other on the sets of 'Tujhe Meri Kasam.' There were no sparks between the two when they first met, since Genelia thought he was a spoilt brat because he was the son of Maharashtra's chief minister. However, they soon began seeing each other, & after 'Tere Naal Love Hogaya' married. They have a child.
...
5. Kajol Devgan Born on 5th August 1974, Kajol was the heartthrob >> Read More... & Ajay Devgan Ajay Devgn is an Indian film actor. He is perhaps >> Read More...
...
One of B-town's oldest couple, Kajol & Devgn met each other while filming their movie together,got famous, the movie named, 'Pyar Toh Hona Hi Tha' in 1 99 Click to look into! >> Read More... 5. They dated for three years until they got hitched in 1999. They have a son & daughter from their long-lasting marriage.
6. Hema Malini Hema Malini is perhaps the only dream girl of the >> Read More... & Dharmendra
...
The two met while acting in 1970 flick 'Tum Haseen Main Jawan,' & fell for each other. Not only did the two disagree with the wishes of their families, they also converted from their religion to stay together. Time has failed to cause hindrances in their relationship since theirs is one of the most timeless couples in the industry.
7. Neetu Singh TV actress Neetu Singh is a popular face on Indian >> Read More... & Rishi Kapoor Rishi Kapoor is an actor born in the prominent Kap >> Read More...
They belong to one of the most talented couples in movie history. Audiences simply loved the sizzling chemistry between the two when they brought to life their bubbly romance. They have starred in many blockbusters like ' Besharam Click to look into! >> Read More... ,' ' Jab Tak Hai Jaan Click to look into! >> Read More... ' etc. They tied the knot in 1979, & are parents of the face of Bollywood, Ranbir Kapoor Ranbir Kapoor is a noted Indian film actor. He was >> Read More... .
8. Twinkle Khanna Twinkle Khanna made herdebut in Indian film indust >> Read More... &
The two met on the sets of the famous Khiladi series, & are part of a love triangle no less than a masala film. Given Kumar's player past, he dated Shilpa Shetty A model turned actress, producer, entrepreneur and >> Read More... & Raveena Tandon Raveena Tandon is an Indian film actress who is kn >> Read More... before Twinkle. Despite gossip mongers saying their marriage wouldn't last, they have been together a long time now.
9. Saira Banu When Saira made her debut in film Junglee, she was >> Read More... & Dilip Kumar Muhammad Yusuf Khan was born on the 11th of Decemb >> Read More...
The real-life couple signifies the bonds of love & togetherness. Saira was a big fan of Dilip Kumar since she was a teenager. Despite the two having an age-difference of 22 years, the couple continues to stay strong together. The couple got married in the year 1966, when the beautiful Saira, only 22 at the time, got married to a 45 year old Dilip. Although they faced troubled waters just like any other couple, the two waded through successfully, managing to be by each other's sides through thick & thin.
10. Soha Ali Khan Soha Ali Khan was born into a royal family. She is >> Read More... & Kunal Khemu Kunal Khemu is an Indian actor who was involved wi >> Read More...
They had a successful live-in relationship & married each other in 2015. The lovers worked with each other on numerous occasions in films like 'Dhoondte Reh Jaoge,' '99' etc. Earlier they presumed they couldn't even be friends, but after spending time together, they became quite close.