We have often seen celebrities visiting occasions and after-parties at each other places. We have even seen their diet plans and workout routines, but we have never been known about not so sober life. Here are the few celebrities who were caught drunken in public.
Kareena Kapoor Khan Kareena Kapoor is a super hit actress working in I >> Read More...
...
Kareena Kapoor, a famous Bollywood star, was caught drunk in front of the media. She wore a black casual outfit and was too high. Kareena Kapoor Khan caught drunk heavily at Sonam's Wedding with Anand Ahuja.
Sanjay Dutt July 29, 1959, was the day when the two legends of >> Read More...
...
Sanjay Dutt has always been in the headlines because of his involvement with drugs and alcohol. Not once but too many times, Sanjay Dutt has been captured drunken in front of the public. The video of the Sanjay Dutt got viral on social media when he was asking the camera-man "Daaru Mila kya". At Amitabh Bachchan's party, Baba got drunk that he had to be taken care of people around.
Salman Khan Salman Khan is a very famous Indian actor and a pr >> Read More...
...
No one can forget Salman Khan's drunk and drive the case in which he drove the car on the footpath. So it is not new to see Salman Khan drunk in public. He was caught drunk in a white t-shirt and blue jeans while entering his car in an unconscious state.
Deepika Padukone Deepika Padukone is an Indian actress and model. S >> Read More...
...
Renowned Bollywood and Hollywood actor Deepika Padukone was seen drunken. She wore a beautiful yellow t-shirt at Karan Johar Karan Johar is one among the top ten celebrities i >> Read More... 's party. She was so high that it was seen on her face.
...
Alia Bhatt Alia Bhatt is a trendsetting actress from Mumbai, >> Read More...
...
Alia Bhatt, the daughter of Mahesh Bhatt Filmmaker Mahesh Bhatt created a niche for himself >> Read More... , was captured heavily drunk while returning from the club. She was so drunk that she was not able to walk and needed support from her friend while stepping down the stairs.
Vidya Balan Vidya Balan is an award winning Bollywood actress >> Read More...
...
The actor Vidya Balan got drunk and insulted the guest. It was reported in the media that the famous Bollywood actor Vidya Balan made a sarcasm of herself at the party and humiliated the party fellows. It was because she had consumed excess alcohol.
Shah Rukh Khan Shah Rukh Khan or also known as SRK is a prominent >> Read More...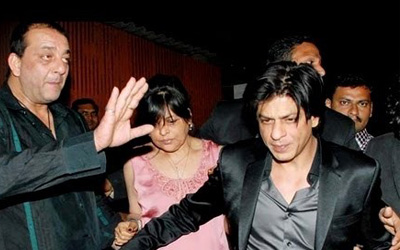 The king of the Bollywood, Shah Rukh Khan, has openly committed about his real-life drinking and was also caught many times drunken in front of the public. However, once he said in the interview that he is planning to quit drinking and smoking for his children.
Sidharth Malhotra Sidharth Malhotra is an Indian actor who was born >> Read More...
Sidharth Malhotra, the super-hot actor of the movie " Student Of The Year Click to look into! >> Read More... ," was found drunk with his best friends Arjun Kapoor Arjun Kapoor is a Bollywood star. He was born on 2 >> Read More... and Ranveer Singh Ranveer Singh Bhavnani is an Indian movie actor wh >> Read More... at the party. They even posted pictures on Instagram together. This trio was dancing after getting drunk.
Ranbir Kapoor Ranbir Kapoor is a noted Indian film actor. He was >> Read More...
The well-known actor Ranbir Kapoor is crazy about drinking and has caught unlimited times in a very high state after parties. He has also committed to his drinking problem, which is causing his health.
The Kamli girl Katrina Kaif known for her insane dance moves was captured drunk after the party. She was drunk while returning from Karan Johar's house. Katrina Kaif was so drunk that she was not able to walk and needed support from Karan to put her in the car.
Sonam Kapoor Sonam Kapoor, Daughter of Anil Kapoor and model Su >> Read More...
The Khubsurat girl, Sonam Kapoor was spotted drunk in her car after the clubbing late at night. It had been found that all the celebrities who attended Sonam's wedding were drunk and dancing.
When the Muni Badnam girl Malaika Arora attended Manish Malhotra's 50th Birthday, she was quite a little too much drunk that she was unconscious and couldn't walk. She was enjoying her first party after separating ways with Salman's brother Arbaaz Khan Born in a family that has strong ties in the film >> Read More... . It was known that even Sonam Kapoor was attending the same party when she tried to help Malaika. She replied, "Back-off, I can help myself". After this drama, Karan Johar and Manish came out to take Malaika inside the house.