Koffee with Karan has been serving us with fresh gossip all these 18 long years. While some celebrities have appeared on the Koffee couch multiple times, some new debutants left their mark in the rapid-fire rounds. With lots of drama, controversies, and interesting pairing, Koffee with Karan is back on OTT this time. Many phenomenal actors are making their Koffee debut this season. Let's check them out and revisit some of the other iconic debutants. Here are the top 10 best debutants on Koffee with Karan:
South superstar Samantha made her debut with , and the diva was on fire. She didn't hold back and talked openly about her personal and professional life. She also spoke about her broken marriage and her bonding with her co-star Nayanthara. With her crisp and honest answers, she didn't leave a chance to troll Karan. These make her one of the best debutants on the show.
...
Diljit paired with our bad boy Badshah in an entertaining episode in season 6. This episode was purely entertaining, with Diljit and Badshah being candid. Actor-singer Diljit talked about his limitless love for Kylie Jenner Kylie Jenner is an American television actress bor >> Read More... and when he honestly admitted to not being fluent in English. Diljit and Badshah rapped a little in the show, and their friendship was visible through the screen.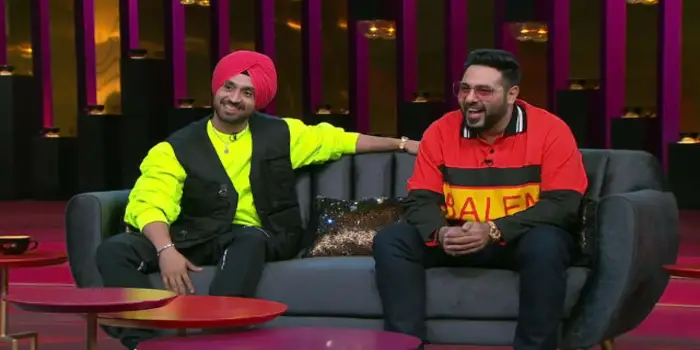 ...
3. Vijay Devarakonda in Season 7
Vijay debuted on the Koffee couch with his Liger co-star Ananya Panday. With conversations on nepotism, relationships, and movies, this episode involved very entertaining conversations about Vijay's journey to becoming a PAN India star.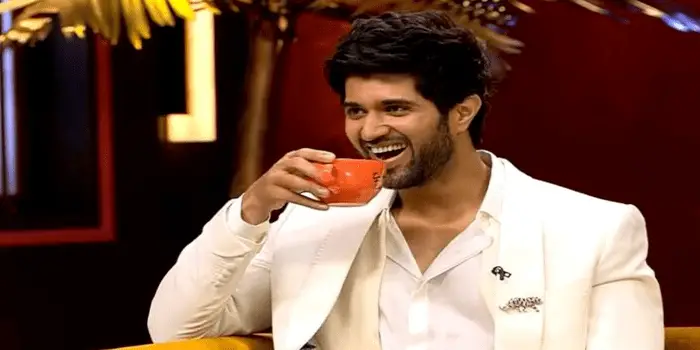 ...
Three newcomers to the Bollywood industry and stars of the Student of the Year debuted in Koffee with Karan in the fourth season. They were quirky and cheery throughout the episode. They have a very natural screen presence which can be evident after this episode. Alia Bhatt's infamous answer on being asked to name the President of India was also in this episode.
From the duo answering if they have donated sperms in real life to chit-chat about their co-stars, these debutants were lots of fun to watch. They were quirky, quick, and on-point. This was also the episode in which we saw Vicky Kaushal react to Katrina Kaif's comment about them being a good-looking pair.
...
6. Ishaan Khatter in Season 6
Ishaan debuted with his brother Shahid Kapoor Shahid Kapoor also identifies as the name Shahid K >> Read More... on the Koffee show. He spilled tea on the industry, his relationship status, and his film Beyond the Clouds. Shahid talked about his family, his newborn, and his advice to after his marriage to Priyanka Chopra Born on 18 July 1982, Priyanka Chopra is an establ >> Read More... . This episode reminded many people of their siblings and felt the love and warmth through the screen.
...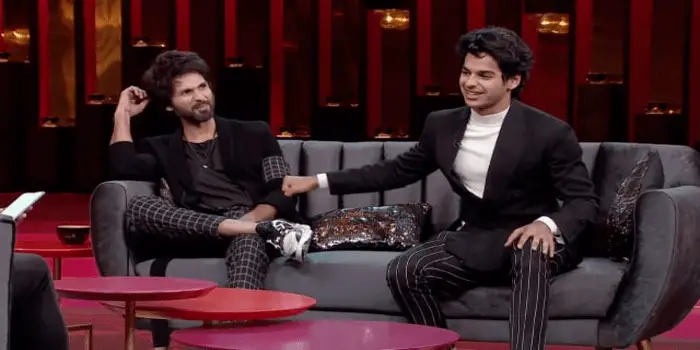 Sara will debut with her dad on Koffee with Karan. Sara talked about their family dynamic and bonding with Kareena's son Taimur. She also revealed her crush on Kartik Aaryan His name is Karthik Tiwari, and he was born in Gwa >> Read More... and her struggle with weight caused by her hormonal disorder called PCOS. She instantly became everyone's favorite because of her straightforwardness and genuineness.
...
8. Jahnvi Kapoor in Season 7
Another Dharma kid on the block, Jahnvi debuted with her brother Arjun Kapoor Arjun Kapoor is a Bollywood star. He was born on 2 >> Read More... . They discussed their sibling bonding, Sridevi's death, and its impact on their lives. Arjun revealed that this incident only brought them closer, and they felt the need to be there for their siblings during these challenging times.
...
9. SS Rajamouli, Prabhas, and Rana Daggubati in Season 6
It is for the very first time that we saw celebrities from the Telugu film industry grace the Koffee couch with their presence. The trio was very entertaining, and their humor was pure entertainment. This episode involved many revelations about Prabhas being a lazy guy and Rana being a good boy. From talking about Baahubali to their relationships, this is one of the best debuts on the Koffee couch.
10. Kriti Sanon and Kartik Aaryan in Season 6
 The Luka Chuppi co-stars debuted and showed their quirky side to the audience. Both of them talked about their engineering days and cleared Karan's questions about their relationships.