Movies are nothing but a child of someone's fancy, mixed with reality elements. They show us the probability and possibility of various events. They too, like books have the capacity to transport us into an entirely new and fanciful world while keeping us within the four walls of the theater. There are some genius directors in Bollywood, who have the courage to give us some prodigious movies, which usually go unnoticed.
1. ' Madaari Click to look into! >> Read More... ' (2016)
...
Nishikant Kamat's film Madaari tells a tale of a common man's plight, and how his sufferings and issues are considered trivial compared to the similar issues of people at higher ranks, especially due to our corrupt government. Though the movie was not a great hit, but actor Irrfan Khan Irrfan Khan is a noted Bollywood actor who started >> Read More... soars up higher with his acting, for which he's greatly praised by the critics as well as by the few who opted to watch the movie.
2. 'Maqbool' (2003)
...
Well, after watching this movie, one would surely feel like giving Vishal Bharadwaj a pat on his back. Shakespeare's Macbeth is where the movie derives its plot from, but Mr. Bharadwaj has wonderfully played with the story line and has set it up to show the dark and stark reality of the Underworld of present day Mumbai. And once again, the spice to the movie is added by Irrfan Khan's acting.
3. Black Friday (2004)
...
Another one based on a book, and no matter how unnoticed the movie was its maker, Anurag Kashyap Born on 10th September 1972, Anurag Kashyap has es >> Read More... , can surely be proud of himself as whoever happens to watch the film will accept it as a masterpiece. The storyline revolves around the investigations that took place after the 1993 serial Bombay bomb blasts. But the incident is expressed through the perspective of different people involved-police, conspirators, victims and agents.
4. The Blue Umbrella Click to look into! >> Read More... (2005)
...
There is surely something about the movies based on books! Based on a Ruskin Bond's short novella and directed by Vishal Bhardwaj The most outstanding of a successful film producer >> Read More... , it is a brief and humorous film featured in the hills of Himalayas, where general characters become heroic. The movie is a great source of entertainment for both children, as well as adults.
...
5. ' Lootera Click to look into! >> Read More... ' (2013)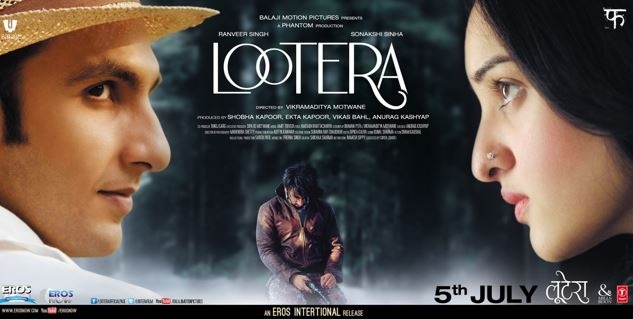 ...
Director, Vikramaditya Motwane Vikramaditya Motwane is a film producer, writer, a >> Read More... , paints in this cinema a light romance. The film is set in the years 1953-54, where an aristocrat's daughter falls in love with an archaeologist. The movie reveals certain facts so gently that it seems as if poetry is going on in motion to invoke feelings among the viewers. Also, the movie has an atypical ending. Fantastic performance by Sonakshi Sinha Sonakshi Sinha is a well-known Indian Actress. She >> Read More... is greatly hailed, especially in the second half of the movie.
6. '3 Deewarein' (2003)
...
Nagesh Kukunoor's 3 Deewarein is a movie that offers not just entertainment but also enlightenment. In this story, death sentence has been given to three prisoners and a filmmaker wishes to make a documentary on their life, and in the following course finds redemption in their lives.
7. ' Aligarh Click to look into! >> Read More... ' (2016)
This movie narrates a kind of incident which remains not just as an episode but forces the viewers to feel the incident themselves. One can easily connect with the movie since it depicts a very realistic social scenario. The movie tells us the real story of a 64-year-old Professor Siras (played by Manoj Bajpayee Born on 23 April 1969, Manoj Bajpai is first a Bol >> Read More... ), who was expelled out of the Aligarh University and a journalist who sees him for who he really is and tries to understand him.
8. '' (2009)
Anurag Kashyap, once again with his movie "Gulaal" uses cinema to make a stark social comment on issues like love and politics. He depicted in the movie how a law student happens to see bloodshed and crime only after being elected as a general secretory of his college.
9. ' Udaan Udaan is a Hindi Daily series which aired on 18th >> Read More... ' (2010)
Udaan by Vikramaditya Motwane is one of the mildest and most realistic film ever. This movie is about a 16-year-old schoolboy who is expelled from the school and is forced to live with his domineering father who wants to crush his dream of being a writer. But he with his will power, spirit and talent rise above it. And one cannot forget to give credit to Ronit Roy Ronit Roy (Ronit Bose Roy) was born on 11th Octobe >> Read More... for his performance of a merciless father.
10. ' Parched Click to look into! >> Read More... ' (2015)
,
And last but not the least, on the list is Leena Yadav's Parched which impinges one to give another thought to the class and sex war that is still prevalent in remote areas of "The Incredible India." She, with the help of all her protagonist women shows that how even till date women are considered nothing but objects and have not been provided with an individual identity and are only considered like shadows of men. She forces us to think and re-think if it is even possible for women to break through these shackles and liberate themselves.
So this brings us to an end. But I'm sure that after reading this, you cannot afford to miss out on any of these movies, which even though didn't even nearly come to be a 100 Cr blockbuster but can surely leave a poignant mark on your brains!