Since his debut in 2012, Varun Dhawan Varun Dhawan, a new comer entered Bollywood with h >> Read More... has won many hearts and established himself as a capable star in the Bollywood film industry. Though not all of his films were box office blockbusters, his performance has often been praised by the audience. Some of his quality films is what this article revolves around.
1. Badlapur
In 2015, the film Badlapur showcased a unique facet of Varun Dhawan as he embarked on a formidable mission to exact retribution for the heartless murder of his spouse and offspring. Directed by Sriram Raghavan Sriram Raghavan is an estimable film director and >> Read More... , this action-packed thriller proved to be a resounding success, raking in a whopping 80 crores at the box office despite its modest 16 crores budget.
2. Humpty Sharma Ki Dulhaniya
Getting released in 2014, Humpty Sharma ki Dulhaniya marked the beginning of his career. In this incredibly delightful tale of romance, Varun effortlessly embodies the character of Humpty, a carefree and cheerful individual. He becomes captivated by the irresistible charm of Kavya, a young and enchanting woman played by Alia Bhatt Alia Bhatt is a trendsetting actress from Mumbai, >> Read More... . But here's the catch - Kavya is already engaged to someone else, which poses a challenge for Humpty as he races against time to conquer her heart.
3. October
October is directed by Shoojit Sircar Shoojit Sircar is an Indian film producer and dire >> Read More... and is an incredibly touching story about the complexities of love and the pain of loss. Varun Dhawan's portrayal of the character Dan, an intern working at a hotel, immediately resonated with viewers. His subtle yet emotionally charged-up performance gathered immense praise from critics, showcasing his remarkable ability to adapt to various roles offered to him.
...
4. Badrinath Ki Dulhaniya
In the follow-up to " Humpty Sharma Ki Dulhania Click to look into! >> Read More... ," Varun Dhawan took on the role of resurrecting Badrinath Bansal in this movie that was released in 2017. The film seamlessly intertwined elements of love and societal critique, addressing themes of male dominance and equal rights. Varun's captivating depiction of Badri captivated viewers, ultimately leading to its triumphant reception at the box office.
...
Varun Dhawan played a great comedian in this film, directed by his father, David Dhawan Born on 16th of August 1955, David Dhawan has alwa >> Read More... . It also starred various other actors like Ileana D'cruz, Nargis Fakhri Nargis Fakhri is an actress who pivotally works in >> Read More... , Anupam Kher Anupam Kher is a very popular actor, director, and >> Read More... , etc., whose combined acting skills made this film a great comic success. The plot is actually a bit complex and is entwined together, giving frame to the story.
...
6. Dilwale
Dilwale, the sequel of DDLJ, had primarily four lead stars, Shahrukh Khan, Kajol, Kriti Sanon Kriti Sanon is a model-turned-actress who made her >> Read More... , and Varun Dhawan. His role as the brother of Shahrukh and as a car mechanic brought giggles to the face of the audience. The film was filled with action scenes, along with emotional sequences, but was not as grand a success as DDLJ. It nurtured mixed opinions among the audience and critics, but some of its songs became quite famous. The plot indulges into the realms of love, vengeance, reconciliation, etc.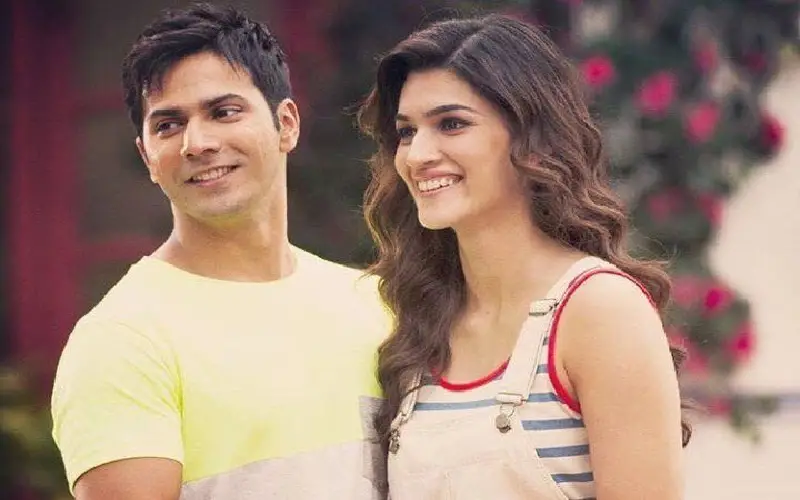 ...
7. ABCD 2
Varun Dhawan is not just an actor but a gifted dancer too. Remo's movie ABCD 2 bears testimony to this. The movie included a stellar cast with Prabhudeva, Shraddha Kapoor Shraddha Kapoor, born on March 3rd, 1989, is a you >> Read More... , Dharmesh, etc., among others. The hip-hop dance performances were loved y the audience greatly.
...
8. Judwaa 2
This film was a sequel to the 1977 film Judwaa by Salman Khan Salman Khan is a very famous Indian actor and a pr >> Read More... . This was a new challenge for him since he played a double role here, portraying two characters with contrasting personas. The movie also starred Tapsee Pannu and Jacqueline Fernandez Jacqueline Fernandez is one of the top actresses i >> Read More... beside his characters and dealt with separation, reconciliation, and a good lot of action.
...
This movie provided a genuine respite from the occasional narratives in which he has been involved. In this film, he portrays a destitute tailor who diligently endeavours to rise to renown. Anushka Sharma Born in an army family to Col. Ajay Kumar and Ashi >> Read More... accompanies him on screen as the main actress, and the movie concludes joyfully when the garments he created shine in a fashion exhibition. Hence, this is the quintessential tale of going from poverty to prosperity.
10. Student Of The Year
This Karan Johar movie happened to be his Bollywood debut film. He got a good hand at showcasing his skills beside other stars like Alia Bhatt and Siddharth Malhotra, among others. It marked the start of his Bollywood journey, and currently, he has earned himself a sustainable position in the hearts of the audience with his enigmatic charisma.