An actor is someone who can portray any role that he or she is not and in such a way he makes the spectator believe in it. When it comes to acting, an actor cannot say that he or she wouldn't do a role just because they don't seem to like it. If the script demands, it is the job of every actor to portray extreme characters. In the following list, you can find Bollywood actors that have gone to extremes to fulfill the roles and have played their opposite genders quite convincingly in their movies.
1. Shammi Kapoor Shammi Kapoor: - 'Elvis Presley' of India. >> Read More...
Yahoo! No wonder Shammi Kapoor is known for his portrayal of Shekhar in Junglee. He was indeed a legendary actor. Along with the many successful roles that he has played, his performance in the film Bluffmaster was incredible. He played a female character in the movie that was very well received by the audience.
...
2.
Any list relating to Bollywood Legends goes incomplete without the mention of the Shahenshah Amitabh Bachchan. The versatile actor, leveled up his performances when he played a female character which got recognition in the famous song named 'Mere Angne mein' from the movie Lawaris.
...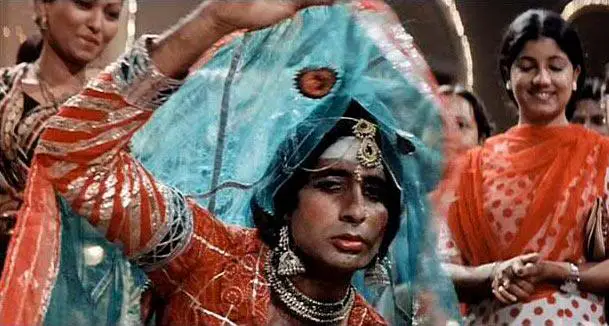 3. Kamal Haasan Kamal Haasan is the most versatile actor that Indi >> Read More...
...
Who hasn't seen Chachi 420? If you still haven't, I can't even describe to you how much you have been missing out. The movie Chachi 420 is remembered only for his portrayal of the Chachi as he completely nailed it.
4. Riteish Deshmukh Riteish Deshmukh is the son of a politician, late >> Read More...
...
Though Riteish Deshmukh hasn't had a fabulous career in the Film Industry, we still have to agree that he is considered to be one of the most loved actors in Bollywood. Everything that he does, he adds a little comical and fun element such that the audience. He has played a female character in his movie 'Apna Sapna Money Money.'
...
5.
Here we have another legend of Bollywood who pulled off a female character well in one of his movies. He played a girl in his comedy movie 'Haseena Maan Jayegi'.
...
6. Shreyas Talpade Those who follow Bollywood movies are accustomed t >> Read More...
...
Much like Riteish Deshmukh, he gives a very personal and beautiful touch to any of the characters that he plays. He has played the role of a female in his film 'Paying Guest.'
7. Govinda
I think anyone of you will agree with me if I say that Govinda is one hell of an actor. Agree? He can pull off any character. He has played a female role in Aunty no.1.
8. Salman Khan Salman Khan is a very famous Indian actor and a pr >> Read More...
If any lists are made, can it go on without the three ruling Khans of Bollywood? Not possible. Here, we have our beloved Salman who has played the role of a woman in his movie 'Jaan-e-Mann.' It didn't go well with the audience due his body and his muscles, but this sure proved that he is a versatile actor.
9. Aamir Khan Aamir Khan or Mohammed Aamir Hussain Khan is Bolly >> Read More...
The perfectionist as we all lovingly call him, makes every possible effort to project the right emotions on the screen. Similarly, he has done the same thing to perfection in one of the item song, Dole Dole Dil from the flick named Baazi.
10. Shah Rukh Khan Shah Rukh Khan or also known as SRK is a prominent >> Read More...
Last but not the least, our very own SRK is known to drool us over by his amazing acting skills. Such was the case when he appeared in a female role in the flick named Duplicate.