Bollywood is the one business that has a hell lot of audience. Given such a big number of audience, it is very easily understood that all the actors and actresses are looked upon and they are under the scanner for each second of their public appearance. Therefore, it is the duty of every actor that they live by the expectations of their fans and their spectators. Here, I have listed top 10 worst airport looks of Bollywood celebs that didn't quite live to the audience's expectations.
1. Deepika Padukone Deepika Padukone is an Indian actress and model. S >> Read More...
The current Queen of Bollywood is also known as one of the most sensible fashion icons in the country. And, she has lived up to that status most of the times. But just not this one!
...
2. Sonam Kapoor Sonam Kapoor, Daughter of Anil Kapoor and model Su >> Read More...
Do I need to say that Sonam Kapoor is the ultimate Fashionista of Bollywood? No. That's already known. Not only do her fans but even some of the celebrities look up to her for some fashion inspiration. Maybe it was this pressure that she overdid her fashion sense a bit and looked like something that can only be called a 'Joker's Style.'
...
3. Huma Qureshi Huma Qureshi is a model-turned-actress in Bollywoo >> Read More...
...
This Diva has made her mark in Bollywood by her stunning performances, but what about her fashion sense? She needs to improve that a lot! Whatever she has worn in the picture looks like a bathrobe to me. What about you?
4. Ranveer Singh Ranveer Singh Bhavnani is an Indian movie actor wh >> Read More...
...
Ranveer Singh is called the 'Living Redbull' of Bollywood. He has this unmatched energy that makes him stand out from the entire crowd of Bollywood. Another thing that makes him stand out is his weird fashion sense. He is seen turning up like clowns at various events, and here we have just another picture of him as Mario!
...
5. Urvashi Rautela Urvashi Rautela is an Indian actress and a top mod >> Read More...
Bollywood stars do sometimes get a little overboard and then make a complete fool of themselves. Does they do this unknowingly or is this does in sheer spite? I don't know. But after seeing Urvashi's this look, what do you think?
...
6.
...
Kangana has always made headlines regarding both her personal and professional life. One other thing that she is known for is her ignorance towards what other people think of her. Maybe this is why she was motivated to wear the outfit in the picture. Agree?
7. Alia Bhatt Alia Bhatt is a trendsetting actress from Mumbai, >> Read More...
Alia does have a good fashion sense, but she has been proving us wrong a lot of times. Look at her picture, what do you think?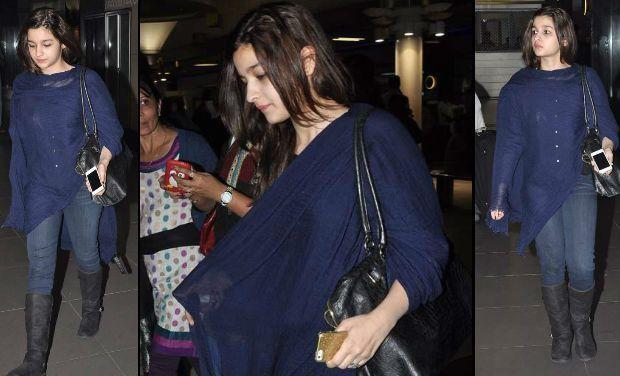 8. Jacqueline Fernandez Jacqueline Fernandez is one of the top actresses i >> Read More...
Our very own Jacqueline is also known for looking cute and hot at the same time. But the outfit that she is wearing in the picture seems little out of place. Isn't it?
9. Shruti Haasan Shruti Hassan is an Indian film actress born on 28 >> Read More...
This Diva is quite famous in the Bollywood and the South Indian Industry because of her background and her acting skills. She is normally very well dressed at all the events, but this picture looks a little weird. What do you think is abnormal? Yes, you guessed it right. Her stole!
10.
If we are judging the airport looks of all the leading Bollywood actresses, how could Katrina be left behind? Though the diva stuns us with her smoking body and awestruck dance moves, this outfit that she wore has deeply disappointed her fans!