There are many celebrities who are doing great work in the industry. We have a list of some of those celebs who were a hot topic to be discussed when they were in the industry, but later they disappeared.
1. Meenakshi Sheshadri: She did various films; comedy, action, romance, and drama. She won Eve's Weekly Miss India Miss India was a TV serial that was aired on Doord >> Read More... contest in 1981 when she was just 17 years old. Her debut film was Painter Babu in 1983 but received wider public appreciation by doing Hero in the same year. She did various great films and established herself in the industry as a leading actress in 1980s and 90s. In 1986, after the release of Ghatak, she left the industry to raise her children and to be with her family in the US.
...
2. Farah: She is the elder sister of Tabu. Her debut film was Fassle with in 1985. Her some of the memorable films were Imaandar (1987), Woh Phir Aayegi (1988), Naquab (1989), Baap Numberi Beta Dus Numberi (1990) and many more. She took retirement when she was at the top of her career in 1990 and at that time she was just 22 years old. She later did some television shows. Lastly, she appeared in Hulchul movie in 2004.
3. Raj Kiran Raj Kiran is one of the well-known director, actor >> Read More... : He started his career in the mid-1970s. He worked in around 100 films. Some of his remarkable works are Karz, Begunah, Arth, Abhiman, etc. He disappeared from the industry after 1990. But recently, actor Rishi Kapoor Rishi Kapoor is an actor born in the prominent Kap >> Read More... found him in Atlanta in a mental asylum.
...
4. Sheeba: She is an Indian model of 1990s known by the name "Zeeba" in the fashion world. Miss 420, Sanam Teri Kasam Click to look into! >> Read More... , Mr. Bond are some of her remarkable films. After her marriage to the director Akashdeep in 1996, she left the industry. The couple made a comeback as a producer of a TV show.
...
5. : He was known as the lover boy. He did some great films such as Kaante, Teri Kasam, Naam, Indrajeet, ; among which Love Story gave him the most fame. This movie was his debut film in 1981. He took a long break in the mid-90s. His first appearance in an American film was in Guiana 1838 in 2004 and was appreciated for his work; after this, he disappeared.
...
6. Rahul Roy Rahul Roy is a well-known Indian model-turned-acto >> Read More... : He is best known for his remarkable blockbuster debut film Aashiqui in 1990. In early 1990, he worked in many romantic films in which his performance was very much appreciated. He also played supporting actor roles in several films during the late 1990s. After Aashiqui, his best known and appreciated performance is in Junoon (1992). He was a contestant on the reality TV show, Big Boss season 1 (2006), and with public votes, he was the winner of that show.
...
7. Namrata Shirodkar Namrata Shirodkar clinched the Miss India title in >> Read More... : She is best known for her performance in Pukar in 2000, Astitva in 2000, Dil Vil Pyar Vyar in 2002, LOC Kargil in 2003. Her film Bride and Prejudice (2004) was a hit overseas, particularly in the UK. But she got the real fame by doing Vaastav: The Reality in 1999. She worked as a model also. She was Miss India 1993. She is married to Telegu actor Mahesh Babu Born on 9 August 1975 in Chennai, Mahesh Ghattaman >> Read More... and left the industry ever since then.
...
8. Sonam: She first was launched by Yash Chopra in 1988 in the film Vijay. At that time, she was just 14 years old. She received fame with the 1989 film Tridev. She was well known for her performance in "OYE OYE" song which got very popular at that time. She did a tremendous job in Mitti Aur Sona and was recognized for this. She married the director Rajiv Rai Rajiv Rai is a multifaceted legend in the field of >> Read More... when she was 18 years old. Afterward, she quit the industry.
...
9. Bhagyashree: Well known for her work in her debut film Maine Pyar Kiya Click to look into! >> Read More... , a blockbuster of 1989 with Salman Khan Salman Khan is a very famous Indian actor and a pr >> Read More... , she started her career with a television serial Kachchi Doop with Amol Palekar Amol Palekar was born on 24th November, 1944 in Mu >> Read More... . She also had roles in other TV shows such as Honi Anhoni and Kisse Miya Biwi Ke. After her debut film, she did various films of different languages such as Bhojpuri, Marathi, Telegu and many more. But none were as good as her first film which made her the hottest topic of that time. Afterward, she slowly disappeared.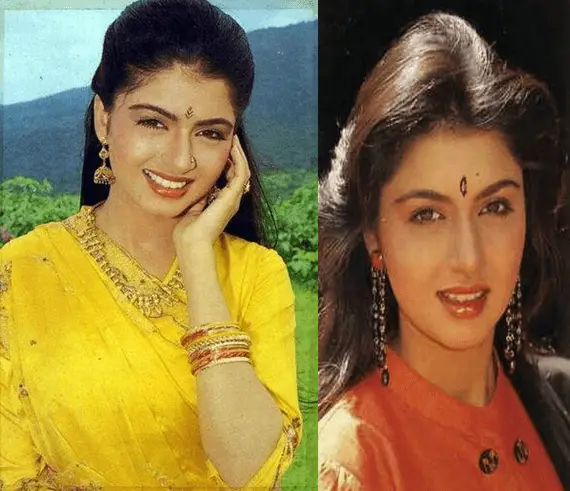 10. : Her remarkable movie which was also her debut that brought her fame was Aashiqui in 1990. Afterward, she did various films but none were as good as her debut film. She met with an accident and was in a coma for 29 days. Now she is single and lives in Bihar and practices Yoga.