Movies that are based on Social Disease and Taboo related are now considered as family entertainers and these type of films used to have a low expectation in box office but with the help of modern cinematography and improved acting by famous actors have proven that these movies can also collect a lump sum at the box office. Some films based on these diseases are: 
1 – Subh Mangal Saavdhan
...
This movie shows problems of "Erectile dysfunction." The film starring " Ayushmann Khurrana This Vicky donor worked as radio jockey, Video joc >> Read More... " and " Bhumi Pednekar Bhumi Pednekar is Maharashtrian unconventional act >> Read More... " in the lead roles, is available on "Eros Now" and "Jio Cinema."
2 – Posham Pa
...
The film is based on the real-life story of a "psychologically" disturbed mother who forced her two daughters into a life of crime. They murdered five children and were arrested for committing such mass murder. The film starring "Mahie Gill," " Sayani Gupta Sayani Gupta is a relatively new Bollywood actress >> Read More... ," and " Ragini Khanna Ragini Khanna is a well-known Indian model, film a >> Read More... " in the lead roles, is available in "Zee5."
3 – Bala
...
The movie shows a social disease and problems related to it and struggles in India. The film shows the real fight of the character that face the society about his "Baldness" and faces many problems in his personal and professional life. The film stars "Ayushmann Khurrana," "Bhumi Pednekar," " Yami Gautam Yami Gautam is a Hindi television and movie actres >> Read More... ," " Javed Jaffrey Javed Jaffrey is a talented actor, dancer, comedia >> Read More... ," " Saurabh Shukla Saurabh Shukla was born at Gorakhpur in Uttar Prad >> Read More... ," and "Seema Pahwa." The movie is available on "Disney+Hotstar."
4 – Dear Zindagi Click to look into! >> Read More...
The movie revolves around a female cinematographer who has some "Psychological Disorder." Later on, when she moved on with her family to "Goa," she meets a free-spirited Psychologist who helps her go through the day to day issue. The film starring " Shah Rukh Khan Shah Rukh Khan or also known as SRK is a prominent >> Read More... ," Alia Bhatt Alia Bhatt is a trendsetting actress from Mumbai, >> Read More... , " Ira Dubey Ira Dubey is among the brightest, most talented yo >> Read More... ," " Kunal Kapoor Born on 18th of Oct in the year of 1977 to a Punja >> Read More... ," " Angad Bedi Angad Singh Bedi is an Indian actor and model. He >> Read More... ," " Ali Zafar Ali Zafar is a multifaceted personality, though he >> Read More... ," and "Rohit Suresh Saraf," is available on "Netflix."
5 – 'Hichki'
The movie revolves around the lead role of an aspiring teacher having "Tourette syndrome," who must prove herself by educating a group of underprivileged students in the school. Each student must secure very outstanding marks; the movie further moves ahead with a problem created by students and the education system. The film stars " Rani Mukerji Rani Mukerji is one of the most celebrated Indian >> Read More... ," " Hussain Dalal Hussain Dalal is known as one of the most cherishe >> Read More... ," " Naisha Khanna Naisha Khanna is a beautiful and the innocent chil >> Read More... ," and much more talented actor and actress; the film is available on "Amazon Prime Video."
6 – ' Gippi Click to look into! >> Read More... '
The movie is based around a common issue, "Over Weight" or "Fat Shaming," where the character that is overweight gets trouble of getting some attention; the film has a star cast of " Riya Vij Riya Vij is a 17-year-old actress from Delhi. She >> Read More... ," " Divya Dutta Divya Dutta was born in Mumbai, Maharashtra, India >> Read More... ," and " Taaha Shah Taaha Shah is an Indian actor. He was born in the >> Read More... " in the lead roles and the film is available in "Amazon Prime Video."
7 – ' Zero Click to look into! >> Read More... '
In this movie, it shows another genetic disease, "Dwarfism," where the main lead is short in height but always high on confidence. His dream is to get married, which would lead him to some exciting adventure. The movie stars "Shah Rukh Khan," " Anushka Sharma Born in an army family to Col. Ajay Kumar and Ashi >> Read More... ," and "" in the lead roles; the film is available on "Netflix."
8 – Dil Bechara
This movie is about two cancer patients. Their mutual friend "JP" suffers from glaucoma and is blind in one eye. They make a movie together, inspired by ' Rajinikanth 'Rajinikanth' is the name that is known in >> Read More... 's films. The film based on John Green's 2012 novel "The Fault in Our Stars," has " Sushant Singh Rajput Sushant Singh Rajput is one of the famous Indian t >> Read More... " and "Sanjana Sanghi." The film is available in "Disney+Hotstar."
9 – Mard Ko Dard Nahi Hota
The film's storyline follows a young man who has a rare condition called "Congenital insensitivity to pain," and goes out on a quest to kill his foes and save his master and love. The movie starring "Abhimanyu Dassani," " Radhika Madan This beauty was recently spotted by Ekta Kapoor in >> Read More... ," " Gulshan Devaiah Gulshan earlier a theatre artist, now an Indian ac >> Read More... ," " Mahesh Manjrekar Mahesh Manjrekar is a renowned actor, director and >> Read More... ," and " Jimit Trivedi Jimit Trivedi is an Indian Actor. He works predomi >> Read More... " is available on "Netflix."
10 – ' Phobia Click to look into! >> Read More... '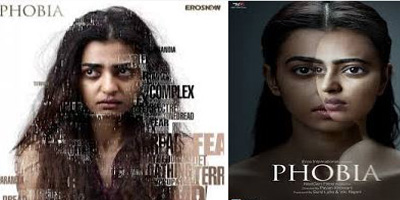 The movie is about a disease suffered by many people know as "Agoraphobia." In the film, the character suffers from severe "Agoraphobia" and faces many problems when she was alone. The film starring " Radhika Apte Radhika Apte, an Indian actress was born on Sept 7 >> Read More... ," " Satyadeep Mishra Satyadeep Mishra is an Indian actor. He has acted >> Read More... ," " Ankur Vikal Ankur Vikal is a very popular actor in the films a >> Read More... ," and " Yashaswini Dayama Yashaswini R Dayama is an Indian actress, model, p >> Read More... ," and it is available in "Eros Now."