People have something to say about children, their parenting, their manners, and their perspectives. 
"The greatest legacy one can pass on to one's children and grandchildren is not money or other material things accumulated in one's life, but rather a legacy of character and faith." 
 — Billy Graham.
...
"Bachche Bhagwaan Ka Roop Hote Hai."
Movies are the most fun way to teach a child a new perspective, to make him understand the world, and to shape his thoughts.
Films give juveniles a glimpse of both worlds- real and fictional. Many movies will fetch hurricanes of laughter, and some might teach with fun. But all are worthy of watching while on a comfy couch with a bowl of popcorn, and some curiosity. 
...
Bollywood has all kinds of kid's movies ranging from fantasy movies, like Toonpur Ka Superhero Click to look into! >> Read More... and Tarzan The Wonder Car to educational films, like Taare Zameen Par Click to look into! >> Read More... and My name is Kalam.
We have gathered a list of the Top 10 Bollywood Movies A Child Should Watch-
...
1. Mr. India
Anil Kapoor Anil Kapoor was born on 24th December 1956 in Mumb >> Read More... portrayed Mr. India and he has a watch that makes him hidden, so no one can see him. Sounds fun, right? Furthermore, Mogambo( a villain that is famous among children) is in this movie. Mr. India is the story of a bunch of orphan children. It is fun to watch and emotional at the same time.
...
Secret Superstar is the story of a girl who has to post her songs hideously on the internet because her abusive father does not allow her to sing. Teenagers would love Secret Superstar as it is a refreshing story and shows a child's dedication toward her dream.
...
3. Koi Mil Gaya
Koi Mil Gya is the most famous Indian alien movie. The story spins around a boy who is mentally unhealthy, and his companionship with an unfamiliar named Jaadu. It is a movie series made by Rakesh Roshan Rakesh Roshan Lal Nagrath is the original name of >> Read More... and is very fun to watch. Children of any age would love it. 
...
4. Ra.One
A game character Ra. One has bankrupted the computer game and joined the entire real world! Sounds horrendous? Don't be spooked because another positive game character G.One is our redeemer. Children would love it, especially those who like computer games. 
...
Chillar Party is a bunch of children(Chillers). They all come jointly against the powerful politician to protect a Stray dog. It is a must-watch for an animal lover, child, teen, or adult. Children will learn compassion.
Another movie on the list is an educational film- Nil Battey Sannata; it is the tale of a home maid and also a single mother who wants her sulky daughter to do well in her life and study so that she does not end up like her. This story is enlightening and teaches children discipline and dedication toward their goals. It is a must-watch for grumpy children.
7. Super 30
Another movie on the list of Bollywood Movies A Child Should Watch, is based on the real story- of Super 30; it is an inspiring story on the right to education. It also comments on the Indian education system. The coach, Anand Kumar Anand Kumar is a prominent Bollywood director, pro >> Read More... , runs the well-known Super 30 program for deprived and worthy IIT candidates.
8. I am Kalam 
Another film about the right to education is I am Kalam. I am Kalam outstretches the significance of education for the deprived sections of society. The tale spins around a needy child Chhotu whose inspiration is the former President of India- Dr. APJ Abdul Kalam. Chhotu follows his dream of earning an education. 
9. Sholay 
Every Indian should watch the cult classic Sholay; it is written by Salim and Javed. The movie has unforgettable dialogues, which are still suitable, and characters, who are still discussed, like Gabbar Singh Click to look into! >> Read More... , Basanti, Thakur, Mausiji, Bhopali, and Jay-Veeru. Children should watch this movie to know about Indian cinema; it is fun to watch.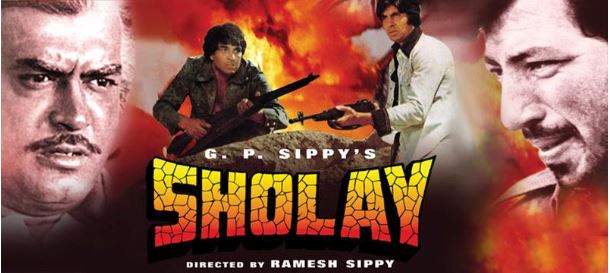 10. Haathi Mere Saathi
Starring Rajesh Khanna(the superstar), Haathi Mere Saathi is a Bollywood children's drama film. The story is roughly about a man who loves to wrap himself with his four elephants after one childhood incident. Again, this is a movie for animal lovers!