Bollywood has been exploring several genres of films. It shows different characters from different parts of India with a range of styles. One such is the Bengali traditions. Here is the list of films that show Bengali Culture. The film depicts the architecture, art, and crafts of Bengal from the ancient to the modern era. They also represent the costumes, Durga Pujo, and many more essence from Bengal.
1. Devdas
The film Devdas is about a love story between three people, Devdas, Paro or Parbati, and Chandramukhi.  The film is an adaptation of a Bengali novel by Sarat Chandra Chattopadhyay Sarat Chandra Chattopadhyay was also known as Sara >> Read More... , named Devdas. The Bengali culture shown here is the typical Bonedi Bari which is the ancient form of bungalows where the zamindars lived. The characters here are shown wearing Bengali dresses, that is, Bengali style sari termed as Aath Poure and dhoti- Panjabi. Several times, the characters are shown speaking in Bengali. It shows Bengal's Zamindar culture. The film also shows Maa Durga's idol. They are shown following Bengali traditions.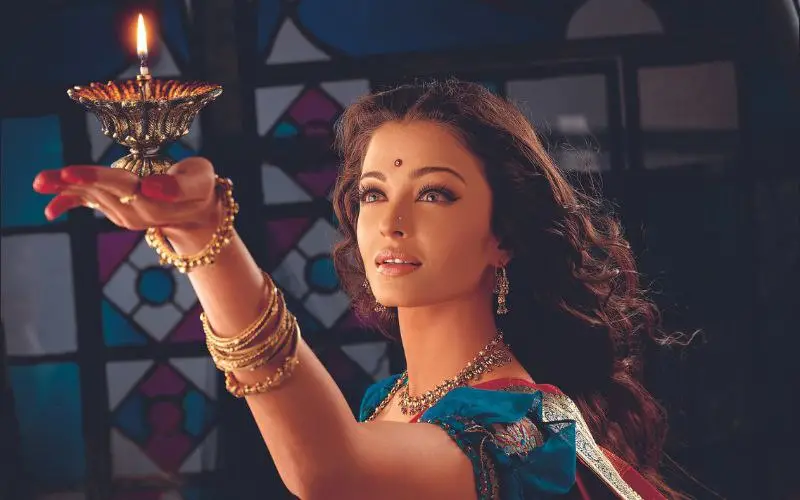 2. Parineeta
The film Parineeta is a musical-romance film between Lalita Roy, Girish, and Shekhar Roy. The film is based on a novel by Sarat Chandra Chattopadhyay, named Parineeta. The term Parineeta means espoused. The portrayal of this film's characters' build, architecture, costumes, and landscapes signifies the Bengali culture. Specific Bengals' cultural practices are also shown in the film. The film is about a Bhadralok meaning, a gentleman who is a progressive man from upper-caste and pre-colonial Bengal. The film also shows the traditional dhunuchi Bengali dance from a scene of Durga puja. The lanes of Kolkata bring out the essence of Bengal.
3. Lootera
The film Lootera is a love story of a village in West Bengal named Manikpur. When Pakhi Roy Chaudhary and Varun Shrivastav connect over literature and the arts, a passionate relationship develops that results in the sale of historic relics by the Indian government. Despite making their getaway at Ray Chaudhury's wedding, Varun and Dev are caught stealing idols and cash from the family's artifacts. Varun takes sanctuary at Pakhi's home after killing Dev and a police officer, but he stays behind to look after her. Pakhi becomes friendly with him and discovers one more leaf on the tree.
...
4. Kahaani
The film Kahaani is set in Kolkata. It portrays the life of a Bengali woman in search of her husband. The film also shows the iconic Durga Puja. Arnab Bagchi, who resembles former employee Milan Damji, is sought after by Vidya Bagchi and Rana Sinha. Agnes D'Mello is killed by Bob Biswas, but Vidya and Rana discover Damji's file. Khan confesses that Damji was an IB agent gone rogue who carried out the poison-gas attack. The IB and the police are being used by Vidya, the widow of Major Arup Basu, to exact revenge on those who killed her husband in a poison-gas attack. Col. Pratap Bajpayee assists her.
...
5. Barfi
The film Barfi is set in Darjeeling, West Bengal. It even shows the characters from Kolkata and several Bengal cultures are shown. Despite her mother's advice, Barfi Johnson, a troublemaker who falls in love with Shruti Ghosh, marries Ranjeet Sengupta. Inspector Dutta's men, Barfi and Jhilmil, flee and relocate to Kolkata. In 1978, Barfi and Jhilmil reconcile, but Jhilmil disappears. Barfi is detained by Inspector Dutta, who then accuses him of killing Jhilmil. To allow Jhilmil to reside at the special-care facility, Barfi learns the address and fakes her death.
...
6. Gunday
The film Gunday is about two orphans named Bikram Bose and Bala Bhattacharya who meet Lateef and team up as criminal partners. When evidence against them is discovered, they are arrested after looting coal trains and becoming local heroes. When Bala and Nandita fall in love, they decide to celebrate Durga Puja together, but Bala later accuses Bikram of violating his word. Bala is saved by Bikram, but Sarkar arrests Bikram and Bala with the assistance of Nandita, an undercover police officer. Sarkar and Nandita kill Bikram and Bala, indicating that they were murdered.
...
7. Piku
The film Piku portrays a father-daughter journey with a simple lifestyle and cinematography. Piku is an independent architect, and Bhaskor is her aging father. The Bengali culture shown in this film is that it shows the lanes of North Kolkata, with the essence of Bengal Street food and cuisines. Piku wears Bindi and they are shown speaking in Bengali frequently. Bhaskor sings a Bengali song that is Ei poth jodi na sesh hoy during their road trip. They even use moshari which translates to a mosquito net. He also takes the sweet pills of homeopathy, which is prevalent in Bengal.
...
The film Detective Byomkesh Bakshy is about a fictional character developed by a Bengali author named Saradindu Bandhopadhay. When Byomkesh Bakshi locates his missing father, Bhuvan Banerjee, he learns that blackmailing Sikdaar resulted in the death of Sukumar. To track Watanabe, who kills the volunteer and his receptionist before fleeing, Byomkesh disguises himself and Ajit. Byomkesh learns from Kanai Dao that the opium supply has been cut off and that Bhuvan had developed an "untraceable" recipe. While Yang is discouraged by Anguri Devi, he displays affection to entice her.
...
9. Bulbbul
The film Bulbbul is a horror story. It shows the folk culture of Bengal. Sudip, a rural physician, is sought out by Bulbbul to investigate a man's death that has been linked to the chudail. The mentally handicapped twin of Indranil, Mahendra, asks something unusual of Bulbbul. Satya has suspicions after Sudip checks Bulbbul's feet during his visit. Bulbbul is beaten and raped by Indranil when he becomes convinced that she has emotions for Satya. However, she returns determined to fight back against injustice. Bulbbul is revealed to be the chudail by Satya, who also ignites the forest to make her identity known.
10. Hazaar Churasi Ki Maa
The film Hazaar Churasi Ki Maa is an adaptation of a Bengali novel of the same name by Mahashweta Devi. In Calcutta, West Bengal, India, Dibyanath Chatterji, his wife Sujata, a bank employee, and their son Brati enjoy a comfortable lifestyle. Sujata finds it difficult to comprehend Brati's death after the police kill him, but she later finds out that he belonged to a "Naxalite" rebel group. She learns more about Brati's past as she investigates it, and as a result, she resolves to support him in his struggle.