This is a wrong perception of everyone that celebrities are not kind-hearted, but this article will prove it wrong. There are many celebs who have adopted a child. After adopting, they take care of them as their own child. Many are preparing their children for movies.
List of top 10 Bollywood celebs who have adopted a child is:
1. Sunny Leone Sunny Leone, a famous porn star, has recently ente >> Read More...
...
Recently, she and her husband, Daniel Weber Daniel Weber was born on 20th October 1978 in New >> Read More... , adopted this cute baby girl. Sunny Leone posted a family picture saying that they are blessed with this little girl. Now, she is on the list of the yummy mummies as she has a small baby girl.
2. Raveena Tandon Raveena Tandon is an Indian film actress who is kn >> Read More...
...
At a very young age she became the mother of two children. She had adopted two baby girls at the age of 21. The names of her children are Chaaya and Pooja. She loves both of them a lot. Now, both of them have become very mature.
...
3.
He is already a father to three sons and a daughter. Salman Khan Salman Khan is a very famous Indian actor and a pr >> Read More... , Arbaaz Khan Born in a family that has strong ties in the film >> Read More... , and Sohail Khan Sohail Khan is an Indian Film Actor. He is also a >> Read More... are famous actors of the Bollywood Industry. Arpita Khan Adorable and forever loving sister of Salman Khan >> Read More... was adopted by Salim Khan, and she was brought up in the Khan Family like their own child. Recently, they organized Arpita's wedding in a grand way, and now she is mother to a baby boy.
...
4.
Just like Raveena Tandon, she had also adopted two baby girls. But she had to face many problems for the adoption. Her first adopted child's name is Renee, and then she adopted a second girl child named Alisah.
...
5. Kunal Kohli One of the prominent faces in the industry of Boll >> Read More...
...
Kunal Kohli and his wife Raveena had to face many problems for adopting this girl child. They named this cute girl as Radha. They both are now enjoying their married life as they both are gifted with this cute human being.
...
6.
Sameer participated in the season four of Bigg Boss Bigg Boss Tamil is the Tamil language version of t >> Read More... . After the Bigg Boss season ended, he married Neelam Kothari During the mid 80s Neelam Kothari had a successful >> Read More... , and everyone was expecting some good news from them. But it never happened, and then they both decided to adopt a child. They both adopted a baby girl, and are now enjoying their married life.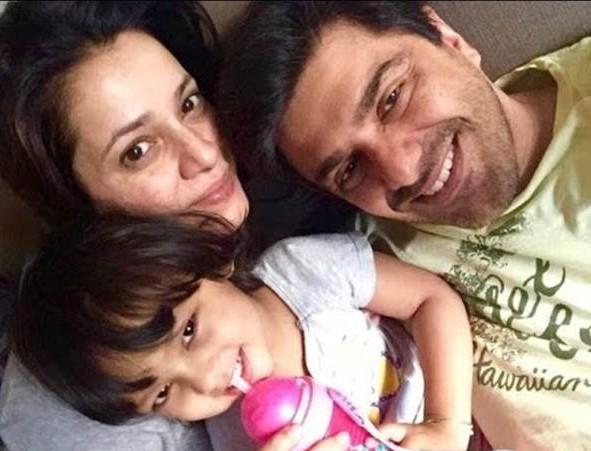 7.
He is an amazing filmmaker. He has directed many great movies. He has adopted a girl child named Meghna. Then, she was sent to London for her education. Now, the responsibility of the Production house and their acting school is given to her.
8. Mithun Chakraborty When we talk about the few legends in the Indian f >> Read More...
He is the father of three sons Rimoh, Mimoh, and Namashi. He had adopted a girl child who was brought up along with his three sons. This baby girl was found in a garbage bin somewhere. When he heard about this girl, he brought her to his house.
9. Nikhil Advani Nikhil Advani is an ace Indian film producer, scre >> Read More...
He is an excellent film maker. He has given some hit movies like Salaam-e-Ishq and Kal Ho Naa Ho. He and his wife decided to adopt a child. Then, they both adopted a girl named Keya, as his wife was facing some complication during her pregnancy.
10. Sandip Soparrkar Sandip Soparrkar graduated in hotel management cou >> Read More...
He was married to Jesse Randhawa Jesse Randhawa was born as Jasmeet Kaur Randhawa >> Read More... . In the year 2007, they both decided to adopt a baby boy named Arjun. They both got divorced, and now Sandeep is acting as a single father, and taking care of his son Arjun.