Celebrity life tends to lead to constant public scrutiny. The media and the fans are always eager to know about the personal life of their favourite stars, especially their romantic involvements. Bollywood has witnessed many real life couples who dated each other and had a rock solid relationship. But sometimes, no matter how strong the love is, it doesn't last forever. Today we bring to you our favourite top 10 celebrities, who were a match made in heaven, but unfortunately never got married and parted ways.
1. Ranveer Singh Ranveer Singh Bhavnani is an Indian movie actor wh >> Read More... and Deepika Padukone Deepika Padukone is an Indian actress and model. S >> Read More... ​
This was Bollywood's most adorable couple of the decade. Ranveer Singh was a passionate lover. Deepika played the card of an understanding girlfriend, and the entire world had concluded that they'd marry each other. We still wish that this couple gets back together some day.
2. Ranbir Kapoor Ranbir Kapoor is a noted Indian film actor. He was >> Read More... and Deepika Padukone
...
Not long before Deepika dated Ranvir; she made headlines with her link-up with Bollywood's chocolate boy Ranbir. Ranbir was enjoying his new found stardom and his life with Deepika, but the sudden news of their breakup shocked the world. Although both of them are good friends and share a rocking screen-chemistry, we had hoped to see this couple together.
3. and Ranbir Kapoor
...
It turned out very soon that the lady who made Ranbir's heart turn away was none other than Katrina Kaif. He had reportedly cheated on Deepika. This live-in couple displayed a mature relationship, but sadly, once again Ranbir Singh loved and lost.
...
4. Abhay Deol Abhay Deol is an actor and director of the TV indu >> Read More... and Preeti Desai From Middlesbrough, England, Preeti Desai is an In >> Read More...
...
Next in line is the very cool actor of the 'Deol' clan. Actor Abhay Deol and model Preeti Desai was a stylish couple of Bollywood. Having lived together for years, they were a rage at parties and events. Marriage was never a necessity for this couple as love was enough to sustain their relation. But it seems like their stars were just not in the right positions and with reasons unknown, this match has ended forever.
5. Parineeti Chopra The bubbly actress, born on 22nd October 1988, lan >> Read More... and Manish Sharma Bio coming soon... >> Read More...
...
This relationship wasn't confirmed by both the stars, yet insiders had it that actress Parineeti had dated Producer Manish Sharma for almost three years. The couple met a rough patch recently, and Parineeti's recent low-profile is because she went o Australia to deal with her break-up. Manish was Parineeti's "angel' and "love," and they both share a special bond even today.
...
6. Shahid Kapoor Shahid Kapoor also identifies as the name Shahid K >> Read More... and Priyanka Chopra Born on 18 July 1982, Priyanka Chopra is an establ >> Read More...
This sexy couple made it to the headlines when one fine day, Shahid was spotted in Priyanka's apartment early in the morning. They were a house on fire, and their chemistry was enviable. But this relationship was short-lived, especially because Shahid Kapoor never had plans of marrying someone from the industry. Piggy Chops nursed her heart and moved on, while Shahid is now married to Mira and has a daughter.
7 Hrithik Roshan Hrithik Roshan with his unimaginable dance moves i >> Read More... and
This relation took a rather nasty turn, with both of them filing court cases against each other. Hrithik was married to Susan when he allegedly had an affair with Kangana. While the actor still denies it, Kangana has gone on board to accept this relationship. Hrithik is divorced now, and we wish that this dashing couple would get married instead of filing cases against each other.
8. Freida Pinto Freida Pinto is a popular cinema and TV star who w >> Read More... and Dev Patel Dev Patel is a British actor, who saw his first gl >> Read More...
This couple made us believe that love exists in every corner of the world. Frieda apparently divorced her former husband and entered into a rock solid relationship with the ' Slumdog Millionaire Click to look into! >> Read More... ' actor Dev Patel, but the recent Golden Globe and Oscar Awards saw Dev without his girlfriend and have confirmed the news of their breakup.
9. Ankita Lokhande Ankita Lokhande was born on 19 December, 1984, in >> Read More... and Sushant Singh Rajput Sushant Singh Rajput is one of the famous Indian t >> Read More...
A relationship that transcribes from the telly to the movie world could probably stand the test of times. The audience was delighted when Sushant and Ankita started living-in together, but the sudden breakup of cinema's most sombre couple has left their fans in a state of shock.
10. Alia Bhatt Alia Bhatt is a trendsetting actress from Mumbai, >> Read More... and Arjun Kapoor Arjun Kapoor is a Bollywood star. He was born on 2 >> Read More...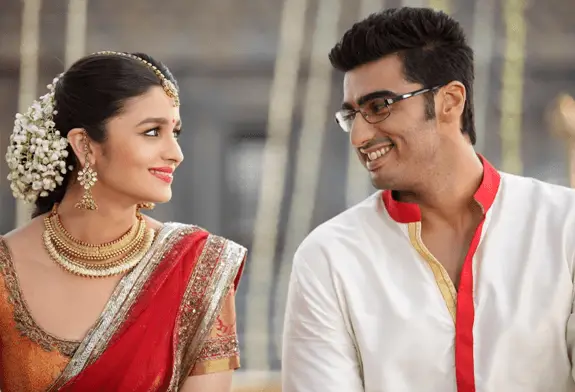 This affair made many fans hopeful that they'll get to witness a bond between Bollywood's two prestigious families. Nevertheless, both of them are very cordial with each other even today, with Arjun still holding a very special place and regard for Alia in his life.