Indeed our Bollywood industry shows us how significant it is to find that special one in one's life. We have already seen how Pooja ( Madhuri Dixit Madhuri Dixit is not just known as the also a smil >> Read More... ) is waiting for that special someone at Valentines Night in 'Dil To Pagal Hai', how Rahul finally meets his Anjali in the end of the movie 'Kuch Kuch Hota Hai' and how Badri finally marries Vaidehi after all the hurdles he faced in 'Badri Ki Dulhania'. But our Bollywood industry has always laid out a happy ending where the couple confesses their love, walks down the 'Mandap' together and stays together till the end. That's how they enact right? But do you think that's how it is in their real life?
Well, this part remains till their reel life and what happens is the paradox of their real life. It definitely is a shock to come across such an issue which reveals the dusky truth of their lives. Here are Top 10 Bollywood Celebrities who cheated on their partners!
1.
...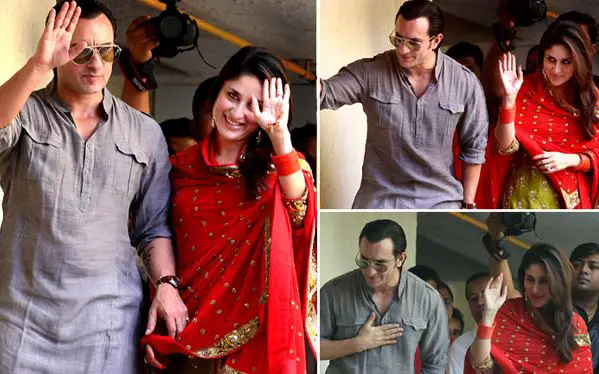 Bollywood's 'Chote Nawab' already lives up to his playboy image. At a very young age, he married Amrita Singh Amrita Singh is an Indian film and TV actress. She >> Read More... , who is 12 years elder than him. The couple was sanctified with two lovely kids, Sara and Ibrahim. Their marriage lasted for about 13 years as he was having an additional conjugal illicit relationship with an Italian model ' Rosa Catalano Rosa Catalano (also known Rozza) is a well known S >> Read More... '. As soon as this relationship ended, Saif met Bebo. They got married in October 2012.
2. Ranbir Kapoor Ranbir Kapoor is a noted Indian film actor. He was >> Read More...
...
Ranbir and Deepika made a sweet duo together. Their relationship started when they both were doing a film 'Bachna Ae Haseeno'. Deepika was way much into Ranbir as she got herself inked with Ranbir's initials 'RK'. While shooting for 'Ajab Prem Ki Gajab Kahani' Ranbir and Katrina fell for each other. That's when Ranbir's cheat story struck the industry. Ranbir and Katrina were rumored to get engaged as both of them were in a live-in relationship. Earlier in 2016, the couple parted their ways ending their relationship on a sour note.
...
3. Amir Khan Amir Iqbal Khan is a former professional boxer fro >> Read More...
At a very young age of 21 years, Amir married Reema Dutta. They ended their 15 years of marriage when Amir and Kiran Rao She is an Indian film producer, screen writer and >> Read More... got along. It was when they were shooting for 'Lagaan' in which Kiran was an assistant director, the zeal between the both initiated. Presently Amir is hitched to Kiran and they additionally have a child named Azad Rao Khan.
...
4. Kareena Kapoor
...
Kareena started dating Shahid soon after they did a movie together named 'Fida'. Their chemistry in 'Jab We Met' enchanted almost everybody. When Kareena was shooting for 'Tashan' she almost gave her heart to 'Chote Nawab', Saif Ali Khan. Kareena cheated on Shahid with Saif Ali Khan and this was confirmed after the release of 'Jab We Met'.            While their fans were heartbroken, Saif equitably got Kareena's name inked on his forearm. The Saif-eena duo got married in October 2012. They both got blessed with a son who was already in the buzz before his birth, Taimur Ali Khan Taimur Ali Khan Pataudi is the son of actors Saif >> Read More... .
5. Farhan Akhtar One of the most recognized young director of India >> Read More...
...
After completing his movie 'Zindagi Na Milegi Dobara', Farhan rattled the Bollywood industry with a very shocking news. He divorced Adhuna Akhtar Adhuna Akhtar or also known as Adhuna Bhabani is >> Read More... , the famous hair stylist after their 16 years of marriage. It was reputed that Farhan undermined his better half with his co-actor Aditi Rao Hydari As her title may be suggesting, Aditi the talente >> Read More... . Now he is dating the bubbliest actress of the industry, the 'Ashiqui' girl, Shraddha Kapoor Shraddha Kapoor, born on March 3rd, 1989, is a you >> Read More... .
...
6. Boney Kapoor Achal Kapoor or Boney Kapoor is a very famous Indi >> Read More...
Boney Kapoor confessed it out loud that Sridevi was his love at first sight. Despite being married to Mona Kapoor, Boney left his house to stay with Sridevi who was 7 months pregnant. Although, Mona raised her children Arjun and Anshula single-handedly while Kapoor family did not approve this affair.
7. Aditya Pancholi Aditya Pancholi is one of the well known actors o >> Read More...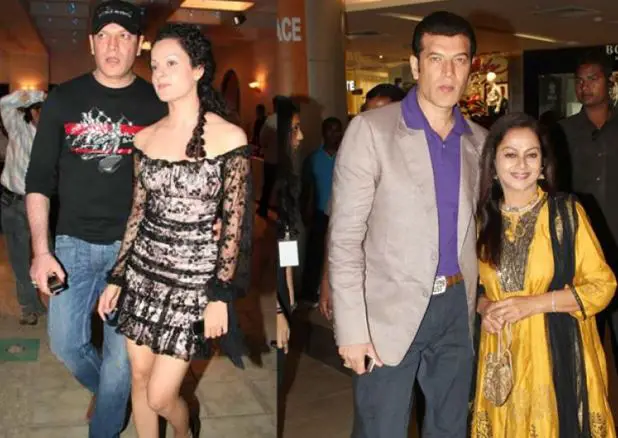 Zareena Wahab and Aditya Pancholi was considered a perfect duo just before proved to be a home breaker. According to the rumors back then Aditya daringly admitted his affair with Kangana. The whole industry noticed his unfaithful deed. While this news almost shook his family. Zarina battled her emotional struggles of her married life and soon things were restored and they came back as a strong couple.
8. Dharmendra
Dharmendra was married to his wife Prakash Kaur Prakash Kaur, a personality that attracted the emo >> Read More... when the evergreen star found his 'Dreamgirl' in Hema Malini Hema Malini is perhaps the only dream girl of the >> Read More... . They got to know each other on the sets of 'Tum Haseena Main Jawaan' and their romance was gaining its peak. After their fiery chemistry in 'Sholay', they both agreed to tie their knot after 5 years of their relationship. Since Prakash was not ready to divorce him, both of them transformed themselves into Islam.
9. Raj Babbar Raj Babbar is an actor turned politician. He is re >> Read More...
Raj Babbar was married to his wife Nadira. He met Smita during the shoots of their films. Their movie shoots established the strings that later got attached to each other. He was enchanted by Smita's dusky beauty and soon she became his second wife. Raj divorced Nadira to marry Smita but Smita died due to childbirth complications. That's when Nadira accepted his disloyal husband back into her life.
10. Rajesh Khanna Born as Jatin Khanna on 29th December 1942, the ch >> Read More...
Rajesh Khanna and Dimple Kapadia Regarded as the wife of the first superstar of Hin >> Read More... were one of the perfect match couples in the industry before the superstar got into extramarital affairs. His relationship with Anita Advani Anita Advani was born in the year 1964 and she is >> Read More... broke the headlines when the two got into a live-in relationship. Dimple had to choose to continue her dead marriage as she believed her daughters to be the legal heirs to their father's wealth. Anita Advani took care of Rajesh Khanna in his concluding years and soon after his death she was thrown out by Rajesh Khanna's wife Dimple Kapadia.