The industry of Indian cinema consists of several genres and categories such as drama, action, romance, fantasy and much more. Apart from this, the Bollywood also attempts the "animation." However, the seamless animation of the Bollywood is liked by all age-groups, but the teenagers are crazily addicted to it. This rapid motion specially caters the young audience. Here, we are presenting the list of top 10 best-animated movies of Bollywood.
1. BAL GANESH: -
...
This is a musical animation released on 26 October 2007, and directed by Pankaj Sharma Bio coming soon... >> Read More... . It is about the character Ganesha, a Hindu God. The Adventures of the Baby Ganesha is the central theme of this movie. The film impresses its viewers to a larger extent.
2. HANUMAN: -
...
This great animation was released on 21 October 2005, and directed by V G Samant. The story of the movie illustrates a Powerful God of Hindu Mythology, Hanuman. It was declared a blockbuster hit with the box office collection of Rs 8.18 crores. The credit of animation goes to Kakarakaya Pulsu.
3. MAHABHARAT: -
...
The " Mahakavya Click to look into! >> Read More... " of Hindu Mythology is depicted very beautifully through Bollywood animation. It was made public on 27 December 2013. Director Aman Khan has done a tremendous work. Several superstars worked as a voice cast in the movie.
4. JUMBO: -
...
On the Christmas of 2008, the story of a young elephant came on the big screen. It's truly a delight to watch this chronicle. Jumbo is an Indian animation which shows the mother love when the cute little Jumbo separates him from his herd. The voice cast of the Jumbo was commendable.
...
5. GHATOTKACH: -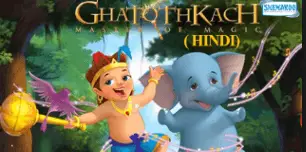 ...
This breathtaking movie describes the character of Mahabharat, the brave son of Hidimba and Bhima. Ghatotkach was written and directed by Singeetam Srinivasa Rao Singeetam Srinivasa Rao has born on 21st September >> Read More... and was on the rampage on the big screen on 23 May 2008. The story of the movie revolves around Ghatotkach, Gajju, Duryodhana, and Shakuni.
6. CHEENTI CHEENTI BANG BANG: -
...
Yeah, this unbeatable Bollywood animation grabbed the sixth place in the list of "best-animated movies." It is a comedy genre show portraying two warring ant families. Cheenti Cheenti Bang Bang proves to be an irresistible motion for children. The year 2008 becomes its release time.
7. DASHAVATAR: -
Dashavatar is a Bollywood animated film based on all ten avatar(s) of Lord Vishnu. It was directed by Bhavik Thakore Bio coming soon... >> Read More... and came on 13 June 2008. With the tagline of "every era has a hero," the movie shows the victory of truth over evil.
8. ROADSIDE ROMEO: -
Roadside Romeo Click to look into! >> Read More... is a romantic comedy released on 24 October 2008. This Indian animation was written and directed by Jugal Hansraj Jugal Hansraj is a prominent Indian actor, screenw >> Read More... . It is a love story of a male and female dog named Romeo () and Laila ( Kareena Kapoor Khan Kareena Kapoor is a super hit actress working in I >> Read More... ). Initially, it received lots of negative reviews, but finally, the film won "best-animated film" award at 56th National Film Awards The National Film Awards gets presented every year >> Read More... .
9. DELHI SAFARI: -
It is a movie of comedy genre with superfine 3D Animation, created by Krayon Pictures studio. The story of ' Delhi Safari Click to look into! >> Read More... ' describes the journey of five animals from Mumbai to Delhi. Nikhil Advani Nikhil Advani is an ace Indian film producer, scre >> Read More... has done an incredible work in the direction of 'Delhi Safari.' This movie astonishes its critics and won the 60th National Film Award for the category "Best Animated Movie."
10. KOOCHIE KOOCHIE HOTA HAI: -
The animated remake of the remarkable movie, "Kuchh Kuchh Hota Hai," was directed by Tarun Mansukhani Tarun Mansukhani is an Indian film director, popul >> Read More... . The theatrical release of this picture was in 2012, but it is yet to be released and placed on a hold. This film is a cute love story between 3 dogs.