Every actor has their own heavy duty personality and has successfully acquired their position as charming actors. Some have exceptional dancing abilities like, Hrithik Roshan and Shahid Kapoor, but some of the well-acclaimed actors ventured themselves into modern dancing skills, which is truly and gracefully unexceptional. Here's an appropriate list of ten actors placed one after the other, based on their dancing skills.
1. Sunny Deol

A well-known actor, and the son of actor ' Dharmendra', completed almost three decades in Bollywood film industry. He is acclaimed for his acting skills in ' Damini' (1993), 'Border' (1997), ' Ziddi' (1997), ' Ghayal' (1990), and ' Jeet' (1996). But his dancing is not at all considered elegant like his action moves. He should never think of dancing in his next venture.

2. Abhay Deol

Brother to Sunny Deol and the nephew of the legendary superstar, Dharmendra, he is full of simplicity. He has done a lot of films but not that many in number, compared to his other famous family members. He is undoubtedly a good actor, but lacks the gracefulness and rhythm as that of his co-actors, 'Hrithik Roshan' and ' Farhan Akhtar', which was evident in the movie 'Zindagi Na Milegi Dobara'.

3. Abhishek Bachchan

Junior Bachchan simply cannot groove at all. The opening sequences in ' Dhoom' series and ' Dostana', were simply hurtful to the audience, because of him. He has worked in a few movies till now; not much admired like his father, Amitabh Bachchan, but still has his own personality. Till now, he has acted well, in a number of films like, ' Bol Bachchan', Dostana and 'Refugee'. So, please stick to acting and let others carry out their moves.

4. Arjun Rampal

He is married to 'Mehr Jesia Rampal' (Ex- Miss India). Famous for his fitness and popular for his negative and supporting roles, he is not a dancer in any way. He has acted in many films like ' Vaada' (2005), 'Deewaanapan' (2001), ' Dil Ka Rishta' (2003) and many more. But the Bolly Hunk can never be accepted as a dancer.

5. Ajay Devgn

Well-praised for his stunts and action, he is the son of Bollywood fight-master and stuntman, Veeru Devgan. He got married to Kajol Devgan, also a renowned actress, in the year 1999. He has done action and romantic films like 'Dil Kya Kare', 'Zakhm', ' The Legend Of Bhagat Singh', ' Omkara', and ' Kaal'. Being a versatile actor, his dancing is quite funny, which is clear from some of his dancing moves in ' Himmatwala', ' Singham', and ' Action Jackson'.

6. John Abraham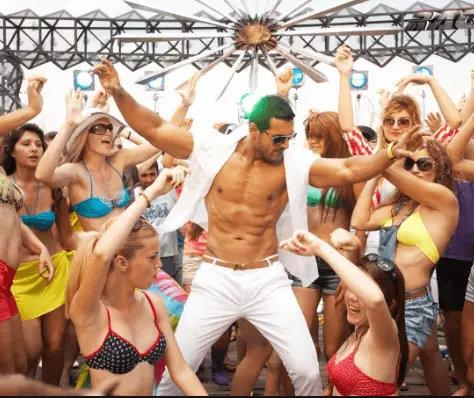 A successful actor, married to Priya Runchal, well known for his superb body and physique, he was a model until he made a debut in 'Jism' (2003), followed by 'Dhoom'. After that his successful films were, Dostana (2008), ' Force' (2011), ' Madras Cafe' (2013) and ' Shootout At Wadala' (2013). He is never taken as a good dancer and should never be.

7. Sanjay Dutt

Sanju Baba is the most praised actor of Bollywood and got married to Manyata Dutt in the year 2011. He has, indeed a dashing personality to carry along with him and is famous for his negative and comic characters, the most. 'Munna Bhai M.B.B.S' acclaimed him as a popular actor, for his extravagant acting. In the end, to be very precise, he is not a mesmerizing dancer and it doesn't fit his physique.

8. Aamir Khan

A popular Indian actor and producer and married to Kiran Rao. He is successful as well as a perfectionist in case of acting. There is nothing much to gossip about him, but his new dancing styles doesn't suit him either. A good example featuring his dancing incapability is his tap dance variation in 'Dhoom 3'.

9. Salman Khan

'Bhai', with his least minimal body moves and other cultivated styles, is going on introducing new kind of styles. He is scarcely given the distinction of a good dancer. Starting from his 'Sony De Nakre' moves, to his ' Dabangg' style belt lifting dance; he has created a rage amongst public, especially the kids. How can we forget the ' Bodyguard' Lovely Singh with his bicep song? Now all these silly 'Jalwas' must stop.

10. Shah Rukh Khan

He is the superstar and above all, the Badshah of Bollywood. He comes last to this list as his own groove and dancing style, makes him all the more different from others. Still in some of his movies, his dancing was not at all prodigious, but was shocking from our very own superstar, who danced to the thumping beat of A R Rahman's, Chaiyya Chaiyya from the film, ' Dil Se'. Some of his unbelievable dancing moves are in Dard-E-Disco ( Om Shanti Om), Dance Pe Chance (' Rab Ne Bana Di Jodi'), Love Mera Hit Hit (' Billu'), and Marjaani (Billu). He should really stop diminishing his well-earned fame like this.