20. Ali Quli Mirza Ali Quli Mirza, whose full name is Nawab Ali Quli >> Read More... and Sonali Raut Sonali Raut is a sizzling, and beautiful Indian mo >> Read More... (Season 8)
Everything about this season was entertaining as soon as Mr. Mirza came in as a wild card entry. After accusing the singer of inappropriately touching her, the young star slapped Ali in front of all the housemates and cameras. This led to the actress being nominated for eviction for the following weeks because of violating the no-violence clause of the Bigg Boss Bigg Boss Tamil is the Tamil language version of t >> Read More... contract.
...
19. All the housemates vs. Mandana Karimi Mandana Karimi is an Iranian model and actress; li >> Read More... (Season 9)
...
Beautiful yet extremely crass, the Iranian beauty managed to piss everyone off in the Bigg Boss household. With her aggressive tone, regular tantrums and pathetic cries for attention, this contestant managed to keep her presence felt in the household and outside throughout the season.
...
18. Sara Khan Sara Khan is a popular Indian TV actress. She won >> Read More... and in-house wedding
Just when you thought you we had seen everything on India's most popular reality show, TV actors Sara Khan and Ali Merchant decided to tie the knot on screen in the Big Boss house. With all preparations made by the Bigg Boss team for a traditional Muslim wedding, including their families and an Imam, this was a sure way of getting very high TRP's. 'Surprisingly', the pair are not together anymore after their much talked about Bigg Boss wedding.
...
17. Monica Bedi A Punjabi girl born in small village of Hoshiarpur >> Read More... - - Payal Rohatgi Payal Rohatgi is an Indian actor best known for he >> Read More... love triangle (Season 2)
...
Who would have expected that a criminal's ex-girlfriend, a very well-known and respected ex-MLA's son and a Bollywood nobody would share one of the most talked about chemistries on this controversial show. With, Rahul Mahajan showering his attention and cheap sweet-talk on these two beautiful women, weirdly enough all of the viewers were waiting to see who Rahul eventually ends up with on the show.
...
16. Dimpy Ganguly Dimpy Ganguly, an Indian model and actress was bor >> Read More... – Rahul Mahajan – Karishma Tanna Karishma Tanna is an Indian Television actress bor >> Read More... – Ali Quli Mirza ( Halla Bol Halla Bol is a popular Hindi TV show telecasted on >> Read More... )
...
Rahul Mahajan strikes again. Bigg Boss Halla Bol had ex-contestants as well as season 8 contestants battling it out for the winning trophy. Ex-Mrs Mahajan, Dimpy was already a contestant with an ongoing alleged affair with Ali Quli Mirza when ex-husband, Rahul decides to make an entry. Making matters worse, rahul true to form was behaving in an obnoxious manner by constantly harassing contestant Karishma Tanna while ex-wife Dimpy looked on. Dimpy seemed embarrassed as well as hurt by her ex-husband blatantly flirting with another woman in front of her.
15. The entire season 5.
With contestants like, Pooja Missra, Akashdeep Saigal Akashdeep Saigal is a model turned TV actor. He wa >> Read More... , Pooja Bedi Born in the year 1970, Pooja Bedi is a former Hind >> Read More... , Juhi Parmar Shroff, this season of Bigg Boss was explosive. With constant high decibel fights, this was probably the worst ensemble in big boss history. With each and every contestant being desperate for attention and their willingness to go to any length to get it, this season was rather entertaining.
14. Rakhi Sawant Rakhi Sawant, the well-known drama queen of the In >> Read More... and Kashmira Shah Kashmira Shah or also known as Kashmera or Kash, i >> Read More... (Season 1)
What happens when you put two extremely loud and attention-greedy women in the same house? These two started off as best friends in the Bigg Boss house. While their friendship was short lived, their rivalry continued to live even after the show ended. Both known for their item numbers in bollywood movies and loud personalities, it was quite expected for them to gel at first and have clashes later due to their extremely similar nature. Either way, the viewers had a great time watching these two have the most memorable fights on this show.
13. Puneet Issar Puneet Issar is a prominent Indian actor and brill >> Read More... vs. Minissha Lamba Born on 18th January 1985 to Punjabi speaking Sikh >> Read More... and Karishma Tanna (Season 8)
One thing still stuck in my mind is when Puneet Issar aka Punz said , "Yeh Minisha Lamba Sabse Bhookhi Hai" (This Minisha Lamba is the hungriest). Not joking, this line still makes me laugh out loud. Also, how Mr. Issar and Ms. Tanna started this show as surrogate father-daughter and ended it as cold-blooded enemies. Mr. Issar definitely did not keep his vile thoughts to himself.
12. Rimi Sen Born as Shubhomitra Sen on 21st September, 1981 in >> Read More... (Season 9)
At first Rimi Sen's antics, tantrums and indifferent nature seemed hilarious. Her rebelliousness and absolute indifference to Bigg Boss and his rules seemed unprecedented and very hilarious. Her straight face while making funny yet rude comments were a huge hit in the beginning. But, like every disrespectful act has its own lifespan, Rimi's behavior was severely reprimanded by not only big boss but by the housemates and Salman Khan Salman Khan is a very famous Indian actor and a pr >> Read More... himself.
11. and Ashmit Patel Ashmit Patel is an Indian film actor and director >> Read More... (Season 4)
The Pakistani beauty definitely had a way around the men of the house. Whether it was buttering Dolly Bindra Dolly Bindra is an Indian film and TV actress and >> Read More... to set her up with fellow housemate, Hrishant Goswani or cozying up to Ashmit Patel in the garden area knowing all cameras could see them, she was definitely entertaining. It is actually a huge achievement to be remembered as one of the entertaining yet controversial housemate in a season which had Dolly Bindra as a contestant. But, Veena Malik definitely made herself known to the men of the house as well as the viewers.
10. Sambhavna Seth Sambhavna Seth is an Indian dancer, Hindi televisi >> Read More... vs. Dimpy Ganguly (Halla Bol)
Who can forget Sambhavna Seth whose trademark is her vulgar and extremely loud tone and loud and flashy clothes? In the short time she was a contestant on Bigg Boss Halla Bol, Ms. Seth managed to leave her mark by having heated arguments with fellow housemate Dimpy Ganguly and even throwing a shoe at her. Weirdly enough, it was Sambhavna who performed certain rituals in Rahul Mahajan and DImpy Ganguly's reality-show wedding.
9. Armaan Kohli What Lady Luck had in store for Bollywood supersta >> Read More... vs. Kushal Tandon Kushal Tandon is a famous Indian model and Hindi s >> Read More... / Gauhar Khan Gauhar Khan or Gauahar Khan or Gauahar Zafar Khan >> Read More... /' Kamya Panjabi Kamya Panjabi is a popular Indian actress. She mos >> Read More... '//'Ajaz Khan'
Can we really forget the 'mild mannered' has-been that was a major player in season 7? This season is the mother of all seasons. With extremely strong, loud and opinionated personalities this show reminded us why we love this show so much. His volatile temper, horrible language and tone and unapologetic statements made him the centre of many fights and controversies. We shall not deny that we had a great time watching and re-watching all of it.
8. Dolly Bindra vs. Shweta Tiwari Shweta Tiwari is the well known face of Indian Tel >> Read More... (Season 4)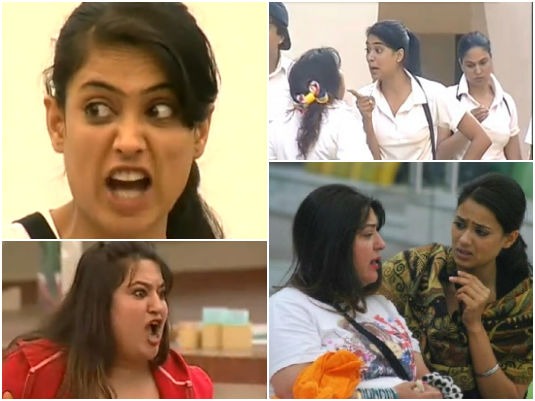 No one really knows why Dolly Bindra had this grudge against the rather mild-mannered Tiwari, but nonetheless her explosive outbursts targeted at Tiwari and later other housemates can never be forgotten. Dolly Bindra is the perfect example of a loud, flashy and bindass Punjabi aunty who just doesn't care what the world thinks. She was loud, insolent and heartless and let the world know her worst sides while on the show. She continues to be one of the most memorable contestants on Bigg Boss.
7. Sambhavna Seth vs. Payal Rohatgi/ Raja Chaudhary Raja Chaudhary was born on 23 rd July 1975, in Mee >> Read More... (Season 2)
The infamous Sambhavna Seth is back on this list this time being remembered for her explosive temper way back in season 2. Again with people like Raja Chaudhary, extremely loud and abusive fights were bound to happen. But what was surprising was Sambhavna's constant attacks at the rather mild-mannered and composed actress Payal Rohatgi was seemed like a deer hit by a car most of the time. Anyway, these fights were definitely a delight to watch with our dinner.
6. Rakhi Sawant threatening to commit suicide (Season 1)
Most of you must have forgotten the antics of this infamous item girl, but yes, Rakhi Sawant did threaten to commit suicide in season 1 and then followed it by, "Inn Logo Ke Liye Kaun Suicide Karega" (who will commit suicide because of these people). Just when you think you had seen everything on reality television.
5. Rahul Mahajan and Gang decide to jump off the Bigg Boss walls (Season 2)
With only a few members left in the Bigg Boss household, Rahul Mahajan and his posse decided to jump the house walls because they were given inadequate food supplies and the producers refused to provide them with more. After much discussion and convincing, the housemates decided to return to the house but Rahul Mahajan decided to quit the show in the final week.
4. Kushal and Gauhar vs. VJ Andy
In one of the most loud and violent fights in Bigg Boss history, Vj Andy was on the receiving end of actor Kushal Tandon's wrath. After an uneventful task which led to Andy offending Kushal's girlfriend, model Gauhar Khan and friend, the late Pratyusha Banerjee Pratyusha Banerjee was a gorgeous Indian actress. >> Read More... with his actions, Kushal decided to take matters into his own hands and reprimand Andy. After a heated argument which led to Kushal assaulting Andy, Kushal exited the Bigg Boss house.
3. Rajeev Paul Rajeev Paul is a prominent Indian Television artis >> Read More... - Delnaaz Irani Delnaaz Irani is a well known actress in Hindi TV >> Read More... and Sana Khan Sana Khan, the popular Hindi television actress, i >> Read More... (Season 6)
The ex-couple decided to be a part of the same season of this controversial reality show. What was worse that, they did wash their dirty laundry in public and had repeated ugly spats while on the show. Rajeev Paul went to the extent of flirting with a much younger woman, Sana Khan on the show while his ex-wife looked on.
2. Gauhar Khan vs. Salman Khan (Season 7)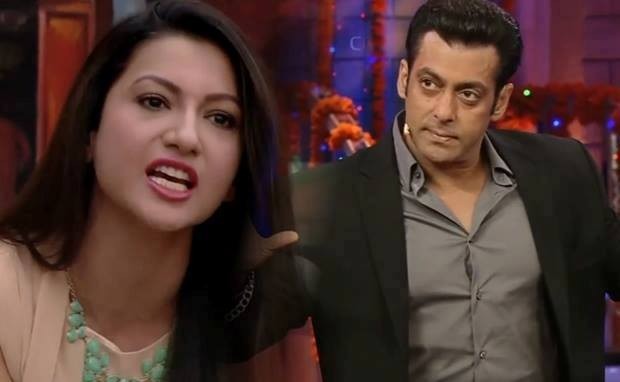 How often do you see anyone standing up to the great Salman Khan? Gauhar Khan being the true fierce, independent woman unapologetically called Salman out when he was blatantly being partial towards friends Tanisha Mukherjee and Armaan Kohli. With loud, fearless arguments with Salman Khan, Gauhar definitely left a mark on everyone.
1. Imam Siddique Imam Siddique is very famous multi-talented person >> Read More... (season 6)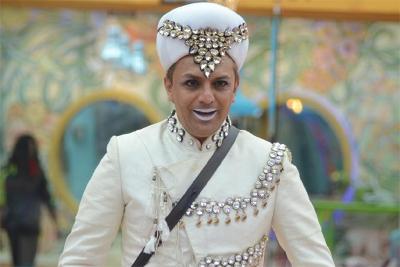 He was by far the weirdest and the most controversial Bigg Boss contestant of all time. With behaving manically, screaming without any reason and stripping naked in front of the camera which led to Bigg Boss taking some serious actions against him, he has definitely left some mark in all our minds. But his popularity and different personality got him appearances in season 8 and 9 of the show.