Television shows are massively making for entertainment purpose, with meaningful plots. But today, the shows have lost its charm and sense, as the growing want for TRP and fame has made the story writers come up with some senseless and useless twists. So here are some of the worst twists in the history of Indian Television Serials.
1. " Sasural Simar Kaa"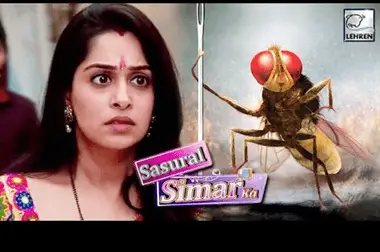 There have been many awestruck twists in this show, but the worst of all was the revenge of Simar (the lead protagonist), where she turned into a housefly to take revenge. Seriously, how can anyone believe this is happening in reality. This unrealistic turn did not increase the TRPs instead it has degraded it.
2. " Saath Nibhaana Saathiya"
The most commendable twist where they plan for murder, and the plan is by releasing hundreds of white mice in a girl's room. This killing strategy is hats off, and nothing can beat them up for this.
3. "The Adventures of Roli and Simar"
This is one of the unbelievable episodes which is shot for no reason. Roli follows a girl in white dress and then confronts her. But while talking to her, the white dress girl changes her dress into blue colour and still Roli does not notice it and leaves her saying it was a mistake. How can we not believe our eyes and consider this show which can do anything for such plot of such an episode.
4. " Qubool Hai"
The show which started with a love story and a family drama-thriller, it later turned into a series of vampire diaries. Mahira, the grand-daughter of the lead Zoya and Asad, falls in love with a vampire Azaad, who saves her from various tragedies. What more twist can we expect from these shows with such twists.
5. " Main Lakshmi Tere Aangan Ki"
Another great cast starrer serial which started well but reached to a twist which was just a copy of a Bollywood movie "Judaai", starring ' Sridevi'. Like the movie, the lead actress tries selling her husband to a wealthy woman who wants her husband, and blindfolded by money; she accepts the girl's offer. Another way of gaining TRP without writing a story is just copy a Bollywood movie.
6. " Kyunki Saas Bhi Kabhi Bahu Thi"
The legendary twist of all time happens, in the show when Mihir Veerani returns to life after a massive car accident. The fans wrote letters to the producers demanding for his return, and so he is back as nothing is impossible for our Indians.
7. " Kasautii Zindagii Kay"
Kasauti Zindagi Kay is a love saga based on two lovers, Anurag, and Prerna. They never met as there were many complications in their lives. But finally, they get married and then a twist happens which ensures that their love story did not have a happy ending, and so they get divorced due to misunderstandings. A love story with such twist makes us irritated, as it had no reason behind it.  
8. " Jodha Akbar"
The show based on the famous love story from the history of Jodha Bai and Akbar. The story shown in this was believable as it remained to facts but then even this show got into the TRP phase. And from nowhere there enters a ' Naagin' which tries to kill Akbar by seducing him. An historical drama soon turned into an Entertainment serial, and such twists made it even more worse.are making it worst.
9. "Sasural Simar Ka"
We are back with another unbelievable episode from Sasural Simar Ka, which can easily get the award for worst twists ever. In one of the episodes, Karan (Simar's Husband) asks Simar to quit her job but she resists and one day Simar makes laddoo's and asks Karan to taste it., He lays a condition for eating the laddoo that, she will have to leave the job if he doesn't like them. Where do they come up in planning such mind-blowing twists for their episodes. Really, Hats-off for the Writers.
10. "Kyunki Saas Bhi Kabhi Bahu Thi"
The father of all twists happens in this serial., The serial takes around 3 to 4 upswing of 25 years, and still their great grandmother is alive who is supposed to be 110 years or more. Kyunki Saas Bhi Kabhi Bahu Thi started the leap trend in Indian TV Serials, and it is now widely being followed by the other television serials.