We all get curious about how celebrities like actors, sportspeople, etc. live their luxurious life. So here we will talk about the worldwide celebrities who have private jets.
1.
...
World widely famous action superstar Tom Cruise is a known name to everyone. And so we all love to know many things about Tom Cruise's life, how Tom Cruise does an action scene or how he lives his brand luxury life. Well, our mission impossible hero Mr. Tom Cruise's net worth is $600 million, which makes him one of the richest celebrities in the world. According to reports Tom Cruise has many private jets and one of them is the Gulfstream IV-SP jet which costs $ 950,000.
2. Jim Carrey He is undeniably one of the greatest and magnifice >> Read More...
...
The Truman, one of the finest comedians and one of the favorite actors of all age groups is Jim Carrey. The golden globe award winner is famous for his movies, jokes, and many other things. Jim Carrey's net worth is $180 million and he owns a private jet Gulfstream V which is $59 million. When not traveling Jim offers it as a charter aircraft for other travelers.
3. Kylie Jenner Kylie Jenner is an American television actress bor >> Read More...
...
The multi-profession woman Kylie Jenner is a 100% professional woman; she is a model, businesswoman, and social media influencer. The youngest of the Kardashians is also one of the youngest billionaires at the age of just 21. Kylie Jenner's net worth in 2021 is $700 million, and she owns a Global Express Jet which is worth $72.8 million.
4. Bill Gates
...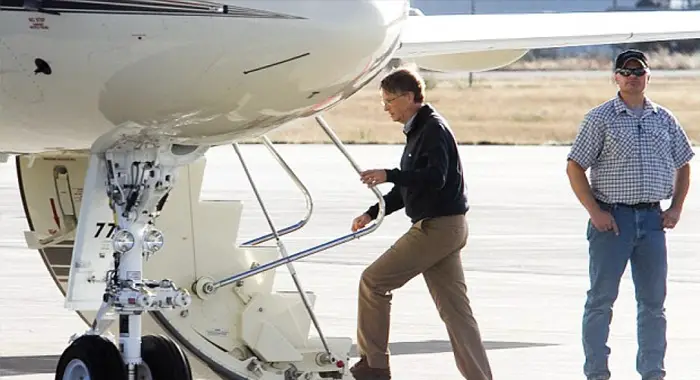 This American business celebrity, Author, Philanthropist, Investor, Software developer, co-founder of Microsoft, and a man with an IQ of 169 is famous for his genius mind and what he is doing for society makes him a big heart man. One of the world's biggest donors Bill Gates does many things for the world through his Gates Foundation and for his busy life scheduling he uses his private jet sometimes, which is worth $40 million (Bombardier BD 700 Global Express Jet).
...
5. Christiano Ronaldo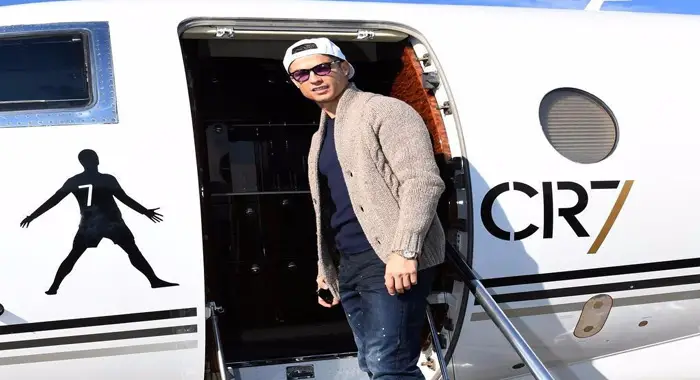 ...
Everybody loves watching football when Ronaldo is on the ground. This egalitarian or Ronaldo is not just famous for this extremely amazing football skills but he is also famous for his luxurious lifestyle. Having a net worth of $120 million in 2021 Ronaldo has 2 jet planes G650 and G620 which costs respectively $65.5 million and $25 million.
6. Taylor Swift Taylor Swift is the big name in the music industry >> Read More...
...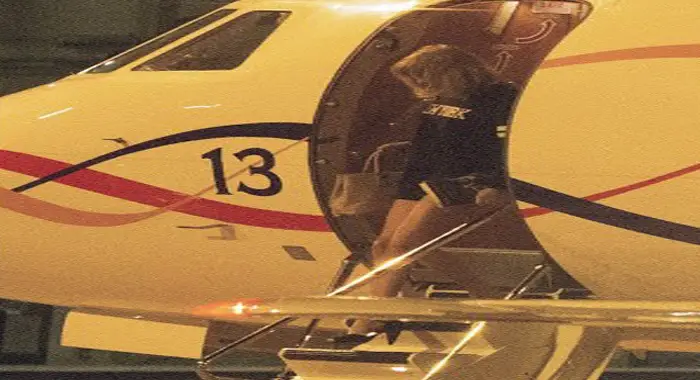 When it comes to the singing world's most popular singer Taylor Swift knows how to make her fans go crazy. By being on the billboard many times or winning an award for singing, Taylor Swift is just awesome in everything she does. we all love Taylor Swift's songs 'Shake it off 'blank space' these super-duper hit songs that we all can dance to all day. Having a big fan following makes Taylor does a concert in every place net worth of Taylor Swift's is $365 million. And for that Taylor, owns a private jet Falcon 900 which costs $58 million.
7.
The world's first female talk show host Oprah Winfrey is the woman every woman wants to become in her life. Doing so many works and being the host of the most popular show for 24 consecutive years Oprah Winfrey is also a philanthropist, author, and producer. Oprah is a billionaire with a net worth of $3.5 billion and she owns a Gulfstream G650 jet which is $65 million.
8. Tiger Woods
One of the best golfers and dashing personality men, Tiger Woods is one of the best golfers of all time in his golf career and has won 15 major tournaments. One of the richest and famous sports personalities in the world, Tiger Woods's net worth is $800 million and he owns a private jet which is worth $50 million.
9. Jackie Chan
After BRUCE LEE if someone is famous in Kungfu, then that is Jackie Chan. He is popular among all generations he loves doing action sequences by himself which makes him also a real action hero and he has done many movies which we all love to watch still. Jackie Chan's net worth is $370 million and he owns 2 private jet Embraer Legacy 650 and 500 which costs $ 30 million and $ 20 million.
10. John Travolta John Travolta is a true legendary figure as he was >> Read More...
Many people have watched one of the best movies by Quentin Tarantino Pulp Fiction and one of the actors in that movie was John Travolta, who was a very popular Hollywood hero in 90s John Travolta is also famous for his passion for flying jets, having a collection of jets like Vintage Boeing 707, challenger 601 and EA 500 are among the top jets in the world anyone has. John Travolta's net worth is $250 million.