You may never know when inspiration strikes. But we're sure that when Hollywood decided to make the same movies as Bollywood; their inspiration must've been at the lowest. We've made a list of ten Hollywood movies that are the same as some Bollywood films- so same that you'll be baffled. Here's a list of 10 Hollywood Movies Copied From Bollywood
1 - ' Just Go With It Click to look into! >> Read More... ' - ' Maine Pyaar Kyun Kiya Click to look into! >> Read More... '
Jennifer Aniston She became a household name in 1994 as she appeare >> Read More... and Adam Sandler Humour is the thing that emphasizes the character >> Read More... played Salman Khan Salman Khan is a very famous Indian actor and a pr >> Read More... and in Hollywood. The film revolves around a clumsy doctor who fakes a marriage to his assistant to rope in a hot girl. The films were so similar; we question Adam Sandler for his creativity.
...
2 - 'Fear' - ' Darr Click to look into! >> Read More... '
The horrifying thriller from Bollywood, inspired Hollywood that they decided to remake it years later. We must say, the plot was compelling, but plagiarism is just tacky.
...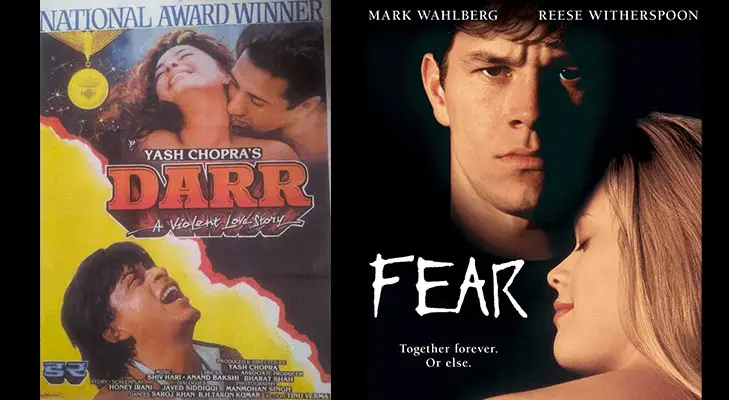 3 - The Leap Year - Jab We Met Click to look into! >> Read More...
...
The stories may not be the same, but they're so alike that it's no laughing matter. The girl may not be as bubbly as Geet, and the boy may not be as depressed as Aditya, but they're on the verge. The gist is the same, and we were unimpressed by the copy.
4 - A Common Man - ' A Wednesday Click to look into! >> Read More... '
The critically acclaimed, 'A Wednesday' starring Naseeruddin Shah Naseeruddin Shah is an experimental actor and asso >> Read More... and Anupam Kher Anupam Kher is a very popular actor, director, and >> Read More... was appraised in India, and so much in Bollywood that they decided to make a remake starring legendary actor Ben Kingsley Ben Kingsley born in Snainton village of England a >> Read More... .
5 - Delivery Man Click to look into! >> Read More... - Vicky Donor Click to look into! >> Read More...
Vicky Donor was a unique invention of Bollywood which Hollywood decided to copy, and we must say it's good that someone is copying from us for the first time instead of the other way round.
6 - Win a Date with Tad Hamilton - ' Rangeela Click to look into! >> Read More... '
The hot actor, the struggling leading lady and the charmingly goofy best friend, it's all there. We just wonder where they got this plot. Oh, wait!
7 - Forty Shades of Blue - Charulata (The Lonely Wife)
The story revolves around a lonely wife, her husband and a young man, making the resemblance between the plots uncanny.
8 - 'Kill Bill: Vol 3' - ' Abhay Abhay is a Hindi web series that premiered on ZEE5 >> Read More... '
Quentin Tarantino There are people who follow the created path and g >> Read More... took inspiration for his legendary series from Kamal Hassan starrer 'Abhay', where the serial killing was viewed in a humorous way. There are a few changes, but you get the gist.
9 - 'Hitch' - Choti Si Baat
This is funny because 'Hitch' is inspired by a Bollywood film and then inspired a Bollywood film itself. You may know what I'm talking about here. People lack originality these days.
10 - Pearl Harbor - ' Sangam Sangam (a union of rivers) is an Indian soap opera >> Read More... '
Pearl Harbor may have been seen as an original movie, but the main plot was about the love triangle, and we can't fail to see that it got copied from the Raj Kapoor Raj Kapoor was a renowned actor, director, and pro >> Read More... film 'Sangam'.
It makes us feel good that Hollywood is taking inspiration from us, but at the same time, we're worried that our originality will run out and then the world will be one big fake.