Feeling lethargic? Is your mind gnawing, craving for some fast-paced plots and intense drama, mystery and acclaimed storylines? Welcome, in this article we shall do just that, not 100%, but quite close, as we describe in the most compelling way, you're going to feel so good, you'll start searching for these movies like literally everywhere. So, enough boasting, let's get right into it.
" Killing Veerappan Click to look into! >> Read More... ":
...
The first one on our list is a documentary film about the capture and execution of the most wanted bandit in the south Indian states, Veerappan and also gives a realistic insight into the operation that resulted in its success. It's quite grippy and leaves you wanting for more. It is directed in 2015 by Ram Gopal Varma Ram Gopal Varma is a famed Indian film director an >> Read More... and shot in the Kannada language.
...
"1: Nenokkadine":
...
The first prominent thriller film of Mahesh Babu Born on 9 August 1975 in Chennai, Mahesh Ghattaman >> Read More... , who after lots of commercial roles, opted for something different, and was cast by '', the director, and it needed the actor to undergo certain body changes, which he gladly opted to do. Overall, the film offers a decent package with regards to performances, script, and direction.
"Drushyam":
...
A 2014 thriller film by Sripriya and has Daggubati Venkatesh, doing the lead roles. The film created widespread discussion across all the South Indian industries, and the storyline was so compelling, it urged directors across the country to adapt this story into their respective languages. The direction is pretty gripping, has best-in-class actors and a predictable yet horrifying climax.
...
" Karthikeya Click to look into! >> Read More... ":
...
A 2014 Mystery film directed by Chandu Mondeti. It has Nikhil Siddharth Nikhil Siddharth is an Indian actor. He is known f >> Read More... , Swathi Reddy Swathi Reddy is an actress and TV presenter from I >> Read More... doing all the heavy-lifting on screen. This film justified the stardom and acting prowess of Nikhil and skyrocketed his image and attention overnight. The script was truly innovative combined with the performances by everyone in the film; it made a complete family entertainer.
...
" Eega Click to look into! >> Read More... ":
A 2012 CGI thriller film by 'S. S. Rajamouli' and stars ' Nani Actor Nani (Naveen Babu Ghanta) is an adorable her >> Read More... ' and Samantha Ruth Prabhu Born on April 28 1987 Samantha is a model and actr >> Read More... in the lead roles. It has an excellent story, awe-inspiring graphic edits, and stellar direction, coupled with songs and background music.
"Prasthanam":
A 2011 political drama thriller by Deva Katta Deva Katta is an American Indian filmmaker. He is >> Read More... and stars Sai Kumar He was born on July 27, 1960 in Vijayanagaram, And >> Read More... , 'Sharvanand' and some more. Initially perceived as a non-starter due to the presence of two big shot movies, but it defied trends and was a blockbuster and improved chances of small but talented films, and is a strong example of how thriller films ought to be.
"Avunu":
A horror thriller film by Ravi Babu Ravi Babu (Allari Ravi Babu), is a smart, talented >> Read More... , which came out in 2012, made on a small budget. The director, however, has an expertise in making horror and thriller movies. It managed to impress audiences and critics alike with its simple yet terrifying storyline.
" Siva Siva is the dubbed version of the popular Hindi my >> Read More... ":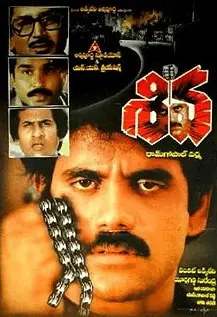 A 1989 film by Ram Gopal Varma, who marked his debut with the movie. It remains the one of the best films of the actor and the director, with its native story and not so gruesome action sequences which helped it achieve a cult status.
" Vaishali Vaishali or also known as Vaishali Krishnan is a T >> Read More... ":
A 2009 thriller film which has some elements by which it can be placed under the horror genre. It is basically of the Tamil language, and it was dubbed into Telugu as Vaishali and was released at a later time. Directed by debutant Arivazhagan Venkatachalam Arivazhagan Venkatachalam is a Tamil director and >> Read More... , it employs themes relating to revenge through nature's forms and reincarnation. It received very positive reviews from both the Telugu and the Tamil industry critics and audiences.
"Rakhta Charitra":
A 2011 political crime thriller directed by Ram Gopal Varma and has a lot of actors taking up the screen space. The movie was so long that, it had to be cut into two parts to cater to the audiences. The reviews were off the charts, with critics praising the attempt to showcase such level of gruesome scenes in the film, the script and the screenplay was so perfect that it justified the opinion of the people that Ram Gopal Varma's stories are the best in the business with regards to actual events.