Telugu movies have always been acclaimed for being impeccable.South Indian movies are stupendous and astonishing with their ethereal story lines, astute emotions and vindicate alacrity. These ten cinematic have been scripted, directed and worked on with so much perfection and are so notorious to watch.
1. Bahubali- The Beginning:      
...
To top the list, we have, Bahubali - The Beginning. It is a legendary fiction depicting the empire of Mahishmati and revolves around the life story of a village kid named Sivudu (Prabhas). He learns that his realipseity belongs to the aristocratic family. The suspense in the movie and the perfect picturization of the film always keeps you on your toes. It is amazing and stupendous, worth a watch.
2. Bahubali- The Conclusion:
...
It is the sequel of Bahubali – The Beginning. This movie is even more souped up than the antecedent. The abstruseness persists as Kattappa (Sathyaraj) delineates the sanity for his act of assassination of Amarendra Bahubali (Prabhas), the father of the protagonist. The first part of the movie creates such a level of suspense that it becomes imperative to watch this sequel.
3. Magadheera:
...
Magadheera shows Kala Bhairava Click to look into! >> Read More... - Harsha (role played by Ram Charan Ram Charan is a famous Tollywood actor and an entr >> Read More... ), a bike stuntman, been deceitfully entailed for killing Mitravinda's (Indu) Father. In the course, Indu gets abducted. When Harsha learns about his past-life connection with Indu, he embarks to fix things up. Ram Charan has done justice to both roles and has maintained the balance between them. No other movie can give such a perfect blend to the past life and present life experience. The picture is astonishing and worth the gaze.
4. Dookudu:
...
The plot of the movie goes as Ajay Kumar Bio coming soon... >> Read More... ( Mahesh Babu Born on 9 August 1975 in Chennai, Mahesh Ghattaman >> Read More... ) is a policeman in Mumbai who affrays against illegal Mafia and is chasing the Don Nayak ( Sonu Sood Sonu Sood is a famous Indian Cinema actor, model w >> Read More... ). On the family front, Ajay's Father Shankar Narayan ( Prakash Raj Prakash Raj, born on 26th of March, 1965, as Praka >> Read More... ) is seen to be in coma as he meets with an accident. In his hunt for the gang, Ajay discovers that Nayak alongwith other emulators – Mallesh Gaud (Kota ShrinivasanRao), Ambarpet Ganesh and MekaNarsinghRao (SayajiShinde) are his father's culprits. He then sets to track them down. One of the best consummations of Mahesh Babu in this action movie is just not the one to be missed.
...
5. Business Man Click to look into! >> Read More... :
...
Another hit by Mahesh Babu is a story of Vijay Surya (Mahesh Babu) who comes to Mumbai with an intention to agglutinate in the gangster's world. He goes into the track by succoring a politician. Things get bollixed when he falls in love with the commissioner's daughter. Love is a weakness and strength for all and how things can get tangled between them is worth watching.
6. 100% Love:
...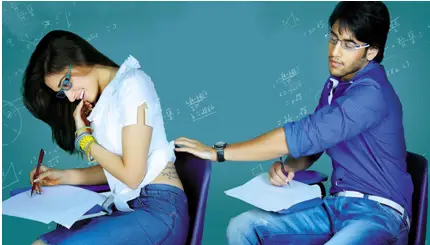 As the name suggests, this is a sweet love story of cousins falling in love but turns a blind eye imputing it to be an infatuation. In the beginning, Maha Lakshmi (Tamannah) dwells at her Balu Mahendra's- her cousin ( Naga Chaitanya Naga Chaitanya is a Telugu actor and he is into th >> Read More... ) place. She admires him for being perfect. In the course, they compete, fight, love and make each other jealous. The trail of jealousy gets so sovereign that they even end up betrothed with some other personages. 100% love is a story of their realization of love and confinement of their ego and gives one a sweet cognizance of how useless we let things go.
7. Yevadu Click to look into! >> Read More... :
The rage of revenge of Satya (Ram Charan) whose lover Deepthi, is killed in his dubiety makes him obdurate. In the incident, he is also stabbed and assumed to be dead. The spot of crime is burned, but Satya is salvaged by Dr. Shailaja (Jayasudha) who gives him a face and untrodden skin. After recouping from the coma, the new Satya, now with the name Ram, sets back to take revenge for the delict. ' Karma Click to look into! >> Read More... ' is an inevitable truth and one has to pay for his sins. 'Yevadu' depicts the essence of it.The truism of the moral that is depicted is miraculous and stupefying.
8. Premam:
Premam is a frivolous love story where the protagonist Vikram (Naga Chaitanya) goes through the boom and bust of love on various walks of his life. He falls in love with three girls in different stages of his age.The movie is a love travel of a person in his entire life that one can relate to.
9. Gautamiputra Satakarni Click to look into! >> Read More... :
Gautamiputra Satkarni is a Telugu legend that released this year. It is the story of the bodacious majesty of Satavahana. He endures many arduous situations but outshines beyond all odds. Nandamuri Balakrishna Nandamuri Balakrishna usually called as Nata Simha >> Read More... has done justice to the role of Satakarni. This epic movie is not that one can afford to miss.
10. Anukokunda Oka Raju:
The title, in English, means – 'An Unexpected Day.' It is a story of a singer Sahasra (Charmme Kaur) who is endeavoring to make her career. One night she goes to a club for a bash and emerges as a suspect of a double murder case.Her hunt for the mystery and the joining of the broken pieces keeps you stuck to your chair.