Other than the routine masala films, Telugu film industry has also a good share of devotional films. In fact, some actors have carried the roles with perfection. These films remain fresh in the minds of Telugu audiences. Here is a list of some such memorable Telugu films.
Shridi Sai Mahatyam
Balachander enacted the role of Sai Baba with ease. For a film of such genre the music should be alluring and maestro Ilayaraja did a great job. In fact, this is the main highlight of the film.
Bhakta Tukaram is indeed a beautiful piece of Telugu film industry. Veteran ANR played the role of a fervent devotee. Interestingly, Tukaram doesn't believe in god.
Shirdi Sai
This is another film on the life of the renowned saint Shirdi Saibaba. Akkineni Nagarjuna essayed the role of Sai Baba.
Sri Madvirat Veerabrahmendra Swamy Charitra
This is one of the best devotional films of Tollywood. NTR played the role of Shri. Potuluri Veerabramhendra Swamy with great prowess and he showcased the devotional touch to his character. Nandamuri Balakrishna, who donned the role of Siddha, is another actor who did his role convincingly.
Annamayya
Nagarjuna did the role of Annamayya in a praiseworthy manner. Now also when the film is shown in television the family audience watch it with great interest.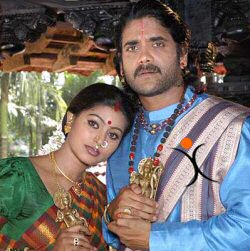 This is another devotional film of 'Akkineni Nagarjuna'. This film received good critical recognition and also set the cash registers ringing.
This film which is still etched in the minds of Telugu masses is an asset to Telugu cinema. This film showed the way to great status for Krishnam Raju.
Shri Manjunatha
Initially many wondered whether Arjun and Chiranjeevi would fit the bill of devotee and god respectively but the film broke all the speculations and became one of the renowned devotional films of Telugu film industry.