1. ' Thozha', Releasing Or Not?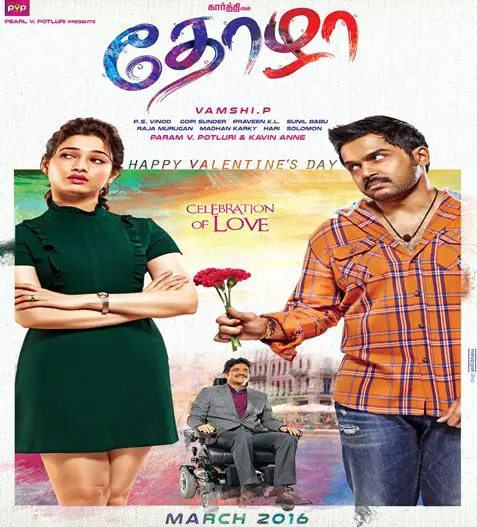 Karthik Sivakumar 's movie, Thozha, was set to release on screens on 26th March, 2016. It has cases and issues going on. Despite that, it's quite sure of the release.
2. ' Thodari', ' Dhanush''s Next
Thodari means train in English, which hints us that this movie has something to do with trains. Yes, Dhanush's role is that of a pantry worker. He aims at giving us a fun-filled movie every time. So, it's natural to expect a great one from him this time too.
3. ' Silambarasan' 's Lined Up Movies
' Idhu Namma Aalu' and ' Achcham Yenbadhu Madamaiyada' are lined up for release. AYM might release during May, this year, according to the rumour going on. Oh, ' Kabali' is set to release during May too.  
4. ' Maya' 'Nayantara'
After her successful Maya, Nayantara is ready with another project which revolves around a haunted car. Let's wait for another exciting movie by her.  
5. Akkineni Nagarjuna 's Fun Moments
In the movie Thozha, Nagarjuna is acting as a disabled man on a wheelchair. But, he talks about his fun moments at the shooting. The para-gliding, car racings are the highlights.