​1.  Vinnaithaandi Varuvaayaa Vinnaithaandi Varuvaayaa is an Indian-Tamil musica >> Read More...
This movie expresses the feeling of love between Karthik (Simbu) an engineering graduate and Jesse (Trisha) an IT professional. Karthik's family rents Jesse's house where he meets her for the first time. He fell head over heal right from the moment he saw her first and he tried to convince Jesse. Jesse's father was a strict disciplinarian which brought snag in their relationship. Karthik with the influence of his friend grabbed a chance of working as an assistant director for K.S Ravikumar which made him busy and unable to attend his deadly presence in a serious problem that hit Jesse's place. This shattered this beautiful feeling of love.
...
2. Paruthiveeran
A raw and rugged movie which moves the audience to tears. This love story is about Paruthiveeran and Muthazhagu. The plot shows its uniqueness in which the girl makes him fall in love with her. Later, their love becomes stronger that they develop enough courage to sneak out of their house. But Muthazhagu gets trapped by a group of men as she waits for Paruthiveeran to return. She encounters a gang rape and finally dies. Paruthiveeran is filled with deep regrets and holds himself responsible for her death.
...
3. 7G Rainbow Colony
...
This is a film which reflects the life of a typical boy from a Tamil society (Kadhir) and a North Indian girl (Anitha). Kadhir portrays a useless college student often bunking classes, skips exams and creates a lot of problem for his parents. Kadhir's life changes when he meets Anitha in his colony. Initially, Anitha shows her dislike for Kadhir but finally accepts him. Anitha puts in a lot of effort to make Kadhir a responsible person. Kadhir and Anitha stay at a hotel for a day and they have an argument the next morning. During the argument, Anitha crosses the road, she gets hit by a truck and dying on the spot. Kadhir feels responsible for her death and decides to live his life successfully as Anita always desired. Whenever he felt lonely and discouraged, he always believed that Anita comforts him in spirit. The honesty of the film makes it the best.
4. Kaadhal
...
This is a romantic drama that ends with tragedy. Bharath is a scooter mechanic in Madurai where he falls in the eye of a student (Sandhya) who comes from a grand family. The story seems to be a little different from others as the girl tries to convince Bharath and he hesitates due to her family background. But later they take courage to elope out of Madurai to Chennai. Aishwarya's father tries to track the couple. Aishwarya feels that marriage could only be their key to save them and both get married. Aishwarya's family pretends to act as if they agree with the wedding and brings them to Madurai. But Murugan is eaten to leave the place and Aishwarya's father warns her that he would kill him if she does not throw away the mangalyam. After many years, Aishwarya meets Murugan in a mentally disturbed state while she is with her husband. She breaks down as she feels that she is responsible for this pathetic state of Murugan.
5. 'Shahjahan'
...
This movie hit the screen in 2001. Ashok (Vijay) is the person who helps lovers to get married. Likewise, he also promised his friend Raja to help him with his marriage. He made every arrangement for their marriage. When the day finally came, he finds that Raja's lover is the girl whom he loved so much. Without opening the truth, he helps Raja marry her to show his gratitude to friendship.
...
6. Sillunu Oru Kaadhal
...
This movie was the greatest hit in 2006. This movie revolves around Gautham (Suriya) who falls in love with Iswarya (Bhoomika) who is studying in the same college with him in Coimbatore. Iswarya's father is a politician in Coimbatore. Gautham and Iswarya decide to get married. At the registrar's office, just after Gautham ties the knot, Ishwarya's father barges in, beats him up and sends her off to Australia. Gautham takes years to recover from this pain and then marries Kundhavi (Jyothika), a girl from Ambasamudram.
7. Sethu
Sethu (Vikram) is a college rowdy who uses only violence with people. Sethu wins the elections for the office bearers for the college's Students Union. Later he meets a faint-hearted girl (Abhitha), the daughter of a temple priest and tries to express his feelings towards her. She rejects him due to his rough behaviour, so he kidnaps her to make her accept him. Finally, when things turn out the way he wants, he is kidnapped by brothel thugs and ends up in an ashram with brain damage. He forgets his past and later his memories flash back to him. At one point of time in life, he recovers all his lost memories and tries to escape. Being persistent to meet Abhitha, he tries to leave the institution.  He finds out that she committed suicide. The movie ends with Sethu being left alone after his true love's death.
8. Vaaranam Aayiram
This film carries an unbearable sentimental element. Surya, an engineering student, meets Meghna in a train as they return from Trichy after their college days. Surya becomes crazy after meeting Meghna, and puts every effort to please her. But she moves to the US to do her Masters. Surya gets deeply disturbed, and with his father's permission, he follows her to the US. Meghna is stunned seeing Surya in the US, moreover for the only reason of pleasing her and they fall in love. This piece of happiness adds extra flavour to the film. But it lasts only until Meghna goes to Oklahoma City for a project work where she dies in a bomb blast. Surya carries an awful pain and he gets bound to drugs. Later after so many years, he meets Divya, his childhood friend and both get married.
9. Kaakha Kaakha
Anbuselvan (Suriya), a daring IPS officer is an Assistant Commissioner of Police with the crime branch. He falls in love with Maya (Jyothika) who is a school teacher. On a particular case, Anbuselvan kills the head of a gang and the brother of that criminal tries to take revenge on Anbuselvan. Meanwhile, Anbuselvan and Maya get married in Pondicherry and spend their night in a cottage. Just after their honeymoon, the criminal takes his chance and kidnaps Maya, and in few days they kill her. Anbuselvan is also injured and thrown by the bank of a stream. The movie covers the flashback of their love.
10. 3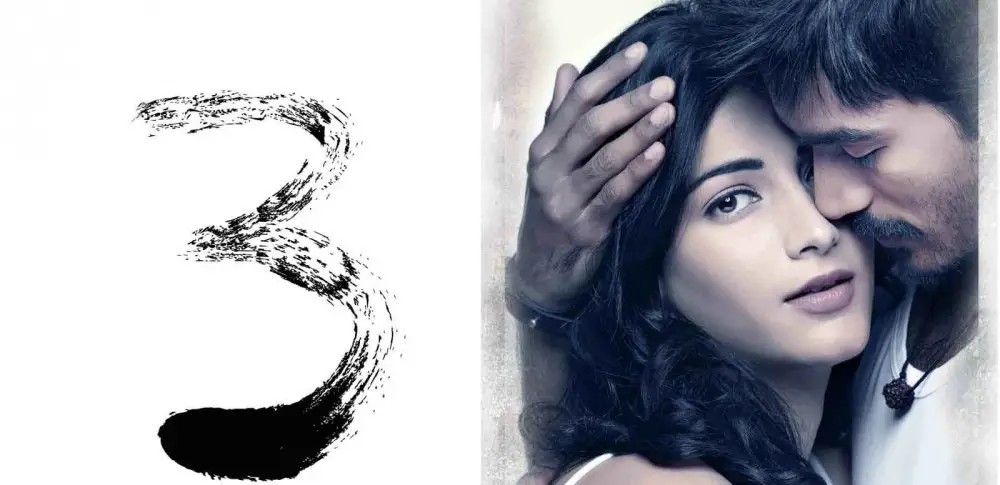 Although their love in this film was successful, their journey didn't last long. This movie portrays the love between Ram (Dhanush) and Janani (Shruthi). Their love blossomed right from their school days and they get married. But things became different just after their marriage and Ram commits suicide. Janani realizes the truth behind his death through his friend that Ram had two sides in him. He often got angered and went out of his control. He had horrific hallucinations of Sadhu and little girl who often tell him to kill Janani or kill himself. Hence he finally chose to stab himself and save his wife.