The Indian film industry is also best known for its latkas and jhatkas. When our favorite actors and actresses dance on screen, we cannot just take our eyes off them. And when it comes to Tamil cinema dancing has become an essential ingredient. Now let's take a look at the top 10 dancers of Kollywood.
Prabhu Deva Prabhu Deva is one among the populous cinema perso >> Read More...
...
Though Prabhu Deva is not actively seen in Tamil movies nowadays, I will not do justice to this list if I don't include his name. He is rightly called the of Indian cinema and his twists and twirls are worth applause. Who can forget his swift moves in Kaadhalan, Minsara Kanavu, and Gentleman? Though he is busy with acting and directing we hope to see him sooner showing his dancing skills.
" Vijay As they always say, "it runs in the blood", the sa >> Read More... "
...
The greatest credit a dancer can get is when kids like his/her dance. Here then most of the kids are all for Vijay's amazing dance moves. There is a unique style in his way of dancing, and it is difficult to point one specific song in which he did exemplary work.
...
Jayam Ravi, who mainly showed his acting skill in his debut, hit movie Jayam surprised the audiences with his amazing dance in his next venture M Kumaran S/O Mahalakshmi. Jayam Ravi is a trained Bharatnatyam dancer too and has imbibed the skills in his childhood itself. When one watches Ravi dance to the steps of the choreographer, it is clear that he enjoys what he is doing. He can surely be considered as one of the best dancers of Kollywood.
Bharath Srinivasan Bharath Srinivasan is a popular star in Tamil and >> Read More...
...
Bharath proved that he is an awesome dancer in his debut movie Boys itself. He is also learned dancing at a young age, and he is a trained dancer. Whether it is Four People (especially the song Lajjavathiye) or Veyyil or Pattiyal the dancer in  Bharath is surely here to stay.
...
""
...
Someone who can dance effortlessly; that Silambarasan for you. He just casually shakes his legs much to the excitement of the audiences. And the energy he spreads while dancing is indeed infectious. We have seen Simbu shaking his legs since his childhood, and he seamlessly performs any form of dancing. Whether it is Kuthu, Manmadhan or Saravana or Silambattam, Simbu just stole the hearts of millions of fans.
Aishwarya Rai Bachchan Aishwarya Rai Bachchan is a popular Indian actress >> Read More...
...
This gorgeous lady may act in Tamil films only now and then, but her dancing in the Tamil movies cannot be forgotten. Who would forget the elegance that she showed in Kannodu Kanbathellam in Jeans and Kannampoochi Enada in Kandukondein Kandukondein? In stark contrast to these two songs she even showed her efficiency in western dancing in Endhiran. She has such a comfort level with dancing that she has even danced without rehearsing in one of the promotional events of her Bollywood film.
Raghava Lawrence Lawrence Raghavendra is a popular Choreographer, d >> Read More...
Raghava Lawrence knows the pulse of the audiences, and he dances in such a way that it reaches them. He is highly proficient in westernized dance moves. Kaalam Kalikalam from the movie Amarkalam paved the way to a different facet in dancing. He received much acclaim for his collaboration with Vijay in Thirumalai and also for the recent film Irumbukottai Murattu Singam.
" Dhanush This lanky superstar Dhanush is an actor from Tami >> Read More... "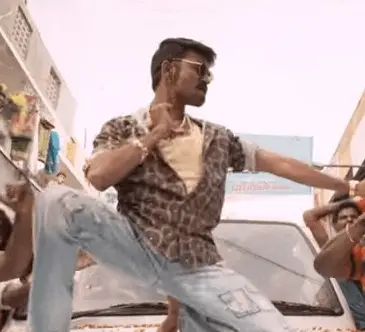 Dhanush has a boy-next-door image, and he is indeed an ace dancer. With Manmadha Rasa Dhanush showed that he is no less in dancing compared to his acting skills. Later he also proved his dancing talent in films like Pudhukottaiyilirundhu Saravanan, Pudhupettai, Anegan, Aadukalam, etc. The surprising fact is that Dhanush is not a trained dancer. What makes him hit gold with dancing is his ability to be cool and casual in his moves.
Shriya Saran Shriya Saran, the timeless beauty, is a much loved >> Read More...
Shriya is a trained in Kathakali, and that is vivid in her dance moves. She oozes dexterity in her dancing, and Sivaji and Kandhaswamy (especially the song Excuse me) are highlights of her stint with dancing. 
Shruti Haasan Shruti Hassan is an Indian film actress born on 28 >> Read More...
Like father...like daughter...Shruti Haasan is also an ace dancer and she has proved her dancing skills in a short span of time in movies like Puli, 7am Arivu and Poojai.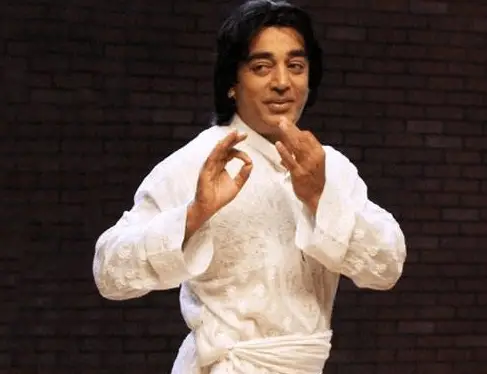 A list of best actor, singer, or dancer will be incomplete without including the versatile Kamal Haasan Kamal Haasan is the most versatile actor that Indi >> Read More... . His dancing to perfection in Salangai Oli or for that matter in the recent Uttama Villain Click to look into! >> Read More... and Vishwaroopam only goes to prove that he is incomparable. Time is not a foe for this talented actor as he seems to embellish his strengths including dancing with the passage of every movie. So let's hope he entertains his fans with more dance numbers with the passage of time.