The grown-up life can be challenging and filled with the daily mundane; hence it is always a pleasant change to let our inner child free. Movies with children as protagonists are also a chance to appreciate the innocent and adorable performances by talented little actors. Here's a list of 10 Mollywood movies that will surely bring out the kid in you. 
1. TD Dasan Std. VI B
This 2010 film is directed and written by Mohan Raghavan Mohan Raghavan had played an important role in Mal >> Read More... . The movie revolves around a young kid, Dasan, and his efforts to find his estranged father. The movie dives deeper into the life of a child with a single parent and how it affects them. The cast for the film includes Master Alexander, Biju Menon The tall, dark and handsome Biju Menon started his >> Read More... , Jagadish, and Shwetha Menon.

2. Manjadikuru
Directed and written by Anjali Menon Anjali Menon is a Malayalam film director who came >> Read More... , the movie revolves around a young boy named Vicky and his experiences as he visits his hometown for his grandfather's funeral. The movie is a recounting of life by a grown Vicky and is narrated as understood through the eyes of a child. The film was released in 2012 and starred Sidharth, Vyjayanthi, Rejosh, and Arathi Sasikumar, among others.
...
3. 101 Chodyangal
This 2013 slice-of-life film is directed and written by Sidhartha Siva He was born on 5 May 1985. Kaviyoor Triuvalla is t >> Read More... . The cast of the film includes Indrajith Sukumaran Indrajith Sukumaran is a prominent film actor, who >> Read More... , Lena, and Minon. The story explores the events after a fifth-standard student is asked to frame 101 questions as part of an assignment and how the child goes on a fascinating discovery journey. At the same time, his father gets fired and faces unemployment.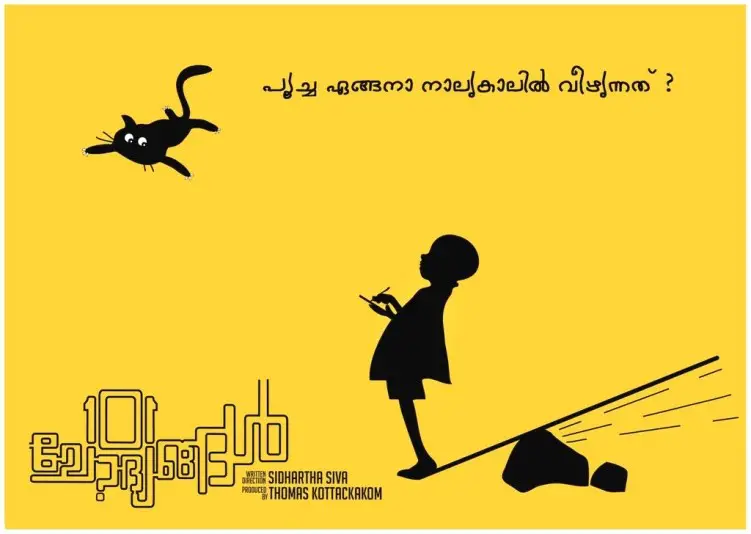 ...
4. Philips And The Monkey Pen
This 2013 children's film revolves around Ryan, a young kid who comes into possession of a magic monkey pen that does all his school work, and in return, Ryan completes tasks given by the pen. The movie teaches valuable life lessons and teaches people to trust their ability and not depend on anything else. The movie's cast includes Sanoop Santhosh, Jayasurya, and Remya Nambeesan Remya Nambeesan is a chirpy young Indian actress, >> Read More... .
...
5. Annmariya Kalippilaanu
This 2016 children's movie revolves around a young kid named Ann Mariya and her efforts to get back at her PT teacher by hiring goons. Eventually, a wholesome friendship develops between the goon, and the kid and the rest of the story explores the events. The movie is directed by Midhun Manuel Thomas Midhun Manuel Thomas is a professional film direct >> Read More... and produced by Alice George.
This 2003 heart-touching movie tells the story of a family of three as they prepare to welcome a newborn baby and the insecurities faced by the elder son, which leads to a big tragedy. The movie is directed by Sibi Malayil Sibi Malayil is an acclaimed director in Malayalam >> Read More... and Written by Bobby and Sanjay.
...
7. My Dear Kuttichathan
This 1984 fantasy children's film took the Malayalam film industry by storm. The movie revolves around Kuttichathan, a spirit imprisoned by an evil black magician. He is eventually freed by a few kids and helps them. The film is directed by Jijo Punnoose Abhishek Dudhaiya is an India Television and film >> Read More... and stars Kottakara Sreedharan Nair, Dalip Tahil Dalip Tahil is one of the most renowned evergreen >> Read More... , and Sonia.
...
8. Ottaal 
Inspired by Anton Chekov's Vanka, the film revolves around the relationship between a young boy and his grandfather. The movie was released in 2015 and was directed by Jayaraj. The film also won numerous awards at the International Film Festival of Kerala. 
...
9. Kummatty
Revolving around a kid's tale similar to the pied piper, Kummatty tells the story of a magician who transforms the kids into animals and plays around with them, and at the end of the day, transforms them back into humans. The 1979 movie is directed and written by Govindan Aravindan.
...
 
10. Yoddha 
Yoddha is a 1992 thriller comedy directed by Sangeeth Sivan Sangeeth is an Indian writer and director. He was >> Read More... and produced by Saga Films. The movie revolves around Ashokan and a young boy who is to be crowned the Rinpoche in a Buddhist Monastery. The film has elements of comedy, action, and fantasy. The movie's cast includes Mohanlal, Jagathy Sreekumar Jagathy Sreekumar, a famous Indian film actor know >> Read More... , Siddharth Lama Born in 1985, Pokhara, Nepal, Siddharth Lamais a N >> Read More... , and Madhoo.