It is always interesting to see siblings working in the same profession; and Sandalwood is no exception to this. Sandalwood has witnessed some outstanding siblings who have carved a niche for themselves. Well, let's take a look at some of them:
Shankar Nag and Anant Nag
Shankar Nag carved a niche for himself not only on the big screen but also in television and theatre. His teleserial Malgudi Days has been a noteworthy venture in his career. His brother Anant Nag proved his mettle through his spontaneous acting style in many Kannada movies. Moreover, he acted in his brother's TV series Malgudi Days. Anant Nag has received various accolades for his work.
Shiva Rajkumar, Puneeth Rajkumar and Raghavendra Rajkumar
Shivaraj Kumar and Puneeth Rajkumar have lived up to their father's name, and they ruled the roost for a commendable period. They have been associated with some topnotch directors of Sandalwood. They have a home banner, but it is surprising that this duo hasn't shared screen space in any film. It has now become apparent that they would be working together soon. Their brother Raghavendra Rajkumar started out as an actor, and after tasting moderate success, ventured into production.
Darshan Thoogudeep and Dinakar Thoogudeep
This brother duo shares good camaraderie in real life. Darshan is now one of the top actors of Kannada while Dinakar is an exceptionally talented director who gave different movies to the Kannada audience. Though Dinakar has directed only three movies, all of them were successful at the box office. 
' Jaggesh' and 'Komal'
Jaggesh and Komal are familiar names in Sandalwood for their histrionics in comedy. Jaggesh entered the industry before his brother Komal but Komal didn't remain far behind.
Sadhu Kokila and 'Layendra'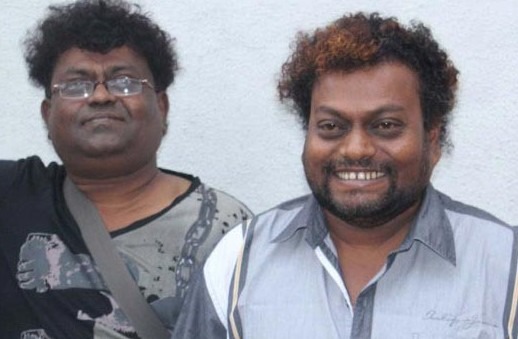 The sheer name of Sadhu Kokila will surely tickle your funny bones. Layendra, the brother of this multi-talented actor, has also tried his luck in acting.
Sai Kumar and 'P. Ravi Shankar'
Though this talented duo didn't try their luck in lead roles, they were outstanding in villainous and supporting roles. 
 
Sanjjanaa Galrani and 'Nikki Galrani'
These pretty sisters have all the essential elements to make it big in the film industry. They can at best be called the promising faces of Sandalwood (though Sanjjanaa has almost nailed her name in Sandalwood). Sanjjanaa first entered the industry and eventually her sister Nikki followed her. 
 
Chiranjeevi Sarja and Dhruva Sarja
These two brothers who hail from a filmi family ( Arjun Sarja is their uncle) have fire their belly to prove their mettle in Sandalwood.