Some movies have a lasting effect on society. Some succeed in changing a few people's lives, while others have aided in hastening the completion of long-pending justice, while others cause you to experience emotional turmoil and change the course of your life entirely. We anticipate three hours of enjoyment at the movies, with some singing, dancing, action, and comedy. And we leave the cinema with a tinge of satisfaction that our three hours have been spent having fun in an air-conditioned space.We occasionally feel far more than that, though. We experience a sense of having been present for something significant and profound. This is when we discover films that have a bigger influence on society. Even though we may not realize it, movies play a significant part in our lives.
This list of ten Indian films goes much beyond simple pleasure.
Ishaan, a dyslexic child who struggles daily to carry out basic tasks of life, is vividly depicted in the film. Like tying a shoelace, it is quite straightforward. It sent the message that every child is unique and has various needs to all the families that want their children to achieve everything.
...
2. Shubh Mangal Jyada Saavdhan
In the recently released film Shubh Mangal Jyada Saavdhan, two guys who genuinely love one another battle for recognition among their families and communities. The homophobic members of society claim that the LGBTQ+ community is out of the ordinary. However, in actuality, neither clothing nor shoes are natural. The film raises awareness of the fact that "love is love."
...
3. Udaan
The film was formally picked to compete in the Un Certain Regard (A Certain Glance) competition at the 2010 Cannes Film Festival. Up until Udaan, there hadn't been an Indian movie in the official area of Cannes in the previous seven years. The story of thousands of young Indians from middle-class homes who want to rebel and follow their dreams is told in the movie Udaan.
...
4. Panga
In the film Panga, a working mother who aspires to play kabaddi is represented as living her dream. For the sake of her spouse and child, a mother is expected to set aside all of her interests and aspirations. Another social problem is that moms are expected to work nonstop, and women are generally denied the opportunity to advance professionally and raise children well.
5. Toilet Ek Prem Katha
The movie's core message is admirable, and it deserves praise for tackling such a difficult subject in a fun way. But providing entertainment shouldn't involve encouraging the harassment of girls and women to get their attention. In contrast to movies, it typically has catastrophic repercussions in real life.
...
6. Mother India
Mother India dealt with the social and cultural changes that were happening in the nation soon after independence, which had a big impact on the people of India. Nargis portrayed an Indian widow battling valiantly to raise her kids. The movie is mostly about the power of "good," since the mother kills her child when he crosses the line and goes in the wrong direction.
...
7. Padman
Padman honors Coimbatore social entrepreneur and real-life hero Arunachalam Muruganantham. He makes a pad on his own out of frustration at his wife's use of filthy cloth and to promote hygiene economically.How he is derided and hindered by everyone who believes he is a filthy, perverted, insane man.
...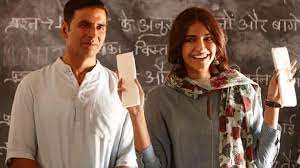 8. Chhapaak
Crimes against women are acknowledged by Chhapaak as a major social problem. The protagonist of Chhapaak is an acid assault survivor who must deal with the repercussions of the horrifying act committed against her. The film also depicts the aftermath of an acid assault on a woman's life, as well as how society and the media perceive her appearance.
...
9. Three Idiots
The ground-breaking film gave India's educational system a completely new perspective. The movie promotes the concept that education doesn't need money, uniforms, big schools, or colleges; all it needs is a strong desire to learn. The narrative focuses on how the educational system ought to consider students' interests in addition to their academic performance.
10. Thappad
In the movie Thappad, a husband slaps his wife following a heated disagreement with another person. After that, Taapsee Pannu's character's wife realizes how selflessly she has been caring for a husband who has been so unappreciative of her. Even if it's merely a slap, she realizes he can't hit her.