When Indian T.V shows used to telecast the same melodramatic series in their shows, " Epic Click to look into! >> Read More... " came with a very new concept. The shows on this channel brought new ideas and themes which encourage you to watch some good Hindi shows. If you, like me, got bored by watching the same daily soaps with their same stories, here are shows on Epic channel which are smartly written, and they give a right direction to your wisdom and knowledge.
...
"Epic" is an Indian channel which is been owned by Mukesh Ambani Mukesh Ambani is an Indian entrepreneur and an ind >> Read More... , Rohit Khattar Bio coming soon... >> Read More... and Anand Mahindra. The shows explore a history of all the legends, food's story and folklore of mythology. You will be amazed by these show's concepts and undoubtedly, will appreciate the ideaof them giving information to masses about their existence.
1) Devlok by Devdutt Pattanik: -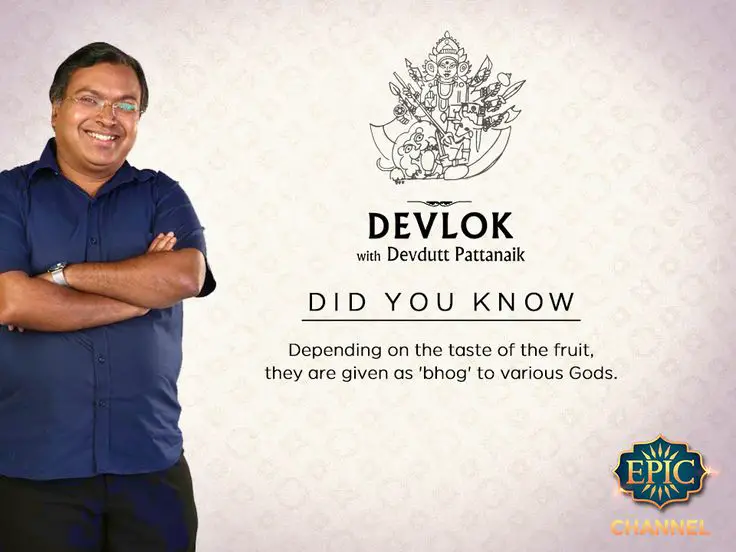 ...
A show which explores the tales of Indian Mythology. It is presented by a great mythologist, Devdutt Pattanik; it's a tètè-a-tètè show between a guest and Devdutt, he highlights Hindus' stories, symbols, and events. There is folklore behind every tradition and religion, and through this show, he decodes all the tales of mythology. He puts the following question forth- if mythology is a tradition, religion, fantasy or history? His stories talk about the cultural identity of Hindus and educate the masses by delivering relevant stories. Our Hindu culture belongs to myths and kathas and he explains these folklore and traditions. Not only the mythology behind a culture is explained, but the significance or a truth of existence and humanity is given. The show will engage you and increase your curiosity about our existence with some relevant stories and true facts. You could watch the show based on god Shiva, Gita and could know about the history of our gods too.
2) Raja, Rasoi aur anya Kahaniyaan: -
...
India, just like its diversity in religion, language, tradition and culture, is also famous for the diversification in food too. It's pride for our Indian heritage where you can see the richness of different cuisines. "Raja, Rasoi Aur Anya Kahaniyaan," a non-fiction show, is not like any cookery show where you just learn to make new dishes but, here you see that the presenter enters into the Royal kitchen and discussed about the history of every cuisine. He doesn't only talk about the food but merges the taste with the time and significance in our history. He talks the importance and origin of food into the Royal families. In the show, you can see how he goes to different parts of India and explores the recipes and spices belonging to that region. Food bloggers and big foodies love this show and enjoy the tales of food related to Maharajas and Maharanis.
3) Dharma Bio coming soon... >> Read More... kshetra:-
...
If you are fascinated by ' Mahabharata Story soon >> Read More... ', you can see the aftermath drama of the Mahabharata war that takes place in the court of Chitragupta. The Mahabharata is an integral part of Indian history, every facet, every nuance of life, every thought and motivation can be encountered here. But Dharamvir Bharti in his novel, 'Andha Yug', talks about the aftermath effects of a war and shows the blindness of everyone due to the karma. Thus, this show also represents a drama which takes place after the epic 'Mahabharata war,' and gives you the consequence of the blindness of everyone for the 'Dharma', which was, ultimately, everyone's downfall. Maybe myths perceived in this are a symbol of human experience that may reflect our societies. Dharma, the code of behaviour brought sorrow and suffering.
...
4) Ekaant: -
...
The show came with the two seasons, is one of the best non-fiction T.V shows of Epic channel, anchored by Akul Tripathi Akul Tripathi is an actor and a writer. Akul, as a >> Read More... , who takes you along on a historical journey and talks about various places and their history. He investigated many monuments and forts of Maharajas and Rajas. As the show's name suggests silence and emptiness, he also travels alone and visits many beautiful places and explores the mysteries behind it. Sometimes, he converses with the residential people about the kings and queens and tries to uncover and reveal real facts in the show. Through his shows, you can explore a completely new and different place just from the comfort of your home.
5) Stories by Rabindranath Tagore: -
...
This book, written by Rabindranath Tagore, won a noble prize for literature, in 1913. A renaissance man, who was very anti-materialist, brought the progressive stories. He tried to preserve an east idea of civilization through his stories where he tried to present his women characters strong, who cocooned in a conservative society. The modernist writer, tries to focus on the fragmented self of a human and the notion of individuality. This show has been directed by Anurag Basu Anurag Basu is a jack of all trade Indian film/tel >> Read More... , he adheres the concept of visual storytelling for the Tagore's stories. Anurag also tried to show the women of Tagore's stories as a typical Bengali woman in Bengali clothes and projected the idea of gender equality. Anurag maintains the status of Tagore's stories which brought a shift in the mind-set of traditional Indian values. Some of the stories are Aparichita, Kabuliwala and many more.
6) Jaane Pehchane with Javed Akhtar Javed Akhtar is an Indian poet, lyricist, film scr >> Read More... : -
The show is presented by the very famous writer, poet, lyricist and screenwriter, Javed Akhtar. He talks about Bollywood. I think he is a perfect person and anchor of this show who can tell us about the Hindi Entertainment Industry in detail. He reminisces about popular characters, film, dialogue, scene, and heroes. He has been in this industry for a very long time and knows about all the incidents related to Bollywood legends and films. He decodes that for us and entertains us by discussing the tales of Hindi Film Industry.
7) Mid-Wicket Tales: -
A very famous veteran actor, Naseeruddin Shah Naseeruddin Shah is an experimental actor and asso >> Read More... presents the show. It's a non-fictional show, and he decodes the untold stories of cricket and cricketers. He takes the theme of captains, spinners, wicket-keepers simultaneously in his show. The actor explores all the stories of Indian Cricket and its legends. He tells us various stories about Tiger Pataudi, Shashi Tharoor Shashi Tharoor is an author, politician and also a >> Read More... , Bishan Singh Bedi, Kapil Dev Kapil Dev is a former captain of the Indian cricke >> Read More... and much more on his show. He enters into a cricket world and brings us the tales about Men of Steel, Monikers of small town heroes, Glamour and Cricket, etc.
8) Made in India: -
The show uncovers the history of India's inventions. The show is smartly written and imparts knowledge to Indians about their nation's big achievements. The show talks about the invention of weapons, like the ones that were used in the Mahabharata war, how airplanes were first invented in India and much more. You will be glad to watch something new on T.V which educates you, about various inventions and their practices and tells you about India's fast development.
9) Once More "Once More" was a Telugu language TV show. The TV >> Read More... with Jaaved Jaafferi: -
The most enthusiastic comedian is back on T.V again with this show. Javed, a stand-up comedian, is a full-house of entertainment. He can take you to another level of laughing spree by enacting the 70's to 90's drama by wearing costumes and get-ups of legends like Praan, Dharmendra, Mithun, who performed over the top enactments in their acting career. He relives all the iconic moments. This show is produced by him and he takes you on a rollercoaster ride of the Indian cinema.
10) Adrishya: -
A non-fiction show which is based on the real-life stories of spies of India. These are the unsung heroes who took dangers for their job. The show explores the history of spies from post to pre- Independence. This is one of the best shows aired on Epic channel. There was a time when people didn't know anything about the spies who devoted their whole life for their nation, but through this channel and this show, masses came to know about their sacrifice and devotion to the country.