Bollywood industry makes a lot of Romantic movies. Some Bollywood romantic movies teach us life lessons, but some do not show any connections at all. Here are some unnecessary love stories in Bollywood.  
1. SWADES
...
The movie ' Swades Click to look into! >> Read More... ' is based on the true-life story of a non-resident Indian (NRI) who comes back to his motherland. It is a cult of Bollywood cinema. Shah Rukh Khan Shah Rukh Khan or also known as SRK is a prominent >> Read More... played the role, Mohan Bhargava. The love between Mohan and Geeta was not necessary in the movie.
2. SHAKUNTALA DEVI
...
Shakuntala Devi is based on a true story of an Indian Mathematician, Shakuntala Devi and it is directed by Anu Menon Anu Menon is a film director and a writer in the B >> Read More... . Vidya Balan Vidya Balan is an award winning Bollywood actress >> Read More... played the leading role of Shakuntala Devi, the human-computer. In the movie, when she goes to London, she meets Javier, a Spanish Mathematician. Shakuntala helps him with maths, and Javier helps her with English. Slowly and steadily, they started to build a relationship.
...
3. LAGAAN

Lagaan: Once upon a time in London, is a sports-based film directed by . Aamir Khan Aamir Khan or Mohammed Aamir Hussain Khan is Bolly >> Read More... as Bhuvan, Rachel Shelley Rachel Shelley is a Hollywood actress and a model. >> Read More... as Elizabeth Russell, and Gracy Singh Gracy Singh is a brilliant dancer and actress who >> Read More... as Gauri were cast in this movie. Elizabeth falls in love with Bhuvan.
4. MOHENJO DARO
...
Mohenjo Daro Click to look into! >> Read More... is an action-adventure film directed by Ashutosh Gowariker. Hrithik Roshan Hrithik Roshan with his unimaginable dance moves i >> Read More... and Pooja Hegde Pooja hegde was the second runner up at miss unive >> Read More... played the leading roles in the movie. It should be the movie giving us information about ancient Indus Valley civilization, but instead, it has shown us the love story between farmer Hrithik Roshan and princess Pooja Hegde.
...
5. AIRLIFT
' Airlift Click to look into! >> Read More... ' is a movie directed by Raja Krishna Menon Raja Krishna Menon is a movie writer, director, an >> Read More... . and Nimrat Kaur Bollywood actress Nimrat Kaur was born on 13th Mar >> Read More... played in the leading roles. It is a historical drama movie inspired by Kuwait based Malayali Businessman. It was not a need to show his love for Nimrat. Half of the movie showed the love between Akshay and Nimrat.
...
6. ACTION JACKSON
...
Action Jackson Click to look into! >> Read More... is a movie directed by Prabhu Deva Prabhu Deva is one among the populous cinema perso >> Read More... . It is an action thriller film but more looks like a romantic film. Ajay Devgan Ajay Devgn is an Indian film actor. He is perhaps >> Read More... played a double role as Jai, aka AJ, and Vishi. AJ fells in love with Sonakshi Sinha Sonakshi Sinha is a well-known Indian Actress. She >> Read More... , and Vishi fells in love with Yami Gautam Yami Gautam is a Hindi television and movie actres >> Read More... .
7. GULLY BOY
Gully Boy Click to look into! >> Read More... is based on a true Indian Rapper. The movie was directed by Zoya Akthar. In this movie, Ranveer Singh Ranveer Singh Bhavnani is an Indian movie actor wh >> Read More... lives in Dharavi and likes to rap, and Alia Bhatt Alia Bhatt is a trendsetting actress from Mumbai, >> Read More... was his possessive girlfriend. After getting fame by Rapping, he starts working with Kalki Koechlin Kalki Koechlin is a famous film actress, model and >> Read More... (Sky) and starts to build a relationship with her.
8. MISSION MANGAL
The movie Mission Mangal Click to look into! >> Read More... is a drama film directed by Jagan Shakti. It is based on the life of scientists at ISRO (Indian Space Research Organization). The lead actors were Akshay Kumar, Vidya Balan, Sonakshi Sinha, Taapsee Pannu Taapsee Pannu is an actress and model of Indian or >> Read More... , Kirti Kulhari She is an India film star Born May 30, 1985 in Mum >> Read More... , Sharman Joshi Sharman Joshi was born in Mumbai, Maharashtra to a >> Read More... and Nithya Menen Born on April 8, 1988 Nithya Menen is indeed a sta >> Read More... . Akshay Kumar, who plays the role of ISRO director, bears the whole mistake of Vidya Balan, who played, Taara.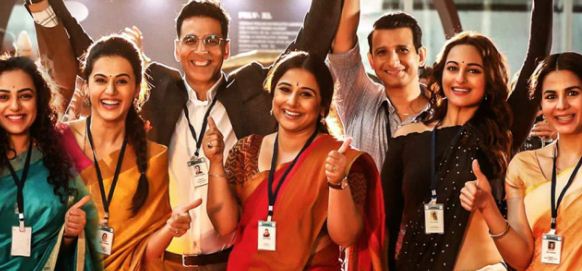 9. TASHAN
The movie Tashan was directed by Aditya Chopra Aditya Chopra is an Indian film director, scriptwr >> Read More... , and the leading actors were , Kareena Kapoor Khan Kareena Kapoor is a super hit actress working in I >> Read More... , Anil Kapoor Anil Kapoor was born on 24th December 1956 in Mumb >> Read More... and Akshay Kumar. Saif Ali Khan, as Jimmy Cliff, falls in love with Kareena Kapoor, who played the role of Pooja Singh Pooja Singh is one of the most versatile Indian te >> Read More... . When she asks him that she wants private tutoring, their love story starts.
10. BHAAG MILKHA BHAAG
Bhaag Milkha Bhaag Click to look into! >> Read More... is one of the blockbuster biographical sports drama films, which was directed by Rakeysh Omprakash Mehra Born on 7th July 1963, Rakeysh Omprakash Mehra is >> Read More... . This movie was based on the life story of Milkha Singh Milkha Singh, fondly called The Flying Sikh, was b >> Read More... . Farhan Akthar played the leading role of Milkha Singh. He falls in love with Biro ( Sonam Kapoor Sonam Kapoor, Daughter of Anil Kapoor and model Su >> Read More... ), but she does not accept him and ask him to live a life of honesty. Later, when he gets success while celebrating his championship, he meets Rebecca (Stella) and generates feelings for her.