With a vast variety of movies, Bollywood has never failed to entertain its audience. Bollywood not only caters to a large audience, but it also presents to us an essence of life. We've seen a string of skilled movie makers who've presented us with intellectual stories. But did you know that Bollywood also draws inspiration from a variety of International films? Be it the title, the posters or the plotline, Bollywood is home to multiple films which have been lifted from multinational movies. Here's presenting the top 10 successful Bollywood remakes of global films.
1. Hum Tum Click to look into! >> Read More... from When Harry Met Sally
...
This 1989 romantic comedy starring Meg Ryan She is considered to be one of the most desirable >> Read More... as Sally became a huge hit with the audience, and was worshiped by all the romance lovers. Director Kunal Kohli elevated this storyline by adding the charm of a Yash Raj romance saga, and Hum Tum spelled success with the Indian audience.
2. Life in a Metro from The Apartment
...
Touted as a crisp urban drama, 'Life in a Metro' was a fresh take on urban life and its complexities. Although 'The Apartment' won several Academy Awards, 'Life in a Metro' was a far better contemporary movie with a soundtrack which made its way directly to the audience's heart.
3. Baazigar from A Kiss Before Dying Abbas-
...
Mustan's most ambitious project laid the foundation stone for Shah Rukh Khan Shah Rukh Khan or also known as SRK is a prominent >> Read More... in Bollywood. Being the first of its kind, this movie showcased the antagonist as the protagonist as well, and was heavily inspired by the American movie 'A Kiss Before Dying'. The entire storyline seems to be inspired by the American version, with the title being a synonym of Shah Rukh's evil deed committed in the movie.
4. Sarkar Click to look into! >> Read More... from The Godfather
...
Mario Puzo's novel gets translated into an eloquent movie by Al Pacino's impactful performance, making 'The Godfather' an acclaimed flick worldwide. With the impressive duo of and Abhishek Bachchan Abhishek Bachchan, or Abhishek Srivastava, is a ve >> Read More... , 'Sarkar' became synonymous with poignant Indian gangster and political pictures.
...
5. Satte Pe Satta from Seven Brides for Seven Brothers
...
The name gives away the entire inspired plot. Creating the magic of seven young men falling in love with seven damsels, Satte Pe Satta became a cult classic. With its peppy music score and Amitabh Bachchan's double role, the movie became a hit with the masses.
6. Chachi 420 from Mrs. Doubtfire
...
Kamal Haasan's zest to attempt an entirely different genre is applaudable in itself. He nailed his role of a very charming Chachi who managed to trick all her suitors. Chris Columbus Chris Columbus, is an American film worker, writer >> Read More... ' movie starring Robin Williams Robin Williams is a legendary actor and comedian. >> Read More... serves as the base for Hassan's most memorable work. A main difference being, Chachi 420 features a father trying to meet his only child, whereas the American version had three children.
7. Jo Jeeta Wohi Sikander from Breaking Away
One of Aamir Khan's most accomplished projects; this was a path breaking movie for the urban youth. Taking inspiration from 1979 American classic 'Breaking Away', Jo Jeeta Wohi Sikander is a personal favorite of the Indian audience even today.
8. Bheja Fry from Le Diner De Cons
Bheja Fry has made all of us roll with laughter, and Bharat Bhushan Bharat Bhushan born in Meerut city of Uttar Prades >> Read More... is remembered for his weird ways even today. Little did many people know that this laugh riot is inspired from Le Diner De Cons, a French movie with some great moments and laughing gags.
9. Aamir from Cavite
Rajeev Khandelwal's performance as a distraught Aamir was emphatic and we wished that every human being could be like him. Inspired by the Filipino movie Cavite, Aamir brings into light the dilemma of a soulful being.
10. Shaurya from A Few Good Men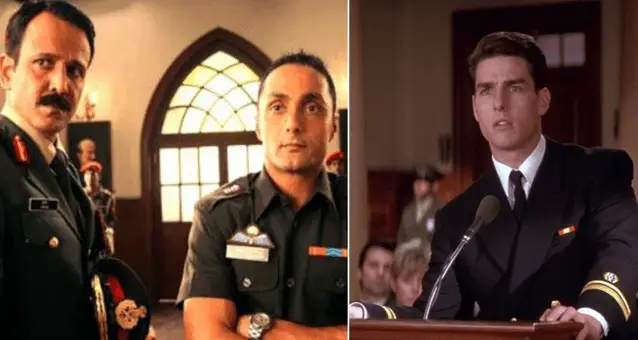 Starring Tom Cruise in the original version, the movie was all about being a righteous servant of the nation. Shaurya's profound performance made it a total score. It managed to glide into our hearts with its talented performances and didn't need any item song to sell its credibility.