A vast audience has been kept entertained in great part by South Indian movies. People's expectations of actors to deliver quality, entertaining content increase yearly. Bollywood movies have frequently drawn inspiration from South movie concepts due to their popular fan base.
 To gain popularity and financial success, Bollywood has been producing new films that adhere to their scripts and good acting. The top 10 Bollywood films that have been remade using South movies techniques are listed below:
...
10. ARJUN REDDY-KABIR SINGH
Kabir Singh (2019) has ruled the hearts of the Bollywood audience. Kiara Advani She is an Indian film star born on 31st July, 1992 >> Read More... and Shahid Kapoor Shahid Kapoor also identifies as the name Shahid K >> Read More... have excelled at strong character acting. Their chemistry has left a lasting impression on the audience. Many people, however, are unaware of its original Tamil film Arjun Reddy Click to look into! >> Read More... (2017), starring Vijay Deverakonda Vijay Deverakonda is a film actor of Tollywood. He >> Read More... and Shalini Pandey Shalini Pandey is an Indian film actress. She kick >> Read More... . Both films feature a romance tale centered on an aggressive surgeon and a medical student, but distinct challenges hamper their connection.
9. MANICHITRATHAZHU-BHOOL BHULAIYAA
Bhool Bhulaiyaa Click to look into! >> Read More... (2007), starring the king of comedy- , is a remake of the Malayali film Manichitrathazhu (1993), in which Shobana and Mohanlal play the lead roles. The film has been praised for its incredible comic timing and has kept the audience entertained until the very end. The most famous song from the film, 'AMI JE TOMAR' was so well received by the audience that it has been used again in Bhool Bhulaiyaa 2 (2022), starring Kartik Aaryan His name is Karthik Tiwari, and he was born in Gwa >> Read More... and Kiara Advani. The plot is different in some ways, but it still revolves around an ancient dancer named ' Nagavalli Click to look into! >> Read More... ' or ' Manjulika Bio coming soon... >> Read More... ' who has been haunting the people living in a haveli, which was once a kingdom or a famous palace.
...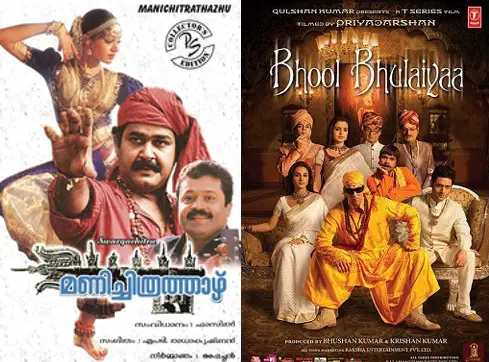 8. RAMJI RAO SPEAKING-HERA PHERI
Hera Pheri Hera Pheri is a comedy based TV show which came on >> Read More... (2000), starring Paresh Rawal The Padma Shri award winner who shot to fame with >> Read More... as Babu Rao, is one of the films that continues to have a devoted following. Sunil Shetty and Akshay Kumar did an excellent job as a trio. The film is a remake of the 1989 Malayali film Ramji Rao Speaking, with the same characters and scenes played by actors Innocent, Mukesh, and Saikumar. In the movie, a landlord and two tenants who were in need of money are lucky thanks to a cross-connection call that was intended to demand ransom.
...

7. VIRALUKKETHA VEEKKAM-  AAMDANI ATTHANI KHARCHA RUPAIYA
Aamdani Atthanni Kharcha Rupaiya (2001) is a gem that only a few people are aware of. Johnny Lever Johnny Lever is an Indian comedy actor who came to >> Read More... and Govinda, among the other actors in the comedy film, accurately performed their comical roles. The film is a remake of the Tamil comedy-drama Viralukketha veekkam (1999). The story's arc is the same. Three couples struggle to make ends meet on their monthly incomes, but when they lose their jobs, they have marital issues since they lied to their wives about it.
6. GHAJINI-GHAJINI
Ghajini (2008), one of Aamir Khan's best hits, follows the life of a man suffering from severe memory loss. He decides to find his lover's criminal after waking up from a deep sleep. The audience adored its intricate yet dramatic plot. The film was based on the Tamil film Ghajini (2005), which featured the same lead actress Asin as in the Hindi version and Suriya. Both films were huge box office successes.
...
5. ITLU SRAVANI SUBRAMANYAM-ANJAANA ANJAANI
Anjaana Anjaani Click to look into! >> Read More... (2010), a mind-calming film, tells the story of two people who have suicidal tendencies and are planning to die but come across each other and decide to die together. But they gave their lives a second chance and decided to live for another year. They eventually fall in love and spend their lives together after becoming close. Ranbir Kapoor Ranbir Kapoor is a noted Indian film actor. He was >> Read More... and Priyanka Chopra Born on 18 July 1982, Priyanka Chopra is an establ >> Read More... portrayed the characters in the film. The film is a Hindi remake of the 2001 Telugu film Itlu Sravani Subramanyam, which starred Ravi Teja Ravi Teja is the popular Telugu hero, whose birth >> Read More... and Tanu Roy She was born on 26 December, 1980 in Hyderabad. Sh >> Read More... .
...
4. READY-READY
Ready (2011), a family comedy featuring Bollywood's Handsome Hunk Salman Khan, kept viewers interested until the very end. On the basis of its innovative idea and humorous characters, the film is still admired. Prem, the main character in the film, falls in love with Sanjana but subsequently learns the unsavory reality about her family—that her uncles are planning to steal the property. Prem assists her with a family plan and persuades her uncles to make her marry him. The blockbuster film is a remake of Ready (2008), a Telugu blockbuster starring Ram Pothineni and Genelia D'Souza. With the film's success, it has been remade in other languages such as 'Raam' and 'Uthama Puthiran.'
...
3. VELLANKKALUDE NADU -KHATTA MEETHA
Bollywood has replicated the humorous Malayalam film Vellanakalude Nadu (1988), starring Mohanlal and Shobana. The remade movie Khatta Meetha Click to look into! >> Read More... , starring Akshay Kumar and Trisha, is a fun-filled film. Fans were won over by Akshay's amusing character, 'Sachin Tichkule'. The plot of the original and remade films, however, is the same. Sachin, who aspires to be a successful contractor, faces a number of challenges due to a lack of funds. Later, he learns about newly appointed IAS officer 'Gehna Ganpule,' who was once his girlfriend.
...
2. DRISHYAM-DRISHYAM
Drishyam (2015), which became one of Ajay DevgAn's hits, takes you to a murder plot in which Vijay's family is accused of murdering a man who turns out to be the son of a clever policewoman. Despite only having completed fourth grade, Vijay makes a comprehensive plan to protect his family and prove the police wrong about their assumptions. The plot of the film is based on the Malayalam thriller Drishyam (2013), starring Mohanlal and Asha Sharath. Its sequel, Drishyam 2(2021), has been made in Mollywood Cinema with the same lead actors.
1. VIKRAMARKADU-ROWDY RATHORE
Vikramarkudu (2006), a popular Telugu film with Ravi Teja and Anushka Shetty Anushka Shetty is the popular South Indian star wh >> Read More... in the key parts, has provided the southern audience with a film worth seeing. A remake of the film starring Akshay Kumar and Sonakshi Sinha Sonakshi Sinha is a well-known Indian Actress. She >> Read More... in Bollywood has been made due to its incredible plot. Akshay's admirers crowded the theatres to see the 2012 Hindi blockbuster Rowdy Rathore. A street robber named Shiva finds a child whose father's face is exactly like his own by chance. Shiva is the protagonist of the story. After that, together with her lover 'Paro', he aids the youngster in catching the criminals.