1. Karisma Kapoor Karisma Kapoor is a well known face from the famil >> Read More...
Karisma Kapoor got married to Sanjay Kapur on 29th September 2003. The couple has two beautiful kids together but due to marital problems they got divorced in 2016. Since then she is a single mother. The Actress is always around for her kids and she is enjoying her life as a single parent.
...
2.
Sushmita Sen is a role model for every single mother. She is an independent woman and is always there for her two beautiful daughters she adopted. She does not need a man to make her experience the joys of being a mother and making her special. She is totally an inspiration.
...
3. Raveena Tandon Raveena Tandon is an Indian film actress who is kn >> Read More...
...
Raveena Tandon adopted two kids as a single parent in 1995 before getting married. She was a proud single mom of two girls. After getting married, the couple were proud parents of four children.
4. Amrita Singh Amrita Singh is an Indian film and TV actress. She >> Read More...
...
Amrita Singh married actor in 1991 and she was 12 years older than him. Together they have two kids and they got divorced after 13 years of marriage. She is a single mother of daughter, Sara and son, Ibrahim.
5. Pooja Bedi Born in the year 1970, Pooja Bedi is a former Hind >> Read More...
...
Pooja Bedi is a smart, bold and an independent mother. The actress is an inspiration for many single mothers. She is a mother of two beautiful children. After getting divorced from Farhan Ebrahim ( 1994-2003), she took a role of a single mother and raised her kids.
...
6. Neena Gupta Neena Gupta is a very popular and well-known figur >> Read More...
...
Neena Gupta is known for her acting skills in the 80's and she fell in love with the world's finest cricketers, Vivian Richards. The couple had a daughter together and Neena Gupta raised the daughter all by herself. The Actress is the mother of one of the best fashion designers, Masaba Gupta Masaba Gupta is one of the most accredited and you >> Read More... .
7. Sarika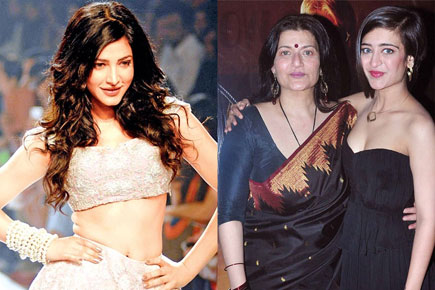 Sarika Thakur and Kamal Hassan got married in 1988 and tTogether they have two beautiful daughters. After getting divorced from Kamal Haasan Kamal Haasan is the most versatile actor that Indi >> Read More... in 2004, she moved to Mumbai with her daughters. Since then Sarika is a single mom.
8. Konkona Sen Sharma Konkona Sen Sharma is a Bollywood actress hailing >> Read More...
Konkona Sen Sharma is a single mother to her son, Haroon. She got married to Ranvir Shorey Intro: Ranvir Shorey is a popular Indian movies ac >> Read More... in 2010 and gave birth to their son in 2011. But they started having marital problems and they got separated in 2015. Now she is a single mother of her son.
9. Rahul Dev Rahul Dev is an Indian model turned film and telev >> Read More...
Rahul Dev lost his wife, Rina in 2010 due to cancer. Rina was his childhood love, they started dating when he was 17 and then they got married by the age of 24. After her death, he has been a single parent of his son, Siddharth. He has been an amazing father.
10. Poonam Dhillon Born on April 18th, 1962, Poonam Dhillon is one of >> Read More...
Poonam Dhillon married Ashok Thakeria Ashok Thakeria is a well-known Indian Movie Produc >> Read More... and they had two kids. They had marital problems and got separated. Since then, she has been a single mom of her two children Paloma and Anmol.