1. Ludo
The Hindi film Ludo was made available on Netflix on November 12, 2020. Abhishek Bachchan Abhishek Bachchan, or Abhishek Srivastava, is a ve >> Read More... , Rajkummar Rao Raj Kumar Yadav, also known as Rajkummar Rao, star >> Read More... , Aditya Roy Kapur Aditya Roy Kapur, a young and successful actor wa >> Read More... , and Pankaj Tripathi Pankaj Tripathi is an acclaimed Indian film actor >> Read More... played the main protagonists in the Anurag Basu-directed film. Sanya Malhotra Sanya Malhotra is an actress and choreographer and >> Read More... , Fatima Sana Sheikh, Rohit Saraf Rohit Saraf is a budding Indian small screen actor >> Read More... , Pearle Maaney Pearle Maaney is one of the most famous personalit >> Read More... , and Asha Negi Asha Negis is Indian tv actress and model, she was >> Read More... are some well-known performers cast in Ludo. At the same time, several stories starring various characters develop, only to eventually cross paths. Sattu Bhaiya, a feared criminal, is at the core of it all.
...
2. Sardar Udham
Sardar Udham is a biographical historical drama film starring Vicky Kaushal Vicky Kaushal is a famous Indian movie actor. He w >> Read More... . Never before in film history has the Jallianwala Baug slaughter been represented in this manner. But this is the most significant movie to have appeared recently. Yes, this is about Sardar Udham Sign, but it's also about the millions of Indians who gave their lives to secure the freedom we now take for granted in contemporary India. Due to the epidemic, the movie's OTT release on Amazon Prime Videos on November 16, 2022, outperformed its theatrical premiere.
3. Dil Bechara
On July 24, 2020, Disney+ Hotstar released Sushant Singh Rajput's final movie, DIL BECHARA, almost 40 days after his passing. The official version of the 2014 Hollywood love story THE FAULT IN OUR STARS is titled DIL BECHARA. The love story of two young people near death in DIL BECHARA. The characters and their travels are well developed, the screenplay is enjoyable, and the tale is straightforward, tidy, and uncomplicated.
...
4. Soorai Pottru
Soorarai Pottru Click to look into! >> Read More... is a Tamil-language drama film starring Suriya Sivakumar Suriya Sivakumar is undoubtedly the biggest star i >> Read More... . Based on an actual event, the movie Soorarai Pottru tells the tale of Maara, a teacher's son who launches a low-cost airline to realize the dream of flight for the average person. The COVID-19 outbreak and post-production holdups hurt the movie's theatrical premiere. On November 12, 2020, Amazon Prime Video digitally distributed the film.
...
5. Sherni
A tigress is threatening a community nearby in the thriller-drama film Sherni, which stars Vidya Balan Vidya Balan is an award winning Bollywood actress >> Read More... as a new D.F.O (Divisional Forest Officer) who takes care of her post in the forests of Madhya Pradesh. On June 18, 2021, the movie was made available on the OTT service Amazon Prime Videos.
...
6. AK vs AK
AK vs. AK is a black comedic thriller movie in the Hindi language with Anil Kapoor Anil Kapoor was born on 24th December 1956 in Mumb >> Read More... and Anurag Kashyap Born on 10th September 1972, Anurag Kashyap has es >> Read More... . On December 24, 2020, AK vs. AK made its Netflix debut as one of the platform's original movies. The movie's story begins with how a discredited filmmaker kidnaps the actor's daughter after a public altercation, documenting the search for her in real-time.
...
7. The Great Indian Kitchen
In the movie "The Great Indian Kitchen," a woman moves into her husband's household to assimilate and make it her own. She is loved and cared for by her husband and his parents. However, issues arise when her benevolent mother-in-law is absent. She finds it challenging to deal with the pile of seemingly never-ending housework, differences of opinion, and foreign cultures. Its premiere on Amazon Prime Videos on January 15, 2021, is a comedy-drama.
...
8. Gehraiyaan
Hindi love drama Gehraiyaan is a movie. Deepika Padukone Deepika Padukone is an Indian actress and model. S >> Read More... , Ananya Panday, and Siddhant Chaturvedi Siddhant Chaturvedi is an Indian film industry act >> Read More... play the leading characters in the film. The movie opens with Alisha running her yoga studio and looking for investors to support her yoga mobile app. A prosperous and lovely childhood with a large family is revealed in flashbacks. Her father forced her and her mother from that happiness into a life of loneliness and need for reasons she cannot comprehend, which inexplicably resulted in her mother's suicide. All of it serves as the background for a relationship Alisa starts with her cousin Tia's fiancé, a go-getter real estate whiz child with what seems to be unlimited funds. The movie debuted on Amazon Prime Video on February 11, 2022.
...
9. Gulabo Sitabo
We don't often see well-made satires in Bollywood, but this one does so with care and expertise and has a darkly humorous, unexpected finale. Ayushman Khurana and feature in the film Gulabo Sitabo. Gulabo Sitabo, a social satire set in modern-day Lucknow (India), centers on Mirza Chunnan Nawab, a resident of a run-down mansion, and Baankey Rastogi, one of the tenants. On April 17, 2020, a movie appeared on Amazon Prime Videos.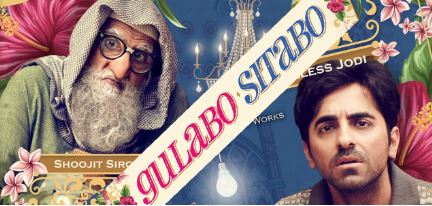 10. Shidat
Sunny Kaushal Sunny Kaushal is the son of Sham Kaushal, who is a >> Read More... , often known as Jaggi, is a college hockey player who is the narrative's focus. Jaggi has fallen in love with the engaged Radhika Madan This beauty was recently spotted by Ekta Kapoor in >> Read More... , aka Kartika Negi. Jaggi now challenges her about her engagement, and she responds by saying that if he still feels the same way about her after four months, he should come to London for her. The plot twist is that Kartika even threatens to call off her marriage if you can get to London. Jaggi is currently running to London since he deeply loves Kartika but has no visa whatsoever. What this narrative is about is whether Jaggi will be able to marry Kartika or whether she will reject his proposal. On October 1, 2021, SHIDDAT was made available on the OTT service Disney Plus Hotstar.