1. ' Rahat Fateh Ali Khan Rahat Fateh Ali Khan is a renowned singer worldwid >> Read More... '
The venerable singer was born on 9th December, 1973. He is the son of the late singer Ustad Farrukh Fateh Ali Khan and is currently one of the most respected artists in the industry. His ghazals have shaped and influenced many a tune, and thereby the entire film of several Bollywood movie projects. His distinctive Sufi voice is a unique music experience.
2. ' Nusrat Fateh Ali Khan Nusrat Fateh Ali Khan was a well-known Pakistani s >> Read More... '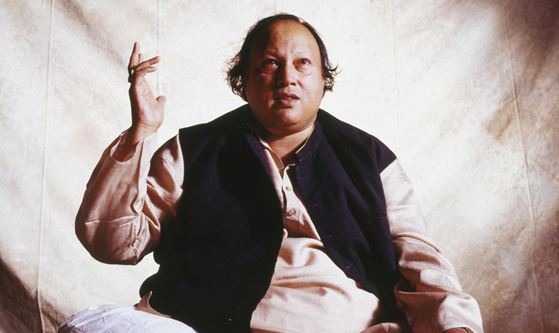 The legendary actor made his mark in the emerging avenue of ghazals and Qawwali songs. Born in October 1948, he passed away relatively early in August 1997. While pioneering the Sufi music genre in various ghazals and folk songs in India, he shifted here although he hails from Faisalabad, Pakistan.
3. Ustad Amanat Ali Khan
A fierce proponent of peace in all walks and avenues of life, the highly talented singer belonged to the Patiala Gharan, the foundation of which was laid by his grandfather Ali Baksh Jarnail. Born in 1922, his ghazals sung in the lands of India are very beautiful indeed.
4. Bade Ghulam Ali Ustad Ghulam Ali was born on December 5, 1940, in >> Read More... Khan
Born on 2nd April, 1902, he passed away early on 25th April, 1928, but not before having enshrined the cultures and beauty of both what are now India and Pakistan in several of his timeless songs.
5. 'Ghulam Ali'
Born on December 5, 1940, he made his fame not just in India and Pakistan, but his ghazals have also spanned Nepal, Bangladesh and other nations of South Asia. Hailing from Sialkot in Pakistan, he later relocated to India to propel his legendary singing career onwards and forwards.
6. Arif Lohar
Carrying on the tradition of the art of soulful music which runs strong and deep in the bloodlines of his family, the former lead vocalist of a band delights the populace with his classical songs.
7. Mehdi Hassan Mehdi Hassan Khan is also known as the King of Gha >> Read More...
One of the most renowned playback singers in the Hindi film industry, the artist who was born in present-day Rajasthan on July 28, 1927 kept the art of ghazals alive with the skills he inherited in training from a very early age from his father.
8. Salamat Ali Khan
Although his demise in 2001 saddened many a music connoisseur, the artist, born on 11th July, 1934, introduced himself to the world alongside his brother, Nazakat Ali Khan, and made his mark in the Indian film industry with his dulcet tunes and memorable voice.
9. Shafqat Ali Khan
With over 500 ghazals having been provided to the world, the singer is going very strong with his powerful contemporary tunes and distinctive voice. Born on 17th June, 1972 the singer is widely considered to be the king of classical ghazals, with several of them witnessing tremendous success.
10. ' Reshma Reshma is a Tamil film actress. She was debuted in >> Read More... '
The folk singer was born in Bikaner in 1947 and charmed listeners from both sides of the border with her fantastic and amazing singing talent and music skills. She is especially renowned by her songs, 'Dama Dam Mast Kalandar' and 'Lambi Judaai'. She met her demise recently after suffering from throat cancer.