We are all in favor of the enormous amount of fun that Koffee With Karan promises. It was hard to wait for KWK season 7. And many of us could not resist watching the first episode as soon as it started streaming. It contained all the inside information, rumors, and fascinating events that made us laugh out loud.
1. Ass Man
Ranveer Singh Ranveer Singh Bhavnani is an Indian movie actor wh >> Read More... referred to himself as an ass-man. No, not as we had anticipated. Bollywood now has a strange new superhero. He shared that he has a secret obsession with the butt.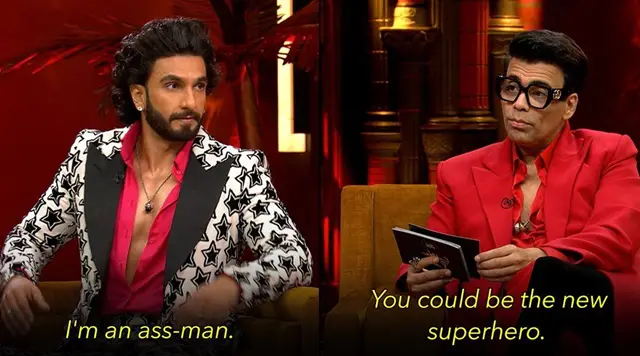 When Alia Bhatt Alia Bhatt is a trendsetting actress from Mumbai, >> Read More... NEARLY read aloud an essay about Karan Johar's marriage in the rapid-fire round, she misunderstood the question! After watching the episode, people said it was the pressure.
3. Alter Ego Of Ranveer Singh
The audience saw Pammi aunty, the alter persona of Ranveer Singh, in the first episode of Koffee With Karan 7. We were made aware of this gossipy side thanks to host Karan Johar and his guest Alia Bhatt. Ranveer is interested in everything. Alia and Karan shared throughout the show. Proving that he is Pammi aunty, they shared that Ranveer was interested in Alia's fight with her house manager.
...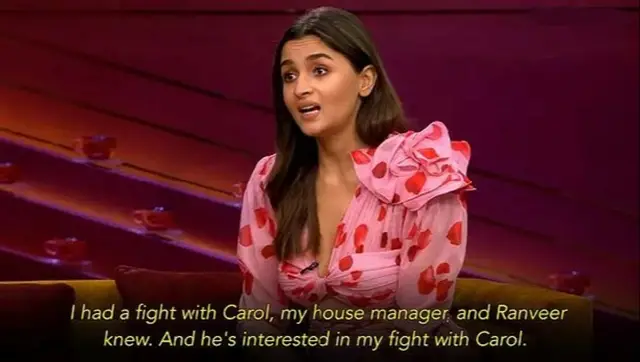 4. Ranveer & Kjo's Own ' Barbie ' Movie
In the episode, we see Ranveer calling Karan a gudda and his little Ken doll. In response, Karan is asking him if he, his Barbie?! And they were also planning to make a film about it.
...
5. Ranveer Has His Sex Playlist
Ranveer opened up about his sex life and revealed some interesting facts. From admitting he had sex on his Suhaagraat to revealing he had a sex playlist, the actor left everyone stunned with his candidness. During a fun segment, the actor told Karan that he had sex on his wedding with Deepika Padukone Deepika Padukone is an Indian actress and model. S >> Read More... and had quickies in his vanity van. Additionally, he claimed that he had many playlists for various forms of intercourse. Sensual, passionate, and loving sex and rough and dirty sex had their playlists.
...
6. Mahesh Bhatt 's Response To Alia's Wedding
Seeing Alia in the bride look everyone, there became emotional. Especially girls. As Karan described the incident at the time, Bhatt Sahib had said, Why do ladies' family members have a silly look on their faces on the day of marriage? After observing how sad everyone was on the wedding day. Look, everyone. Then Pooja Bhatt said-Dad it's not like that. Everyone is just emotional. Alia was all unaware of her father's remarks. In response, Alia stated on Karan Johar's show, "So mean papa, did you say that?" to her father, Mahesh Bhatt.
...
7. Bhatt Family Reality Show
Karan Johar named a hypothetical reality show about the Bhatt family 'Blow out with the Bhatts.'
...
8. Ibrahim Praises Alia Bhatt
When Ibrahim Ali Khan saw the actress' performance in Gangubai Kathiawadi, he sent her a message, which Alia Bhatt read on the television. "Had to remove the time to message you personally. I cannot believe this is the same lady I learn from every time. You are just phenomenal. You are so good as Gangu, You as Rani and then watching this film. It is safe to say you mold yourself effortlessly, like water shaping its container, so good! Best actress in this country," his message read.
...
9. Wedding Pictures Over Wedding
Alia Bhatt reveals that she was more interested in the wedding pictures than the actual ceremony.
10. Ranveer Singh Mimicry
It is safe to state that Ranveer Singh's (and let's not forget his superb) mimicking abilities outweigh everything else in the episode. Even the Rapid-Fire round. During the performance, Ranveer Singh imitated Hrithik Roshan Hrithik Roshan with his unimaginable dance moves i >> Read More... , Varun Dhawan Varun Dhawan, a new comer entered Bollywood with h >> Read More... , Ajay Devgn, and Kartik Aaryan His name is Karthik Tiwari, and he was born in Gwa >> Read More... .
Can this episode be split into two parts?