Indian films have always been popular in foreign countries, and Indian songs follow close. There are many instances where Hollywood movies took the help of Indian songs to spice up their film. Seeing our Indian songs in foreign movies is always an ecstatic feeling for all Indians. It gives us a sense of nostalgia hearing the songs that formed the base of our childhood in foreign films. Here is a list of Top 10 Hollywood Movies that Use Indian Songs to evoke that sense of nostalgia.
1. Bombay Theme In The Film Lord Of War (2005)
Lord of War is a 2005 crime drama. It was written, produced, and directed by Andrew Niccol Andrew Niccol was born on 10th June,1964 in New Ze >> Read More... . was a co-producer of this film. In this film, Yuri, an arms dealer, makes a business deal with an African warlord. He is pursued by an Interpol agent and has to keep himself and his family safe.The film features the Bombay theme song created by A. R. Rahman. The tune is entirely instrumental and gives a sense of familiarity to the Indian audience.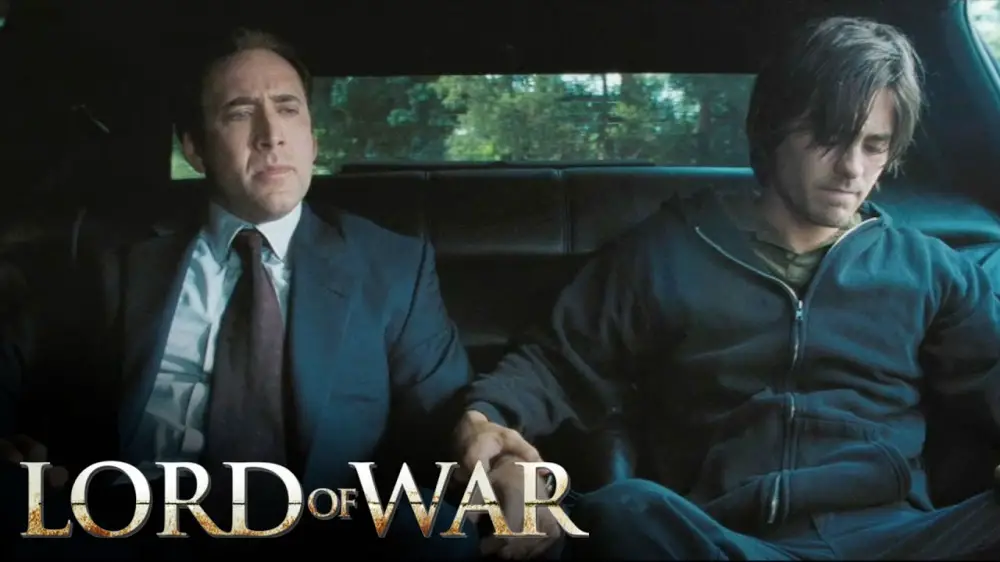 ...
2. Chaiyya Chaiyya In Inside Man (2006)
Inside Man is a 2006 American heist thriller. The film was directed by Spike Lee Spike Lee also known as Shelton Jackson is an Amer >> Read More... and written by Russell Gewirtz. A detective tries to negotiate with the mastermind of a bank robbery that turns into a hostage situation. But, the involvement of a broker makes the situation terrible.Chaiyya Chaiyya from the movie Dil Se plays right after Nicolas Cage's opening dialogue.
3. Yarro Yaarodi And Swasamae In The Accidental Husband (2008)
The Accidental Husband is a 2008 romantic comedy. It is directed by Griffin Dunne Bio coming soon... >> Read More... . A radio talk show host Emma Lloyd advises one of her listeners to break up with her boyfriend. What she does not anticipate is that the same boyfriend will be back to ruin her life.The film features two Tamil songs, Yaaro Yaarodi and Swasamae. Yaaro Yaarodi is a Tamil wedding song, and Swasamae is from the movie Thenali.
...
4. Urvasi Urvasi In Lion (2016)
Lion is a 2016 Australian biographical drama. It was directed by Garth Davis Garth Davis is an Australian director who directs >> Read More... . Saroo gets separated from his family at a young age. He is adopted by an Australian couple. Twenty-five years later, he returns to India in search of his parents.The film features A. R. Rahman's iconic dance number Urvasi Urvasi from the film Kadhalan.
...
5. Jimmy Jimmy In The Film You Don't Mess With The Zohan (2008)
You Don't Mess with the Zohan is a film released in 2008. The film was directed by Dennis Dugan Dennis Dugan took birth on 5th September of 1946. >> Read More... . Zohan, an Israeli counterterrorist commando, stages his death as he grows tired of his job. He then travels to New York City to pursue his lifelong dream of becoming a hairstylist.Jimmy Jimmy from the film Disco Dancer Click to look into! >> Read More... is a part of the fight sequence in this film.
...
6. Chori Chori Hum Gori In The Guru (2002)
The Guru is a 2002 sex comedy film. The film was written by Tracey Jackson and directed by Daisy von Scherler Mayer. A young Indian dance teacher named Ramu Gupta travels to New York City hoping for fame and fortune. Instead, he finds himself working as a waiter in an Indian restaurant. Through an encounter with Sharonna, a beautiful adult film star, Ramu gets mistaken for a spiritual leader, and he becomes an overnight celebrity.This film features a superhit song Chori Chori Hum Gori, from Mela.
...
7. Leheron Ki Tarah Yaadein In Shaun Of The Dead (2004)
Shaun of the Dead is a 2004 zombie rom-com film. The film was directed by Edgar Wright Edgar Howard Wright is actor largely known for the >> Read More... . Shaun, a salesman, has no direction in life. His life suddenly takes an uneventful turn when he has to singlehandedly deal with an entire community of zombies.The film features the Bollywood song Lehron Ki Tarah Yaadein in the voice of a legendary singer, Kishore Kumar Kishore Kumar is an Indian playback singer, who ha >> Read More... .
...
8. Mera Joota Hai Japani In Deadpool (2016)
Deadpool is a 2016 American superhero film based on a Marvel comic character. The film was directed by Tim Miller. Ajax, a twisted scientist, experiments on a mercenary named Wade Wilson. Ajax tries to cure Wade of cancer and give him healing powers. However, the experiment goes sideways and leaves Wade disfigured and, he decides to exact revenge.The film opened with the song Mera Joota Japani sung by Mukesh from the Bollywood movie Shree 420.
...
9. Chamma Chamma In Moulin Rouge (2001)
Moulin Rouge is a 2001 musical film. It was directed Baz Luhrmann Mark Anthony Luhrmann, aka Baz Luhrmann, is an Aus >> Read More... . An English writer named Christian travels to Paris to join the Bohemian revolution. He visits the city's biggest club, Moulin Rouge, and falls in love with its star performer and courtesan, Satine.Bollywood son Chamma Chamma from the film China Gate, sung by Yalka Yagnik, was featured in this film.
10. Jaan Pehchaan In Ghost World (2001)
Ghost World is a 2001 black comedy film. The film's director is Terry Zwigoff. Two girls, Enid and Rebecca, graduate from high school. When Enid takes an interest in Seymour and Rebecca on Josh, their friendship is forever changed.The film features the son Jaan Pehchaan in the opening credits.