Commercial movies are Bollywood or Hollywood, are loved and watched by all of us. Some of them do have a strong storyline while others were just a waste of time. But if motions are made by the work of some great legends, then chances might be that they do not grab the wide range of seats in the movie theatre but will definitely grab hearts. Here lies the list of top 10 films that are based popularly on Rabindranath Tagore's work.
1. 'Chokher Bali'
...
A drama based on the work of Rabindranath Tagore's Chokher Bali, starring Aishwarya Rai and Prosenjit. Upon the direction of Rituparno Ghosh Rituparno Ghosh(1963-2013) was a profound actor, d >> Read More... , who does a complete justice to the motion, Aishwarya portrayed as Binodini, a widow, who struggles after the death of her husband. The movie shows us a dark truth of our society, the innumerable questions on the progression of a woman. The movie takes back the spectators to a complete historical era.
2. ' Charulata Story Soon >> Read More... '
...
A story by Rabindranath Tagore and direction of Satyajit Ray Biographies reveal bare details about the maverick >> Read More... , the movie is a piece of marvel. The movie takes us to a story of a neglected housewife, whose husband runs a newspaper organization. The plot is framed upon the work of Tagore named " Nastanirh Nastanirh's story revolves around what happens >> Read More... ," where Charulata leads a lonely, secluded life, who is finally noticed by her husband, and together they carve out their beautiful life.
3. 'Uphaar'
...
In this beautiful movie director Sudhendu Roy Bio coming soon... >> Read More... narrates the story of a married woman played by Jaya Bhaduri, who fails to understand her relation with her husband due to her innocent nature. The movie is inspired by Rabindranath Tagore's work "Samapti." Justifying the title "Samapti," or the end, the innocence of Jaya Bhaduri breaks, when she had to live alone with her mother-in-law, who made her realize her duties.
4. 'Kabuliwala'
...
One of the most popular stories by Tagore was 'Kabuliwala'. Following the footsteps of Tagore's novel, director Hemen Gupta Born on 21st March 1914 in Jharkhand, Hemen Gupta >> Read More... leaves no ends to bring the story back to life. The story is set in Calcutta and portrays the story of a little girl Mini, met by a Kabuliwala, who earned his living by selling dry fruits. The story narrates the eternal bonding between two souls, which is far beyond any worldly wealth, as the Kabuliwala is reminded of his own daughter, while he interacts with Mini.
...
5. 'Atithi'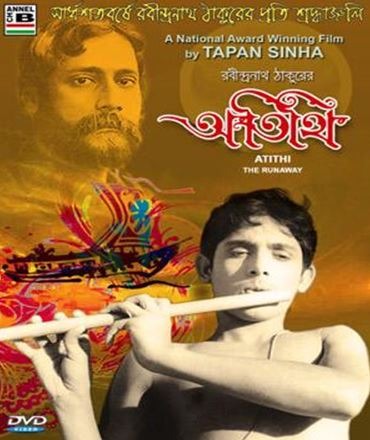 ...
'Atithi' depicts the life of a small boy Tara, who leaves his home and consumeristic wealth to understand the fugitiveness of life. Upon the direction of , who did complete justice to the legend's work, the motion manages to touch every soul till date.
6. ' Milan Milan was a popular Hindi TV serial that aired on >> Read More... '
...
'Milan' was inspired by Tagore's work "Nauka Dabi."The film casts Sunil Dutt Sunil Dutt was a great actor, director, producer, >> Read More... and Jamuna in the lead roles. It was one of the very first plays to boost the idea of metempsychosis. Caste Inequality has always remained a major issue in the Indian society, which has been portrayed in the film, apart from some humorous scenes.
7. 'Dak Ghar'
Zul Vellani Bio coming soon... >> Read More... directed 'Dak Ghar' inspired by Tagore's story based on the same name. Vallanimade it sure to maintain the reputation of Tagore's work as she created the play in 1912. The play portrays Amal as a deficient kid, who was agonizing from an inoperable disease, which had put barriers to his feet. But his dreams were still wide awake, and with his determination he fulfills them.
8. 'Ghare Baire'
A romantic drama based on the direction of Satyajit Ray which illustrates the emancipation of an Indian woman. It portrays the relation between Bimla, Sandip, and Nikhelesh, wherein Bimla falls in love with Sandip, but Nikhelesh does not stop her rather encourages her to grow inside and out as well.
9. 'Chaturanga'
The movie is based on Tagore's work "Four Chapters," and is directed by Suman Mukherji. The motion features Rituparna Sengupta Rituparna Sengupta is as Indian actress who has co >> Read More... and Dhritiman Chatterjee Dhritiman Chatterjee is a Bengali stage, film acto >> Read More... . It sets an illustration about a love caught amongst conflicting ideas. The complexity progresses further as Dhritiman thinks about both the women he fell in love with.
10. ' Lekin Story Coming Soon >> Read More... '
'Loosely based on Tagore's work Kshudhit Pashaan, the work was displayed onscreen by the efforts of Gulzar. It depicts the tale of a man who develops an endearment with a girl, whose existence is rather questionable. Apart from a spooky storyline, the motion also features out some deep, inexplicable issues.