1. Hrithik Roshan Hrithik Roshan with his unimaginable dance moves i >> Read More... and
Hrithik Roshan married Sussanne Khan on the peak of his career after the release of his first film Kaho Naa Pyar Hai. The couple remains married for 14 years, but suddenly the rumors of their divorce started speculating. Sussanne Khan, the daughter of Sanjay Khan An actor, director, and a producer Sanjay Khan is >> Read More... and Zarine Khan Born on 14 May 1987, Zarine Khan is one of the adm >> Read More... was actor's childhood love. She is an interior designer by profession and seemed like a perfect choice for the actor. The rumors of Susanne dating Arjun Rampal Amit Rampal is an Indian Actor, Host, Producer and >> Read More... were the talk of the town, but these rumors also died with time.No one knows the real reason behind their divorce, but the couple is still cordial with each other.They have two twins together.
...
2. Arbaaz Khan Born in a family that has strong ties in the film >> Read More... and Khan
Malaika Arora Khan was a video jockey before she married Salman Khan Salman Khan is a very famous Indian actor and a pr >> Read More... 's brother Arbaaz Khan. They were one of the industry's most celebrated couple.They have a son named Arhaan together. They remain married for 18 years and suddenly the rumors of Malaika dating Arjun Kapoor Arjun Kapoor is a Bollywood star. He was born on 2 >> Read More... started doing the rounds. The couple has recently filed for divorce after many rumors of them giving another chance to their marriage. It was reportedthat Salman Khan is miffed with both Malaika Arora and Arjun Kapoor. It is interesting to note that Malaika still hasn't dropped Khan as her surname.
...
3. Aamir Khan Aamir Khan or Mohammed Aamir Hussain Khan is Bolly >> Read More... and Reena Dutta From producing high-profile blockbusters like the >> Read More...
...
Aamir Khan married Reena Dutta in the year 1986. They were young and got married despite their parent's consent. To everyone, everything seemed fine, but in 2002 the couple filed for divorce. Reena is still close to the family and is regular at their family functions. They have a son and daughter together, Junaid and Ira. Aamir later got married to Kiran Rao She is an Indian film producer, screen writer and >> Read More... who was an assistant director in Lagaan. The couple now has a son named Azad Rao Khan together.
4. Sanjay Dutt July 29, 1959, was the day when the two legends of >> Read More... and Rhea Pillai An Indian model known for her works on television >> Read More...
...
Sanjay Dutt got married to Rhea Pillai in the year of 1998, but their relation didn't last longer. They filed for divorce in the year of 2002, and their divorce settlement was reached in the year 2008. Rhea Pillaistarted dating Leander Paes Padma Shri Leander Paes was born and brought up in >> Read More... soon after her separation with Sanjay Dutt. She was in a relationship with Paes until the year 2014 when she filed a domestic violence case against Paes and his father. On the other hand, Sanjay Dutt is now happily married to Manyata Dutt Manyata Dutt was born on July 22nd 1979, in Mumbai >> Read More... .
5. Sangeeta Bijlani Born on 9 July 1960, Sangeeta Bijlani is an actres >> Read More... and Azharuddin
...
The fairy tale romance, the cricketer and the actress. Azharuddin was married before he married Sangeeta Bijlani. Sangeeta Bijalani, on the other handwas a former girlfriend of superstar Salman Khan. So basically, Sangeeta Bijlani was the other woman in cricketer's life. They had a son who died in a bike accident. Soon their relationship got sour, and they filed for divorce after rumors of Azharuddin dating a tennis player started going the rounds.
...
6. Shekhar Kapur Shekhar Kapur is a renowned Indian actor, director >> Read More... and Suchitra Krishnamurthy
...
Suchitra Krishnamoorthy is famous for her role in the movie, Kabhi Haan Kabhi Naa. Shekhar Kapur, on the other hand, is a prolific director, famous for his movies Paani,Elizabeth.They got married in the year 1997, and their marriage lasted till 2007.There were reports of Shekhar Kapur dating Preity Zinta Preity, also known as Preity Zinta is a famous Act >> Read More... which led to their divorce.They have a daughter Kaveri Kapur, who recently released her single.
7.Sunjay Kapur and Karisma Kapoor Karisma Kapoor is a well known face from the famil >> Read More...
Karisma Kapoor grand daughter of Raj Kapoor Raj Kapoor was a renowned actor, director, and pro >> Read More... , and daughter of Babita and Randhir Kapoor Randhir Kapoor was born on the 15th of February 19 >> Read More... , married Sunjay Kapur who was a successful businessman. Sunjay Kapur was previously married to a well-known fashion designer, and Karisma Kapoor was engaged to Abhishek Bachchan Abhishek Bachchan, or Abhishek Srivastava, is a ve >> Read More... . The tension between them grew soon after their marriage. The reports of their separation was a total buzz in the mediaand recently the couple got divorced. SunjayKapur even claimed Karisma married him for his money.
8. and Amrita Singh Amrita Singh is an Indian film and TV actress. She >> Read More...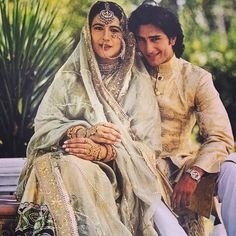 The Nawab of Pataudi took the world by the storm when he decided to get married to Amrita Singh. At that time Amrita was a well established actor. She was 12years older than Saif. Their marriage was a total young generation marriage, but soon the differences between bigger and Saif finally divorced Amrita Singh in the year 2004. Saif later married Kareena Kapoor. Amrita and Saif have two children together.
9. Farhan Akhtar One of the most recognized young director of India >> Read More... and Adhuna Bhabhani
The new age director and actor Farhan Akhtar married hair stylist Adhuna Babbani who was six years older than him. Initially, nobody knew much about his personal life, but soon after Rock on Farhan became a star and his personal life didn't remain personal anymore. Everyone thought Farhan and Adhuna as a happy couple, and their divorce news came as a shock to everyone.They have two daughters together. Now reports of Farhan dating his co-stars is started doing the rounds.
10. Chitrangada Singh With her stunning good looks it was not surprising >> Read More... and Jyoti Randhawa Born on May 4, 1972, in New Delhi, India, Jyoti Si >> Read More...
Chitrangda Singh a very prominent actress who debuted in the movie Haazaron Khwaishen Aisi became a star soon after the release of the movie. But to everyone's surprise instead of signing more films she married golfer Jyoti Randhawa. She was away from the limelight for a very long time and when she came back to films, reports of her relationship with her husband getting sour starting doing the rounds. The couple took the final step in 2014 and got divorced. The custody of their son was given to Jyoti instead of Chitrangda.