The Bollywood movie industry is now making more number of films, and one of the main generous of the movie is "Romantic" as the actor and actress were prefer to do it, so well, was the audience was showing more interest in watching this category of films. While the audience was showing interest in consuming this type of films, the OTT Platforms were also using this movies/films to drive more number of audience to buy their subscription; also these platforms were making their own "Original Content" in this type of categories; some of them are:
1 – Badnaam Gali 
...
The film is about a surrogate mother living in a colony full of people judging her about being a single parent. Still, when the hero knows the truth about the "Surrogacy," he falls in love with the heroine and helps her throughout the whole survival process in society. The movie starring Patralekha Paul and Divyendu Sharma Divyendu Sharma is an upcoming actor in Bollywood. >> Read More... in the lead roles. The film is "Zee5" Original Content.
2 –' Photograph Click to look into! >> Read More... '
...
The film is about the story of a street photographer Rafi, who tries to convince Miloni to pose as his fiance so that his grandmother stops pressuring him to get married, which further lead to the adventure of finding the connection between them and their grandmother help to fall in love with each other. The film stars " Nawazuddin Siddiqui Nawazuddin Siddiqui was born in Budhana in Muzaffa >> Read More... " and " Sanya Malhotra Sanya Malhotra is an actress and choreographer and >> Read More... " in the lead roles; the film is on "Amazon Prime Video."
3 – Dil Bechara
...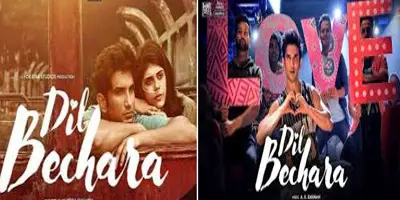 The film is based on John Green's 2012 novel "The Fault in Our Stars." The movie starring Sushant Singh Rajput Sushant Singh Rajput is one of the famous Indian t >> Read More... (Manny) and Sanjana Sanghi Sanjana Sanghi was born on 2nd September 1996 in a >> Read More... (Kizie) is about two cancer patients. Manny and his friend are making a movie together, inspired by Rajinikanth's films. Manny invites Kizie to be the female lead in their Film. The movie is available in "Disney+Hotstar."
4 – Love Per Square Foot
The story of the movie is about Sanjay and Karina, who are colleagues and dreamed of buying their own house in Mumbai. Still, due to some issues, they can't afford it separately, but when they come upon a joint housing scheme, they both decided to apply for it as a married couple leading to many problems and delusions. It has the star cast of " Vicky Kaushal Vicky Kaushal is a famous Indian movie actor. He w >> Read More... ," " Angira Dhar Angira Dhar is an Indian film actress and model, p >> Read More... ," and " Alankrita Sahai The Gorgeous Indian Diva, who won a million hearts >> Read More... " in the lead roles. The movie is available on the streaming platform of "Netflix."
5 – Dolly Kitty Aur Woh Chamakte Sitare
The Story of the film revolves around two sisters who were trying their life work out in major cities like "Delhi" also they are from a small village in Bihar, which further lead them to fall in love with some young people who were very young as compare to their age, the story in the movie move further ahead in cheating, fraud, lust and many things. The film starring " Konkona Sen Sharma Konkona Sen Sharma is a Bollywood actress hailing >> Read More... ," " Bhumi Pednekar Bhumi Pednekar is Maharashtrian unconventional act >> Read More... ," " Vikrant Massey Vikrant Massey, who is a TV actor, was born in Nag >> Read More... ," and " Amol Parashar Amol Parashar is an Indian actor who was born on O >> Read More... ," is available on "Netflix."
6 – Maska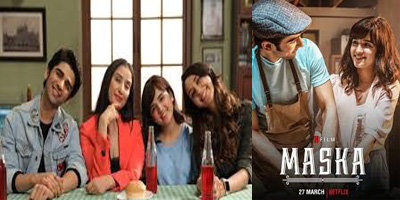 The story of the film follows a guy who sets out to fulfill his dream of becoming an actor, but his family wants him to run the café that they leave in Inheritance. Still, the hero wants to sell the café and wants to produce his film. He meets a girl who helps him discover the reality of his own. The film starring " Manisha Koirala Manisha Koirala, is a Bollywood actress of Nepales >> Read More... ," " Javed Jaffrey Javed Jaffrey is a talented actor, dancer, comedia >> Read More... ," " Nikita Dutta Nikita Dutta got immensely celebrated for her role >> Read More... ," " Shirley Setia Born on July 2, 1993, in Daman, India, Shirley Set >> Read More... ," and " Prit Kamani Every day so many actors, artists and musicians ar >> Read More... " is available on "Netflix."
7 – House Arrest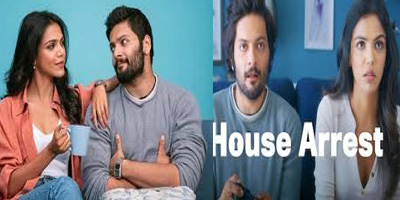 The movie revolves around the hero who is afraid of the outside world, so he quarantines himself in his own house and makes some arrangements for daily households. Still, one day there is an arrival of a peculiar package and a curious journalist that further leads the story. The film starring "Ali Faizal," " Jim Sarbh Jim Sarbh is an India Theater actor, and also a di >> Read More... ," " Barkha Singh Barkha Singh is an actress who is mostly seen in I >> Read More... ," and "Shriya Pilgaonkar" is available on "Netflix."
8 – Khuda Haafiz
The film was set during the financial crisis of 2007; it was inspired by the real events, where a young man who races against time to rescue his kidnapped wife from flesh traders in a foreign country; although the movie is considered as "Action-Thriller," Still, it also shows a beautiful in the scripting of film. The film stars "Vidyut Jammwal," " Shivaleeka Oberoi Shivaleeka Oberoi Marked her debut in the Hindi fi >> Read More... ," " Annu Kapoor Annu Kapoor or born as AnilKapoor, is an Indian mo >> Read More... ," " Aahana Kumra Aahana Kumra is an Indian Theater actress and have >> Read More... ," and " Shiv Pandit Shiv Pandit was born on 21 June 1984. He is an ext >> Read More... ," and it is available in "Disney+Hotstar."
9 –What are the Odds
The film tells the story of two unintentional teenage friends who end-up spending an entire day together by bunking their exams and then leads to a little adventure of exploring the cities and its beauty. The film stars " Abhay Deol Abhay Deol is an actor and director of the TV indu >> Read More... ," " Yashaswini Dayama Yashaswini R Dayama is an Indian actress, model, p >> Read More... ," and " Karanvir Malhotra Karanvir Malhotra is an Indian actor, recognized f >> Read More... ," and it is available on "Netflix."
10 – Rajma Chawal
The movie is based on the modern relationship between the father-son, where the father wants to know better about his son, so he made a fake account in "Facebook" as a female companion and started chatting with him. Still, eventually, the hero finds out that the girl who is he talking with is real and present in his concert, so they're where the original mess begins, which built the story in the film. The movie starring the late " Rishi Kapoor Rishi Kapoor is an actor born in the prominent Kap >> Read More... ," " Anirudh Tanwar Mr. Anirudh Tanwar was born in The year 1985 on 28 >> Read More... ," " Amyra Dastur Amyra Dastur is the Parsi girl, who is a school dr >> Read More... ," and " Aparshakti Khurana Aparshakti Khurana was born in Chandigarh to a ver >> Read More... ," the movie is available on "Netflix."