1. Kahaani
Vidya Bagchi ( Vidya Balan Vidya Balan is an award winning Bollywood actress >> Read More... ) is a pregnant software engineer who comes to Kolkata from London to find her missing husband, Arnab Bagchi. She is helped by a kind police officer, Satyoki "Rana" Sinha. As Vidya she continues her search, she gets entangled in a web of guns, death threats, precarious government officials, and murder, but despite all she manages to find….her missing husband? Let's not give spoilers.
...
2. Wazir
An amazing thriller, which stems from an unusual friendship between a grief stricken ATS officer Daanish Ali (Daanish Ali) and a wheelchair-bound chess-master, Pandit Omkar Nath Dar (Amitabh Bacchan), where both share a common grief of losing their daughters. Pandit believes that his daughter didn't die by accident, but was killed by Welfare Minister Qureshi. In the process of taking revenge, Pandit gets killed by one of Qureshi's assassins, Wazir (). Determined to take revenge, Daanish makes a plan to uncover Wazir, where unknowingly, he becomes a pawn in a bigger game.
...
3. Bodygaurd
Bodyguard refers to the love story of Lovely Singh Bio coming soon... >> Read More... ( Salman Khan Salman Khan is a very famous Indian actor and a pr >> Read More... ) and Divya ( Kareena Kapoor Khan Kareena Kapoor is a super hit actress working in I >> Read More... ). Lovely is appointed to be Divya's bodyguard, and he has to follow her everywhere she goes, creating some embarrassing situations for her. Fed by this close scrutiny by Lovely, Divya hatches a plan along with her friend Maya ( Hazel Keech Hazel Keech or Rose Dawn is an actress and model. >> Read More... ) to divert his attention by prank calling him by the name Chaaya. But as time progresses and they get to know each other, Divya falls in love with Lovely, and Lovely with Chaaya. Will they ever unite?
...
4. A Wednesday
A Wednesday starts with Mumbai Commissioner Prakash Rathod's ( Anupam Kher Anupam Kher is a very popular actor, director, and >> Read More... ) voiceover, telling about the most challenging case he ever faced in his career. The scene cuts to an unnamed man ( Naseeruddin Shah Naseeruddin Shah is an experimental actor and asso >> Read More... ) hiding a bad assumed to contain bombs in a police station restroom, opposite to the Mumbai Police Headquarters. He then goes to an under-construction building, armed with many Sims, mobiles, along with some other gadgets. Next, he calls Rathod and tells him that he has placed five bombs throughout the city, and demands the release of 4 militants; else they'll all explode simultaneously within four hours. What follows is a desperate attempt by the police to find this unknown man, only to be surprised later.
...
5. 3 Idiots
...
This masterpiece of Aamir khan is unknown to none, where he plays the roles of Ranchor Das Chanchhar aka Rancho, a highly curious and highly innovative student whose passion is engineering. The movie follows Raju Rastogi ( Sharman Joshi Sharman Joshi was born in Mumbai, Maharashtra to a >> Read More... ), Farhan Qureshi (R Madhavan), Chatur (Omi vaidya), and Pia (Kareena kapoor Khan) as they search for their friend, as they go along a journey of memories.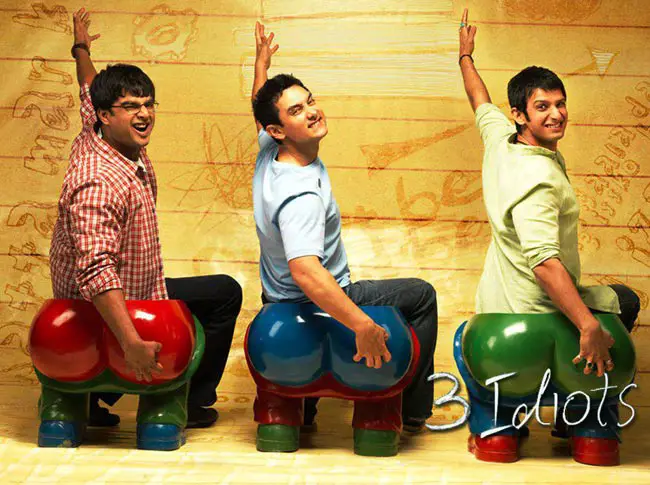 ...
6. Table No 21
This story follows a couple Vivaan ( Rajeev Khandelwal Rajeev Khandelwal is a model turned film and telev >> Read More... ) and Siya Agasthi ( Tena Desae Tena Babbar Desae is an Indian actress born on 24t >> Read More... ), who struggle to make ends meet. They win a fully sponsored trip to Fiji in a lucky draw, complete with a luxurious hotel and fine dinners. As they fly to Fiji to celebrate their marriage anniversary, they meet a man who goes by Mr. Khan ( Paresh Rawal The Padma Shri award winner who shot to fame with >> Read More... ) who invites them to take part in a live game show, Table No. 21, where they will be asked 8 personal questions and would have to complete a task for every question. The staggering amount of the prize money draws them in, and they find themselves in the game show. Initially the questions are easy, but as the levels increase, the questions become vile, the tasks become sinister. Is this really a game show, or Mr. Khan has an ulterior motive?
...
7. Talaash
Yet another masterpiece from Aamir. Surjan Shekhawat ( Aamir Khan Aamir Khan or Mohammed Aamir Hussain Khan is Bolly >> Read More... ) is a cop who's set to investigate the unusual accident which proved to be fatal for a popular actor. Suri has disturbed relations with his wife Roshni (Rani Mukherji) after the death of Karan, their only son. In his investigation, he's helped by a prostitute, Rosie (Kareena Kapoor Khan). Roshni seeks solace by talking to her neighbour, who is in touch with Karan's soul. Suri dismisses it as superstition, but later he discovers his error through Rosie.
8. Gangster
Kangana Ranaut's debut film, who plays the role of Simran, a former bar dancer and girlfriend to a gangster Daya ( Shiney Ahuja Shiney Ahuja was born on May 15, 1975, to Suraj Pr >> Read More... ) who has left her in Seoul to work in Mauritius and Dubai. Simran survives her loneliness and misery by alcohol, where she befriends Akash ( Emraan Hashmi Emraan Hashmi is one of the most successful & cont >> Read More... ), who is a singer at an Indian restaurant. Friendship turns into love, and Simran has to choose. What follows is a turn of events which changes everything.
9. Special 26
Special 26 (also Special Chabbis) is a heist crime thriller. Ajay Singh Bio coming soon... >> Read More... (), accompanied by his gang Joginder ( Rajesh Sharma Rajesh Sharma is an Indian actor. His work is pred >> Read More... ), Iqbal ( Kishore Kadam Kishore Kadam rose as a playwright and actor in Mu >> Read More... ), and PK Sharma (Anupam Kher) con rich businessmen by posing as CBI officials or Income Tax officers. Senior Inspector Ranveer Singh ( Jimmy Shergill Jimmy Shergill is a renowned Indian actor and prod >> Read More... ) is suspended for being irresponsible. Ranveer joins hands with CBI officer Waseem Khan ( Manoj Bajpayee Born on 23 April 1969, Manoj Bajpai is first a Bol >> Read More... ) to catch them. The film ends with Ajay and Ranveer having the last laugh.
10. Bahubali
God, this has to be the biggest suspense right now, the question that has plagued the minds of countless viewers and given birth to even more trolls - Why did Katappa kill Bahubali? Fortunately, the wait is over, as the second installment of Bahubali releases coming April.